2016 AND THE CATHOLIC VOTE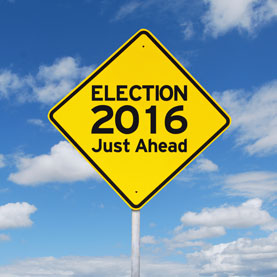 THE FIVE FIRST SATURDAYS IS A DEVOTION NEEDED NOW MORE THAN EVER! FIND OUT MORE HERE
With this highly emotional and contentious Presidential election fast approaching (finally!) I'd like to offer our readers the following guides linked in the box below as to how we Catholics should cast our ballots while respecting the tenets of our faith. God gives us free will in exercising our right to choose our leaders but wants us nonetheless to pick those who best conform to His teachings and His will. 
It seems like much of politics is a fever swamp of corruption these days, especially considering its seamy smarmy side on display from Wikileaks and Project Veritas. Still, we can't lose hope that through our prayers and God's grace He will help in these most unsettling times! While it is true that Hillary Clinton and Donald Trump are candidates for President, not for sainthood, their flaws have been so publicized we've all become very polarized! 
One very disturbing email from the trove of Wikileaks is worth noting in all this, however. It reflects a troubling mindset of some people around Mrs. Clinton that we need a "Catholic Spring" to take the faith out of its "middle ages dictatorship". To get with the times, no doubt! 
But when the faith gets diluted the faithful become deluded. Christ set up very firm rules for His Church in the Sermon on the Mount and in other places in the Gospel in which He challenged us to show our love for Him by keeping His Commandments (John 14:15). 
And it was newsman Ted Koppel, not some religious, who pointed out once that the Ten Commandments weren't meant to be Ten Suggestions. Jesus Christ is the same Yesterday, Today and Forever (Heb 13:8), after all. While we can and should seek ways to reflect the Gospels in changing times, God's Word is not Microsoft's. It is not meant to be "upgraded", like a car or a computer or a VCR being traded in for a shiny new DVD Player!
Should there be a "Catholic Spring"? Yes, indeed, but not the one these political operatives have in mind. Rather it should be a rejuvenation of our faith each of us experiences following Lent at Easter! 
It is important to note as well that we as Catholics should be unashamedly pro-life from conception until natural death. There is nothing wrong about seeking justice for the poor and those others in dire straits emotionally and/or economically. But that justice must extend to the unborn as well! I hope the voter guides and other links below can help you in prayerful decision making!
God Bless,
Christopher Castagnoli
for www.ourcatholicprayers.com
HELP SUPPORT OUR WEBSITE WITH PURCHASES
FROM OUR BOOK AND GIFT STORE
OR CAFE PRESS STORE!
CHECK OUT OUR PODCASTS HERE!

22

Return from 2016 and the Catholic Vote
to Prayer Blog Page