A CHRISTMAS TRUCE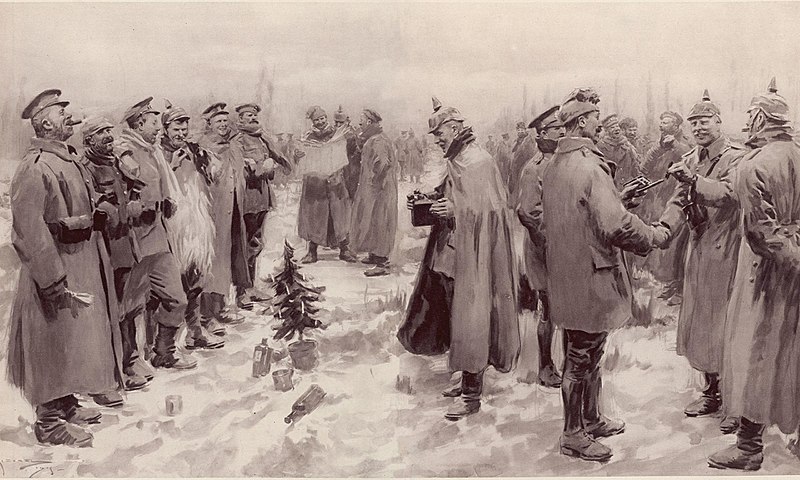 THE FIVE FIRST SATURDAYS IS A DEVOTION NEEDED NOW MORE THAN EVER! FIND OUT MORE HERE
THE SAINT MICHAEL PRAYER AND THE ROSARY
ARE ALSO POWERFUL PRAYERS TO HELP US THROUGH THESE VERY TURBULENT TIMES!
THE WEBPAGE FOR THIS PODCAST
CAN BE FOUND HERE
The Christmas season has been called in song the most wonderful time of the year! But for all the jovial good will with which we are inundated in numerous commercials, it's all too easy, especially this year with so many pandemic, economic, and supply chain issues, along with numerous "woke" intrusions on our faith, to feel more like the Grinch or Scrooge than Santa. 
I'd like to suggest in this prayer below that when you feel more overwhelmed by problems and underwhelmed by Christmas cheer that you ask God for His help in declaring a Christmas Truce arising from whatever troubles or evils you're struggling with. 

This idea of a Christmas Truce (depicted in this drawing above from the Illustrated London News from January 9th, 1915) goes back to a notable but tragically fleeting one-day pause in the fighting that Christmas just a few months after the start of the First World War in 1914.

People all over Europe had marched joyfully into that nightmare the previous August thinking that the war would be over by Christmas. Tragically it was over for some military units, but just for that all too brief period of time!
While it was not universal, many British and German troops that Christmas day took the opportunity to emerge from their trenches to greet each other, sing carols together, exchange gifts of tobacco and wine and even have impromptu football matches (what we here in the United States call soccer.) 

While God in His Divine Providence has the last word, evil, in this case, wasn't done. After that brief truce, the fighting and the carnage would go on for almost another four years before what was once called the Great War (in ferocity, not in goodness of course!) would come to an end on November 11th, 1918.  

But perhaps with God's help and grace in prayer your truce can start off short but last longer! You can pray the following prayer anytime before or after Christmas. 

Dear Lord, in this time of great uncertainty, when there is a winter chill in my heart, let me feel your warmth and peace, even if it's just for today. Help me to put aside all anxieties about my troubles that keep me away from You, along with all sinful inclinations, at least for this one day. 

This prayer is just a suggestion. You can use any prayers you think might help, even those in your own words (perhaps especially those in your own words)! We have a couple of pages on our website with some short prayers that I hope might be helpful as well, here and here. We also have some good Offering Prayers as well.
The main thing is to pray to our Lord for His help with whatever ails you most these days! Let Him assist you in declaring a fear-free zone in your heart. Or a despair-free one. Or perhaps one free of envy, of anxiety, of loathing against others, of mistrust, of hatred, of sinful attachments to drugs, alcohol, pornography and such, at least for one day, or even just for a few hours or even a few moments! 
Don't be afraid to reach out to Jesus. He's got all the time in the world, in the universe actually, for you. And, believe it or not, He loves you more than you could ever imagine. He would have been born and died for you if you were the only person in the world! He's not "too busy" to hear from you, not at Christmastime and not ever.
None of us were meant to go it alone! Use this opportunity to let the Prince of Peace give you a respite from the world's evils with His grace!
As difficult as this might be, put your trust in Jesus to do what is best for your salvation during this time and even beyond that! I'd like to mention here in this regard a great line you can use as a quick short prayer from our page on the Surrender Novena:"O Jesus, I surrender myself to you, take care of everything!"
Who knows? From that "truce", that moment of calm, you might even find some clarity to see how best to manage a particular situation that is causing you distress or grief, and see that God can help you cope through His Spirit!
If nothing else, let Christ give You His gift of grace, that you might share that gift with others in some way! Your "truce" might even be extended past Christmas, perhaps way past! Take it a day at a time and keep asking, seeking, and knocking as our Lord told us to do in the Sermon on the Mount (Matt 7:7-8). 
Remember, if nothing else, Jesus experienced His own trials even from birth, when, after having been born in a cave, He and our Blessed Mother Mary and St. Joseph had to flee to Egypt, on just a donkey no doubt, soon afterwards, to escape the wrath of King Herod. 
Christ had more than His own share of pain in His Passion alone, yet still triumphed over sin and death. Give Him your love and ask for pardon for your sins, that He may help you to join Him in heaven someday as part of your great triumph as well! We at Our Catholic Prayers wish you all a Blessed Christmas and New Year!
God Bless,
Christopher Castagnoli
for www.ourcatholicprayers.com
HELP SUPPORT OUR WEBSITE WITH PURCHASES
FROM OUR BOOK AND GIFT STORE
OR CAFE PRESS STORE!
CHECK OUT OUR PODCASTS HERE!

22

Return from A Christmas Truce
to Prayer Blog Page