PRAYERS AFTER COMMUNION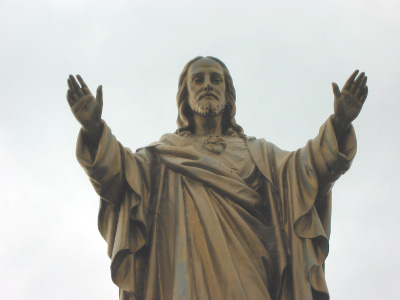 THE FIVE FIRST SATURDAYS IS A DEVOTION NEEDED NOW MORE THAN EVER! FIND OUT MORE HERE
THE SAINT MICHAEL PRAYER AND THE ROSARY
ARE ALSO POWERFUL PRAYERS TO HELP US THROUGH VERY TURBULENT TIMES!
JOIN IN THE 54-DAY ROSARY NOVENA
 FOR OUR NATION FROM AUGUST 15TH
TO OCTOBER 7TH, 2023 HERE!
Prayers after Communion can help you get the most out of this intimate time with our Lord! Remember that, contrary to a sadly mistaken assumption among our fellow Catholics and Christian brethren, the consecrated wafer you receive in Communion really is the body and blood of our Lord Jesus Christ and not just a symbol, as discussed here!

As long as you've recieved Him free from mortal sin, which, thankfully, can be absolved in Confession, you can rest assured that Jesus is more than ready to hear your prayers and give you graces for your daily needs! 
St. Alphonsus Liguori once wrote that "there is no prayer more dear to God than that which is made after communion." He continued that our loving thoughts and prayers after communion have greater merit then than otherwise "because they are then animated by the presence of Jesus Christ, who is united to our souls."
While God is everywhere, and we can pray to Him at any time or place, what better time is there to give Jesus our love, thanksgiving, and concerns than during our special time with Him after receiving Him in the Eucharist?
We've included among our prayers after Communion some inspiring words of thanksgiving, and prayers from St. Basil; St. Thomas Aquinas; a well-known, moving prayer from St. Padre Pio, who ardently wished that this most holy Sacrament be, as he put it "the light which disperses the darkness, the force which sustains me, the unique joy of my heart."
We wish to refer you here as well to some other traditional prayers that are often said after communion, the Anima Christi, the Prayer before a Crucifix, and the lesser-known but still quite powerful Prayer to Christ the King. And finally, we've included among our prayers after Communion one to someone nearest and dearest to Jesus: His Blessed Mother!

St. John of Avila once called the time after Communion "a time to gain treasures of graces." As much as possible, as Mass is ending, open your heart to our Lord. Feel free to tell him anything. Confide in Him as you would a close friend.
Jesus once complained to St. Faustina, the Polish nun to whom He first gave us the Divine Mercy Chaplet, of people who "treat Me like a dead object" after receiving Him in Communion.
As long as you are in a state of grace, free from mortal sin, you can approach our Lord in all your needs with confidence. And the more often you receive Him reverently and lovingly in Communion the more good Jesus can do in your soul!
He might not answer your prayers after Communion as you would like right away, but He is listening, and will give you graces and strength to help you on the road to Eternal Life!
Spend a few extra minutes in His company before rushing out to the parking lot after Mass. It's well worth it! After all, if you were at someone's house for dinner would you leave right you'd finished eating? Then why do that when you're a guest at this most Heavenly Banquet, this most sacred meal?
HELP SUPPORT OUR WEBSITE WITH PURCHASES
FROM OUR BOOK AND GIFT STORE
OR CAFE PRESS STORE!
CHECK OUT OUR PODCASTS HERE!

22

Return from Prayers After Communion
to Communion Prayers