CATHOLIC DAILY PRAYERS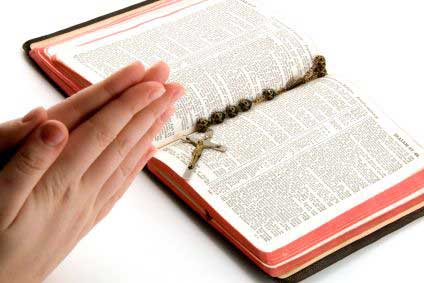 THE FIVE FIRST SATURDAYS IS A DEVOTION NEEDED NOW MORE THAN EVER! FIND OUT MORE HERE
THE SAINT MICHAEL PRAYER AND THE ROSARY
ARE ALSO POWERFUL PRAYERS TO HELP US THROUGH VERY TURBULENT TIMES!
JOIN IN THE 54-DAY ROSARY NOVENA
 FOR OUR NATION FROM AUGUST 15TH
TO OCTOBER 7TH, 2023 HERE!
Can Catholic daily prayers change your life? Absolutely! You can develop a fuller relationship with God and live a better life through prayer. You have a better chance at finding fulfillment (to say nothing of salvation!), from daily prayers than from the many distractions bombarding us these days!
Think of all the promises we hear on TV and elsewhere: you'll find happiness if you buy this car, this book, this exercise bike, or this pill (after checking with your doctor first on that last one)! Yet many times our souls feel as empty as our wallets afterwards.
Developing a good prayer life can really change you for the better. Praying can become a most satisfying routine in many ways. It might not be an easy habit to start at first, but it's definitely one you won't want to break! Catholic daily prayers can give you a sense of peace and purpose.
Prayer has often been called "the raising up of the mind and heart to God". We engage in a literally divine conversation with Him. You get a wonderful opportunity from prayer to strengthen and deepen your relationship with our Creator and with your fellow human beings by praying for their needs as well as your own.
WHAT WE PRAY
There are many great Catholic daily prayers. Here are some suggestions in case you're wondering, or need a quick reminder, as to which are good to say regularly: The Lord's Prayer (also known as the Our Father), the Hail Mary and the Glory Be are excellent. The Rosary is an essential prayer that combines these three, along with the Apostles' Creed, as well as the Nicene Creed in a wonderfully meditative way.
Other good prayers include: an Act of Spiritual Communion; prayers known as the Acts of Faith, Hope, Love, and Contrition; the Angelus: the Anima Christi; the Divine Mercy Chaplet; evening prayers; the Guardian Angel prayer; mealtime prayers; the Memorare; novenas; morning prayers; prayers to the Holy Spirit; a Three O'Clock Prayer; prayers of reparation such as the Golden Arrow, and other wonderful chaplets and litanties, to Our Lord, His Blessed Mother, as well as prayers to the Saints.

(In case this list above seems a like a lot for one paragraph, an easier-to-read listing of these prayers, along with the others on our site, can be found on our Sitemap.)
In addition to these prayers there are other beautiful ones said by the priest (sometimes with the congregation) in the Mass. (Just as a reminder, you can attend Mass daily whenever possible, not just on Sundays or other holydays of obligation.)
In case you feel overwhelmed by all this, don't worry! One of the most important prayers in many ways, the Rosary, only takes about 15-20 minutes each day. Pray what you can when you can. Feel free also to talk to our Lord in your own spontaneous prayers and other thoughts (good or bad!), about what's going on in your day. Just remember to keep God front and center in your life.

HOW WE PRAY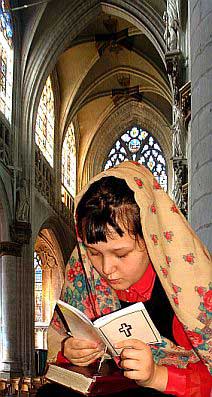 The two main types of prayer are vocal and mental. In vocal prayer we use prayers, such as the ones mentioned above, from books. Or perhaps those we've written down ourselves. In mental prayer we reflect on God's word. (Mental prayer can also include meditation on various prayers and readings.)
Note that, as the renowned Archbishop Fulton J. Sheen once stressed "In prayer [we] do not do all the talking…we must also listen. God talks to us, more in meditation than in vocal prayer." The two forms can also be combined and often are, such as in the Rosary. Vocal prayer can help with mental prayer.
Reading can definitely help your mental prayer life as well! Try to read scripture or other devout material whenever possible, even if it's just for 15 minutes or so, (at least a couple of times each week)!
A good reading list includes: 
• The Bible (especially the Gospels and St. Paul's letters in the New Testament, and the Psalms in the Old Testament). 
• Writings by various religious, theologians, or well known lay people (such as G.K. Chesterton or Scott Hahn). 
• Books by and about the Saints.

• A book or magazine, such as "Magnificat" that contains the daily Mass readings.

Be careful not to make all your daily prayers requests for favors. Don't let them sound more like "Gimmie, Gimmie, Gimmie" than "Holy, Holy, Holy." God wants us to ask for what we need, in accordance with His will. Still, we need to love Him as we love each other, just for Himself, and not think of Him as J.C. Penney.
We should pray with confidence, humility, sincerity (from your heart), attentiveness and perseverance. Note the humility and confidence are not mutually exclusive here. We approach our Creator knowing we don't always have all the answers as to what's best for us. He does! With faith we have confidence that He will provide for our needs, thinking always of what's best for our souls. As we say in the Lord's Prayer "Thy will be done!"
On being attentive, if your mind wanders, let God know in your own
words that you're sorry if you can't concentrate but you'd like to pray anyway. If you find your prayers are on "auto-pilot," slow down and try to focus on the words of each prayer and what they mean to you.

WHY WE PRAY
Archbishop Sheen also once answered the question of why we pray "because we are orchestras and we always need a tune-up." He understood the importance of prayer in recharging our spiritual batteries, as it were. Catholic daily prayers give us vital spiritual strength.
As the Rev. Raoul Plus once put it, we pray to God "to adore Him, to thank Him, to implore His pardon, and to ask for His benefits."
Here's a good way to remember why we pray to God: The Christian who lives well ACTS well. We pray:
• In Adoration of Him.
• With Contrition (sorrow) for our sins.
• In Thanksgiving for His blessings (especially the little things we take for granted).
• In Supplication (in other words, in "petition," in our requests for ourselves and others).

(These have also been listed in the Catechism of the Catholic Church as adoration, petition, intercession, thanksgiving and praise.)

WHERE WE PRAY
You can pray in church (someplace quiet is best!) or anywhere else that seems appropriate, either alone or, whenever possible, with others. (You might have heard the saying "The family that prays together stays together.")
As Catholics, our most important form of "group prayer" is the Mass, mentioned earlier. The Rosary is often said in groups as well. You might want to join a prayer group in your parish for the fellowship and the opportunity of sharing a truly divine experience. (Remember that these are our Catholic daily prayers!)

HELP SUPPORT OUR WEBSITE WITH PURCHASES
FROM OUR BOOK AND GIFT STORE
OR CAFE PRESS STORE!
CHECK OUT OUR PODCASTS HERE!

22

Return from Catholic Daily Prayers
to Home Page

Go from Catholic Daily Prayers to Sitemap