PRAYERS FOR TROUBLED TIMES
THE FIVE FIRST SATURDAYS IS A DEVOTION NEEDED NOW MORE THAN EVER! FIND OUT MORE HERE
THE SAINT MICHAEL PRAYER AND THE ROSARY
ARE ALSO POWERFUL PRAYERS TO HELP US THROUGH VERY TURBULENT TIMES!
JOIN IN THE 54-DAY ROSARY NOVENA
 FOR OUR NATION FROM AUGUST 15TH
TO OCTOBER 7TH, 2023 HERE!
Is today's economy hitting you like a ton of bricks? In troubled times prayer becomes more important than ever! People spend fortunes on painkillers for physical ailments, after all. Let prayer be your spiritual balm! Prayers in difficult times can help soothe and save souls.
Our selections here include Prayers for Offering Up Suffering, Prayers in Times of Financial Difficulties, and A Special Prayer in Time of Tribulation. While our Lord's sacrifice on the Cross at Calvary paved the way for our journey to Heaven, Jesus didn't promise any of us that the road leading there wouldn't be treacherous at times.
We may wish that He would calm our storms by just saying "quiet, be still," as He once did to calm the wind and the waves (Mark 4:39). Nonetheless, God in His providence often allows us to go through periods of great anxiety and suffering, just as He did in his Passion out of love for us, for our greater good and His glory.
We struggle with our own sins as well as those of others in our daily lives, and hopefully ask God for forgiveness for them and the grace to resist temptations in Confession. God hates sin enough to have died for us to prevent it!
Nevertheless, He loves us so much that He wishes us to choose to love and serve Him of our own free will. Still, we have the proclivity to sin. Our sufferings can serve as atonement for it.
Our rebellious nature against God's Commandments comes from our first Parents, Adam and Eve who, having disobeyed God in the Garden of Eden, left us all tainted by Original Sin (except for the Blessed Virgin Mary). And thus, while Our Lord's crucifixion reconciled us with His Heavenly Father, we still commit a multitude of sins daily.
Don't we see these all around us, in our own lives, or on the TV News? Broken families, financial scandals, violence, drug addiction, hatred, wars, all give us that terrible feeling that "there's no one you can really trust in this rotten world!"
Still, we can trust in God to hear our prayers and give us the graces we need in troubled times if we ask Him sincerely and with perseverance.
Uniting our hardships with Christ's suffering at Calvary can be a great way to atone for our sins as well as those of others. Amends must be made for them. Just as He suffered punishment for our sins on the cross for our salvation, our Lord asks us, in effect, to share in the work of our redemption by uniting our sufferings with His.
Our Lord did indeed ask us in the Gospels to take up our crosses and follow Him. Jesus wants us to share our worries and troubled times with Him in prayer, to offer them up to Him for the good of our souls.
Thus, our faith teaches us not to consider our sufferings to be meaningless. If we ask for our Lord's help to get us through troubled times He can indeed strengthen us, give us more compassion for others, and focus us on what's really important: His will for us, His love for us, and how we reflect that love in how we treat each other.
Remember, however that God is not some impersonal force immune to pain. He tells us in our suffering from every crucifix, in effect, "I've been there, and I'm here with you now." Indeed, Christ suffers with us in all the sins of the world. As he said famously in Matthew's Gospel (25: 34-45) however we treat others we treat Him.
In the midst of disappointments and betrayals, we may identify with Jesus' words to His heavenly Father on the Cross from Psalm 22: "My God My God why have you abandoned me?" And yet, remember that in His glorious Resurrection our Lord was not abandoned by His Heavenly Father ultimately, any more than we'll be if we place our hope and trust in Him in prayer.
As we read in Psalm 23 "Yea, though I walk through the valley of the shadow of death, I will fear no evil: for thou art with me." Our Creator can bring good out of evil and get us through troubled times. After all, Good Friday was followed by Easter Sunday!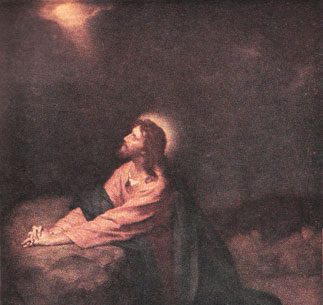 In the Garden of Gethsemane, our Lord gave us a moving example (as depicted in this painting above) how we can offer up our anxieties to God while trusting in His will. Knowing full well, and dreading, all the pain He was about to endure within a matter of hours he said "My Father, if it be possible, let this cup pass from me: nevertheless not as I will, but as thou wilt" (Matt 26:39).
In prayer we can ask God to give us that kind of grace and strength to trust that He indeed will bring us out of the valley of the shadow of death, stronger and in better shape to reflect His glory and assure our place in Heaven with Him than we were before.
As He showed us so strikingly with His resurrection, evil doesn't get the last word with the Word made flesh, as St. John called Jesus in his Gospel (John 1:14)!
Don't be afraid to pray to God for relief of your burdens. If relief is not in sight, ask Him for the graces you need to endure in these troubled times. Remember as well to keep your eyes on the prize: heaven, where "God will wipe way every tear…and death shall be no more; neither shall there be mourning, nor crying, nor pain anymore" (Rev 21:4).
Also, feel free to ask for prayers for yourself or others on our prayer requests page (and tell your friends about it as well!)

HELP SUPPORT OUR WEBSITE WITH PURCHASES
FROM OUR BOOK AND GIFT STORE
OR CAFE PRESS STORE!
CHECK OUT OUR PODCASTS HERE!

22

Go From Prayers For Troubled Times
to Home Page