LITANIES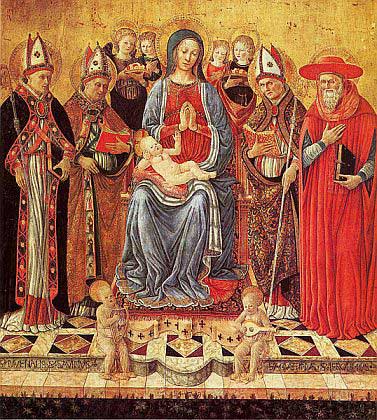 THE FIVE FIRST SATURDAYS IS A DEVOTION NEEDED NOW MORE THAN EVER! FIND OUT MORE HERE
THE SAINT MICHAEL PRAYER AND THE ROSARY
ARE ALSO POWERFUL PRAYERS TO HELP US THROUGH VERY TURBULENT TIMES!
GROW IN FAITH AND PRAYER WITH HALLOW!
Litanies are prayers to our Lord, his Blessed Mother, and the saints consisting of a series of petitions and responses. Although they are traditionally used in church services, they can also be prayed in private devotions, and may be sung.
The word "litany" itself comes from the Greek word "lite," meaning "prayer" or "supplication." In public worship, one person recites the first part of the prayer, which is followed by a response from the congregation (such as "pray for us").
These prayers have their roots in the pre-Christian era when Jews used this responsive pattern in public worship. The first Christian litanies probably consisted of the frequent repetition of the wordsKyrie Eleison (Greek for "Lord have Mercy," the same words we pray at Mass). The faithful added more and more prayers and petitions over time until there were over eighty different forms of litanies by the 17th century!
It was then, in 1601, that Pope Clement VIII officially forbade publication and public recitation of any of these other than the Litany of the Saints and the Litany of the Blessed Virgin Mary (also known as the Litany of Loreto).
Since then the Holy See has approved four additional ones for public use. These pay tribute to the Most Holy Name of Jesus, the Sacred Heart of Jesus, the Most Precious Blood of Jesus and St. Joseph. There are many others that can be used for private prayers, however, such as the Litany of St. Jude, the Litany of St. Michael, the Litany of St. Therese, the Litany to the Holy Spirit, a Litany for the Dying, and the Litany of Humility. 

These prayers are rich in imagery. For example, the Blessed Virgin Mary is referred to as Mother, Virgin and Queen under various titles but also as a "spiritual vessel" "gate of heaven" and "refuge of sinners." The Sacred Heart of Jesus is called the "Sacred Temple of God,"" the burning furnace of charity," "victim for our sins" and most importantly "salvation of all who trust in Thee."
St. Joseph, "Spouse of the Mother of God," is given due honor as the "Head of the Holy family," the "Diligent protector of Christ," and "patron of the dying" (one of the many titles of his patronage).
Whether prayed publicly or privately, these prayers give us a wonderful overview of the attributes that make our Lady, our Lord, and His Church so special. 
HELP SUPPORT OUR WEBSITE WITH PURCHASES
FROM OUR BOOK AND GIFT STORE
OR CAFE PRESS STORE!
CHECK OUT OUR PODCASTS HERE!

22

Return from Litanies
to Home Page