COMMUNION PRAYERS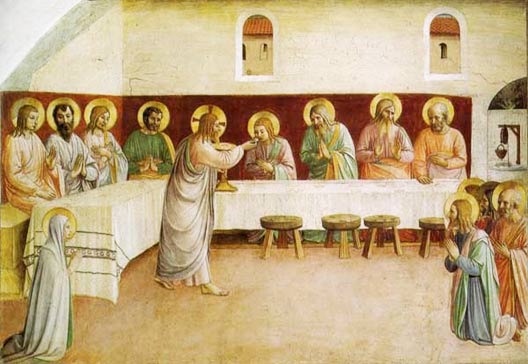 THE FIVE FIRST SATURDAYS IS A DEVOTION NEEDED NOW MORE THAN EVER! FIND OUT MORE HERE
THE SAINT MICHAEL PRAYER AND THE ROSARY
ARE ALSO POWERFUL PRAYERS TO HELP US THROUGH THESE VERY TURBULENT TIMES!
NOVEMBER IS AN ESPECIALLY IMPORTANT MONTH
TO PRAY FOR THE HOLY SOULS IN PURGATORY
WHO NEED AND ARE GRATEFUL FOR OUR PRAYERS!
Would you like to get closer to our Lord? Communion prayers, both before Communion and after can help! When Jesus instituted the Eucharist at the Last Supper, as pictured above in this Fra Angelico painting, he gave us a great way to follow Him in divine intimacy. As we hear at Mass, He broke bread and said "This is my body" (Matt 26:26; Mark 14:22; Luke 22:19).
This wasn't the first time He made that claim, however. Earlier in His ministry Christ said at the synagogue at Capernaum "I am the living bread… he who eats my flesh and drinks my blood will have life everlasting…for my flesh is food indeed and my blood is drink indeed" (John 6:51-52, 56). In case anyone might have thought that He was making a symbolic reference, our Lord added: "he who eats my flesh and drinks my blood abides in me and I in him." (John 6:57).
This statement must have sounded very jarring at the time, because many of His disciples left him afterwards. Yet our Lord's words remind us that we can strengthen our relationship with Him in Communion, which has been called "nourishment for the soul."
When the priest utters the words of consecration at Mass, "This is my Body," our Lord becomes truly present to us under the appearance of bread and wine. We don't see Jesus as His disciples did 2000 years ago but He is there with us nonetheless in Body, Blood, Soul and Divinity!
What you receive in Holy Communion is no longer bread (in the form of the consecrated wafer of bread we call a host) but Our Lord Himself. (Note that His blood, while sometime offered separately at Mass, is considered to be contained in his body in the Eucharist, just like ours.)
As such Jesus is ready, indeed even eager, to give us the graces we need to live and love according to His will. Remember, at this point our Lord is truly present on the altar. The host is not a symbol! You have your own private "audience" with our Creator and Savior when you receive Him in the Eucharist. And He's listening to your Communion prayers!
Sadly nowadays, many Catholics, along with our fellow Christians of other denominations, don't believe that Christ is really present in the Eucharist. Yet this doctrine is a firm pillar of our faith. It has been affirmed not only in the Gospels and in one of St. Paul's letters (the first letter to the Corinthians 10: 16-17 and 11:23-25), but in writings from the Church Fathers and theologians from the first century onward.
Note however that we must receive our Lord in the Eucharist worthily, that is to say in a state free of mortal sin. Otherwise, as St. Paul warned we are guilty of a grievous sin against God Himself! (1 Cor 11:27-29) It is a good idea to examine our consciences beforehand and go to Confession if we find we have committed any mortal sins (such as theft, perjury, adultery, or sex outside of marriage, for example).
Our venial (lesser) sins are forgiven in Holy Communion, and we are given strength and grace to resist temptations in this Sacrament as well (although it's also a good practice to ask pardon for your venial sins in confession). Some more information on the nature of mortal and venial sins can be found in this excerpt from the Cathecism of the Catholic Church. 

(Remember also, as stated in Canon law, that "a person who is to receive the Most Holy Eucharist is to abstain for at least one hour before Holy Communion from any food and drink, except for only water and medicine.")
Think of the time before Mass as a good opportunity to prepare yourself with Communion prayers to receive our Lord with love, thanksgiving, and humility. After Communion, pray for yourself and others in His presence, thanking Him for His blessings and asking Him for graces.
Keep in mind also that, as St. Alphonsus Liguori once wrote, "there is no prayer more dear to God than that which is made after Communion," as during this special time our souls are united with our Lord.
Do you find yourself often feeling too distracted when taking Communion? Do you feel bored or perhaps worried about your problems? Tell Jesus in your own words! Your spontaneous thoughts to God from your heart after you've received Him can be very thoughtful Communion prayers.
The more you approach Him with reverence but also with the desire to bond with Him the more He can and will give you the graces you need to cope with your troubles. And the more often you receive our Lord reverently and lovingly in Communion the more good Jesus can do in your soul!
Our Lord is also present in the Blessed Sacrament in tabernacles in churches all over the world and you can visit Him there at various times during the day and during Holy Hours, as described in our section on prayers before the Blessed Sacrament.
In addition, you can always make a Spiritual Communion, a very special Communion prayer you can say at Mass or at anytime and anywhere you feel the need to get closer to Jesus.
Christ told his disciples in Galilee after His resurrection that "I am with you always, even unto the end of the world" (Matt 28: 20). It may seem hard to realize this at times, but, even in the midst of our struggles, in fact especially in the midst of them, God never abandons us.
Even if it seems He's not listening to us or answering our prayers remember He will always try to turn our misfortunes into something that can help benefit our souls on the path to Eternal Life.
We hope your Communion prayers can help give you His strength and His peace so that you might say, like St. Paul (in Galatians 2:20) "Christ lives in me"!
HELP SUPPORT OUR WEBSITE WITH PURCHASES
FROM OUR BOOK AND GIFT STORE
OR CAFE PRESS STORE!
CHECK OUT OUR PODCASTS HERE!

22

Go from Communion Prayers
to Prayers Before Communion 

Go from Communion Prayers
to Prayers After Communion