PRAYERS ABOUT DEATH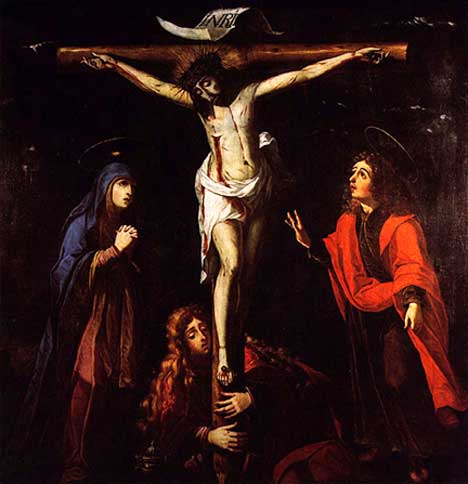 THE FIVE FIRST SATURDAYS IS A DEVOTION NEEDED NOW MORE THAN EVER! FIND OUT MORE HERE
THE SAINT MICHAEL PRAYER AND THE ROSARY
ARE ALSO POWERFUL PRAYERS TO HELP US THROUGH VERY TURBULENT TIMES!
JOIN IN THE 54-DAY ROSARY NOVENA
 FOR OUR NATION FROM AUGUST 15TH
TO OCTOBER 7TH, 2023 HERE!
Is death getting too close for you or for a loved one? These prayers about death can help bring you strength at the time you need it most! Although Jesus spoke of our sharing Eternal Life with Him if we have faith and keep His commandments, His wonderful promise of Heaven may seem like some vague dream when you or a family member are suddenly facing end-of-life questions and concerns. Can we trust in God to see us through these last days or hours? Is there really an afterlife?
Our pains and sufferings can still keep us from seeing the bigger picture, that God values each and every soul enough to have died for us Himself so that we might have a place in Heaven with Him, as depicted in this painting above. We offer some prayers in this section to help you stay focused on Eternity in your troubled and trying times.
These include various prayers for the dying, a prayer for a departing soul, aspirations (short prayers)for the dying, prayers for the deceased, a litany for the dying and prayers for a happy death.
This last category might seem a little strange to some of you at first. "Death" and "happy" are two words that don't often go together, after all! What we're referring to here is being able to die peacefully and in a state of grace.
The importance of prayer as an important part of this is seen also in the Hail Mary where we pray "Holy Mary, mother of God, pray for us sinners, now and at the hour of our death, Amen!"
Think also of the moving appeal made to Jesus in the famous Anima Christi prayer: "In the hour of my death call me. And bid me come unto Thee, that with all Thy saints, I may praise thee, forever and ever. Amen."
As discussed here, our Lord never promised that this life would be easy for any of us in on our Earthly journey. It certainly wasn't for Jesus. The picture above of Christ in His Tomb after His Passion attests to that!
As we pray in the Hail Holy Queen, our time here on earth is "our exile" (as in banishment from Paradise) and a "vale of tears" for most of us at one time or another. And yet, while we are here but an instant in relation to Eternity, our conduct in this life determines our Eternal destiny nonetheless!
We've also included here some prayers for the Holy Souls in Purgatory, a vital aspect of praying for the souls of the dead, for those who have been saved from Hell (which we must remember does indeed exist!) but are not quite ready for Heaven. After all, we should never take our salvation for granted.
Praying for the souls of the departed is quite proper, and Biblical, in any case. As we read in the famous quote from the book of Maccabees in the Old Testament it is "a holy and wholesome thought to pray for the dead, that they may be loosed from sins" (2 Macabees 12:46).
It is a tragic temptation in moments of crisis, such as when a spouse or child is taken from us in pain after a long bout with cancer, for example, to want to turn away from God, or worse, to turn against Him completely, as if to say perhaps, as Mary said to our Lord at her brother Lazarus' death "Lord, if you had been here, my brother would not have died" (John 11:32).
Or perhaps our grief at the approaching death of a loved one keeps us for attending to their needs properly. We have these prayers against despondency that might help!
What's worth keeping in mind when facing death is that, as St. Paul tells us, Christ conquered death for us in His Passion (Rom 6:8; 1 Cor 15:20-26). His Resurrection, foretells ours as well at the Final Judgment when our souls will be united with our Glorified bodies, which will not be subject to decay and the corruption of our earthly concupiscent desires (1 Cor 15:51-53)
As St. Paul once wrote "Death is swallowed up in victory. Where, O death, is thy victory? Where, O death, is thy sting?" (1 Cor 15:55)
The Paschal mystery gives us the glorious hope that each of us can experience an Easter Sunday following our particular Good Friday. We have the hope of Eternal Life not only in spirit but in body as well! (And with a body that won't break down or give us earthly vexations and temptations.)
Still, it is important to note in presenting these various prayers about death to keep in mind just how fragile our last moments can be, spiritually as well as physically. We can hope for salvation, but as we touched on earlier in mentioning Purgatory and Hell, we should not just assume that either we or our loved ones will be in Heaven with Jesus immediately upon dying.
These prayers along with those prayers from a priest at the Anointing of the Sick, (what used to be called the Last Rites, or Extreme Unction), can make all the difference for one's Eternity!
Prayers about death have two valuable effects: First: they can help souls make a smoother transition to Eternal Life with God in Heaven, either shortening, or perhaps even eliminating, whatever Purgatory they might have needed. (Such prayers might even save the more immoral among us from Hell!)
Second: They can bring comfort and strength for those who mourn for the dead and dying, either by their bedside or graveside. We hope these prayers can give you the grace you need to cope with death and the trying situations that accompany it!
HELP SUPPORT OUR WEBSITE WITH PURCHASES
FROM OUR BOOK AND GIFT STORE
OR CAFE PRESS STORE!
CHECK OUT OUR PODCASTS HERE!

22

Return from Prayers About Death
to Home Page