PRAYERS FOR THE POPE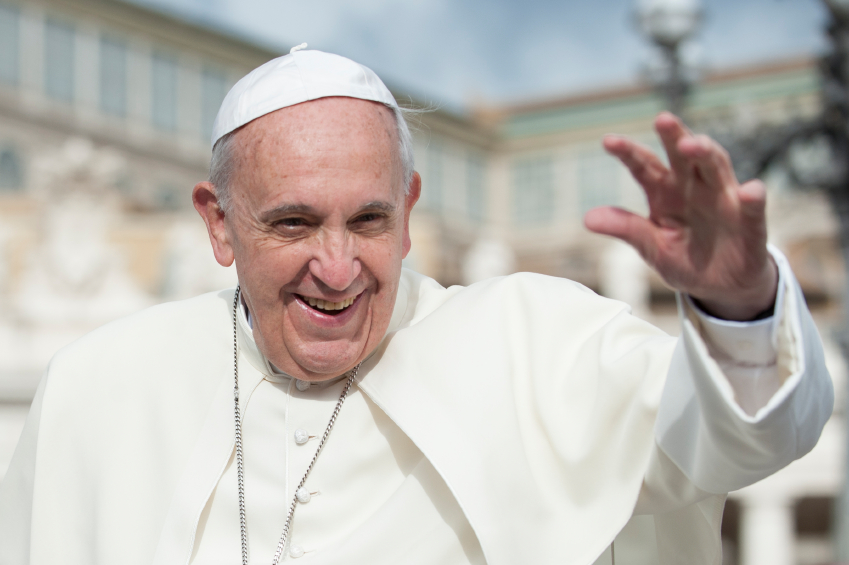 THE FIVE FIRST SATURDAYS IS A DEVOTION NEEDED NOW MORE THAN EVER! FIND OUT MORE HERE
THE SAINT MICHAEL PRAYER AND THE ROSARY
ARE ALSO POWERFUL PRAYERS TO HELP US THROUGH THESE VERY TURBULENT TIMES!
NOVEMBER IS AN ESPECIALLY IMPORTANT MONTH
TO PRAY FOR THE HOLY SOULS IN PURGATORY
WHO NEED AND ARE GRATEFUL FOR OUR PRAYERS!
Did Pope Emeritus Benedict XVI's visit to the United States in 2008 inspire you? Or Pope Francis' visit in 2015? Prayers for the pope help us to remember the importance of praying for him as he prays for us! During his visit, chronicled here, the Pontiff called prayer "hope in action." He pointed out on one occasion that time spent in prayer is never wasted!
In our prayers for the pope, such as this one below, we can ask our Heavenly Father to help guide our Holy Father Pope Francis to be a worthy Vicar of Christ (His "representative") as he tends to the spiritual needs of over one billion Catholics worldwide.
O God, the Shepherd and Ruler of all Your faithful people, mercifully look upon Your servant [name of Pope], whom You have chosen as the chief Shepherd to preside over Your Church. We beg You to help him edify, both by word and example, those over whom he has charge, that he may reach everlasting life together with the flock entrusted to him. Through Christ our Lord. Amen.
This prayer ties in nicely with the Gospels. Just as our Lord called St. Peter the rock on which He would build His Church (Matt 16:18-19) so too did he instruct him before His ascension into Heaven to "feed my sheep" (John 21:17).
He chose Peter to be in charge of his flock, his Church. According to scripture and Church history, as documented in part here, our Holy Father is indeed the successor to St. Peter!
As such, the pope must guide the Catholic Church in conformity with what is called the magisterium. This is the teaching authority of our faith, as handed down to us from our Lord and His Apostles to the Early Church Fathers, and to other theologians and religious as well over the centuries.
In light of our Holy Father's awesome responsibilities as an administrator, teacher, and ambassador for our faith worldwide, the following two prayers for the pope seem most appropriate.
Almighty and Everlasting God, have mercy on Your servant [name of Pope], our Supreme Pontiff, and direct him, according to Your loving kindness, in the way of eternal salvation, that with Your help he may ever desire that which is pleasing to You and accomplish it with all his strength. Through Christ our Lord. Amen.
Lord Jesus, shelter our Holy Father the Pope under the protection of Your Sacred Heart. Be his light, his strength and his consolation.
Speaking of strength, didn't Christ remind us in the Gospels that we are to love God with all our heart, soul, mind and strength and to love our neighbor as ourselves (Mark 12:30-31; Luke 10:27)? Certainly our Holy Father has sought that level of holiness!
Although Pope Emeritus Benedict XVI is a formidable theologian, and author of numerous books, articles, and two wonderful encyclicals, his genuine humility and good nature won him many admirers on his visit here, even among our non-Catholic Christian brethren.
He inspired us to follow his example in showing Christ's love and in being, as he put it "a people of joy, heralds of the unfailing hope (cf. Rom 5:5) born of faith in God's word, and trust in his promises."
As an example of his humility, Benedict referred to himself as the end of his homily at the Mass he celebrated for priests, deacons, and members of religious orders at St. Patrick's Cathedral on April 19, 2008 as "the poor successor of Saint Peter." (The pictures above and below were taken by a Cathedral volunteer on our staff who was fortunate enough to be in attendance there!)
Our Holy Father then continued, "I will try to do all that is possible to be a worthy successor of the great Apostle [Peter], who also was a man with faults and sins, but remained in the end the rock for the Church."
He movingly acknowledged his need for assistance in fulfilling his formidable divine duties as head of the Catholic Church today by concluding "It is also your prayers and your love which give me the certainty that the Lord will help me in this my ministry. I am therefore deeply grateful for your love and for your prayers."
Note also that in addition to these prayers above, it is always good to pray for our Holy Father's intentions during a morning offering or perhaps during the Rosary. (The Apostleship of Prayer lists his intentions for each month on their website.) In all our prayers for the pope, let us pray that the Holy Spirit gives him the guidance he needs as he tends to his flock, our Church! Pope Francis will certainly need it in these turbulent times for the Church and the world!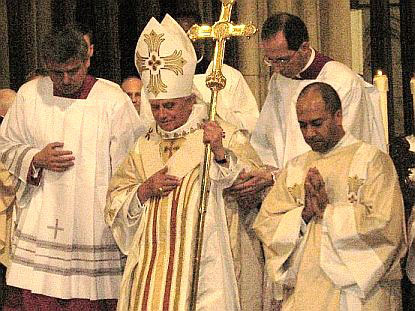 HELP SUPPORT OUR WEBSITE WITH PURCHASES
FROM OUR BOOK AND GIFT STORE
OR CAFE PRESS STORE!
CHECK OUT OUR PODCASTS HERE!

22

Return from Prayers to the Pope
to Prayers for Priests