PRAYERS FOR VARIOUS NEEDS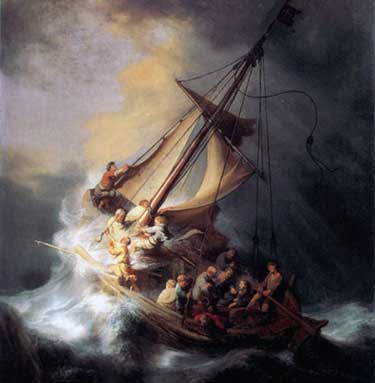 THE FIVE FIRST SATURDAYS IS A DEVOTION NEEDED NOW MORE THAN EVER! FIND OUT MORE HERE
THE SAINT MICHAEL PRAYER AND THE ROSARY
ARE ALSO POWERFUL PRAYERS TO HELP US THROUGH VERY TURBULENT TIMES!
JOIN IN THE 54-DAY ROSARY NOVENA
 FOR OUR NATION FROM AUGUST 15TH
TO OCTOBER 7TH, 2023 HERE!
Could you use some help in special situations? We have some prayers for various needs that can assist you with God's grace and guidance. Although these prayers are not magic bullets, they can nonetheless help you in dealing with temptations, uncertainties, or other threats to your peace of mind. (We also have a separate section of prayers for troubled times for more crisis-filled moments.)

In this world where many people would rather live "the good life" than a good life, it is easy to feel tossed and turned by the stormy waves of anxieties at times, much as the apostles were, literally, when in the boat with Jesus during particularly bad weather. (This is famously depicted the Rembrandt painting above.) 
You may recall that when they cried out to our Lord "we are perishing," He calmed the winds and waters with just a command. ("Peace, be still!"; Mark 4:34) While these prayers for various needs probably won't work quite as fast, they can be quite useful nonetheless.
We've included among our selections a prayer for humility, prayers for patience, and prayers before studying. And for those times you feel anything but loving towards your neighbor, in spite of our Lord's command to "love one another as I have loved You" (John 13:34), we have this great prayer for charity.

Are you struggling with temptations (like many these days) in this oversexed, overindulgent world? We have these prayers against temptation, prayers for purity, and a prayer for Christ's protection for much-needed graces.
Do you find yourself wondering what God is calling you to do in these topsy-turvy times? Check out these prayers to choose a vocation. And for those times you feel you might need His assistance on your physical journeys in life, as well as your spiritual ones, we have these prayers for travelers.

Remember, above all else, when you feel anything but the Peace of Christ that St. Paul himself once wrote "it is not what I wish that I do" (Rom 7:15), referring to his own inner struggles at times. Do you find that sometimes instead of saying "Yes" to God, you're saying "Yeah, whatever" instead? Don't despair! You're not alone. We've all been there at one time or another. And what's more, God knows that! But if we persevere in prayer and in our good intentions, He'll see us through our dry spells.
Always remember, prayer is a powerful weapon against both our sinful inclinations and our worries as well. It's also great for shoring up our good intentions by allowing us to tap into God's grace! And by all means, don't forget to turn to our Blessed Mother, for her assistance in prayer as well. Some of these prayers mentioned above include petitions to Our Lady.
God will give us the strength and peace of mind to deal with all our needs if we ask him with love and persistence. Jesus Himself said we are to ask, seek, and knock at the door for what we need in prayer (Matt. 7:7; Luke 11:9). And by all means, keep at it. Perseverance and patience go a long way in our prayer lives and in getting closer to our Lord!
HELP SUPPORT OUR WEBSITE WITH PURCHASES
FROM OUR BOOK AND GIFT STORE
OR CAFE PRESS STORE!
CHECK OUT OUR PODCASTS HERE!

22

Return From Prayers For Various Needs
to Home Page