PRAYERS OF DEVOTION TO
THE HOLY FACE OF JESUS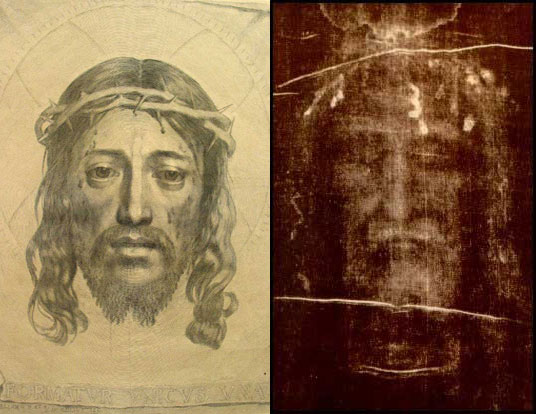 THE FIVE FIRST SATURDAYS IS A DEVOTION NEEDED NOW MORE THAN EVER! FIND OUT MORE HERE
THE SAINT MICHAEL PRAYER AND THE ROSARY
ARE ALSO POWERFUL PRAYERS TO HELP US THROUGH THESE VERY TURBULENT TIMES!
NOVEMBER IS AN ESPECIALLY IMPORTANT MONTH
TO PRAY FOR THE HOLY SOULS IN PURGATORY
WHO NEED AND ARE GRATEFUL FOR OUR PRAYERS!
Prayers of devotion to the Holy Face of Jesus are a special way to honor our Lord and make reparation for all the Blasphemies (insulting or disrespectful thoughts or behavior) He has endured over the centuries since His Passion at Calvary!
Love for our Savior's Holy Face goes all the way back to Biblical times, most notably when He left an image of his bruised, battered, blood-stained face on a veil given to him on the Way of the Cross by St. Veronica.
Many saints over the centuries also expressed their love and devotion for our Lord in His Face, both in its Divine splendor, and in its great sorrow during His Passion as well. As the 13th century nun St. Mechtilde once said "Let us all, full of holy desire, hasten to venerate the sweetest Countenance of Our Lord, which in heaven will be our all, all that a glorified soul can desire."
In the 19th Century Jesus expressed His wishes to Sister Mary of St. Peter, a Carmelite nun in Tours, France, that there be an actual devotion to his Holy Face. Our Lord wanted this in reparation for blasphemies against Him and His Holy Name as well, as for the profanation of Sunday (when people engage unnecessarily in commerce and other such labors and chores on Sunday, a day meant for rest and reflection on God). In August of 1843 He dictated to her the well-known Golden Arrow Prayer.  He also gave her these promises to those who would honor His Holy Face. 
Soon afterwards, Venerable Leo Dupont, known as the "Holy Man of Tours" helped to publicize this devotion in part though a number of miraculous cures attributed to an image of our Lord's Holy Face in his possession.
In 1885 Pope Leo XIII gave ecclesiastical approval to devotion to the Holy Face of Jesus and established an Archconfraternity for it. (A confraternity is a society devoted to a particular religious or charitable cause.)
The celebrated Carmelite Nun St. Therese of Lisieux was another great champion of this devotion, and, indeed, she took the name "Sister Therese of the Child Jesus and the Holy Face".
Thus, among our prayers to the Holy Face of Jesus we've included selections from St. Therese, M. Dupont, and this Litany as well. As mentioned earlier, a number of great Saints have paid tribute to our Lord in his Holy Face, both in admiration for its majesty and in grief over all the cruel blows it endured during His Passion!
In that regard, several of the prayers we offer here can be useful for Lenten meditations, particularly when reflecting on St. Veronica's veil (as depicted above on the left by Claude Melan in the 17th century) and our Lord's battered countenance, as shown in this picture from the Shroud of Turin on the right. We'd also like to offer this inspiring prayer below:
O Lord Jesus Christ, in presenting ourselves before Thine adorable Face to ask of Thee the graces of which we stand most in need, we beseech Thee, above all, to grant us that interior disposition of never refusing at any time to do what Thou requires of us by Thy holy commandments and divine inspirations. Amen.
In addition, Jesus once told Sister Mary, in one of His many revelations to her, "Oh, if you only knew what great merit you acquire by saying even once 'Admirable is the name of God' in a spirit of reparation for blasphemy!" This short prayer can be said anywhere, anytime, and is quite easy to memorize.
It is important to point out here as well that prayers of reparation to our Lord in His Holy Face are needed now more than ever! We are truly a society adrift. Prayer is banned in public schools. Abortion, pornography, impurity and irreverence to Jesus are all running rampant these days. God has been shut out of many places where His graces are needed the most.
(And when it comes to respecting the Lord's commandment to keep Sunday holy, how many people nowadays treat it just like any other day to go shopping rather than going to church, for example?)
Pope Benedict XVI once decried that "We are building a dictatorship of relativism that does not recognize anything as definitive and whose ultimate goal consists solely of one's own ego and desires." 
It's helpful when meditating on Jesus' Holy Face to recall two separate scenes from Mel Gibson's movie The Passion of the Christ. In the all-too-brief scene from the Last Supper in that film, our Lord's face shines with great compassion and love.
In the scene from His Crucifixion, which took place less than a day later, we see that same face marred with horrible cuts and blood, in great agony over what He has had to endure for our sake. That same Holy Face inspires both great love of God in its majesty and great horror for sin in its disfigurement in our Lord's Passion!
As St. Alphonsus Liquori expressed it in the sixth station of his Way of the Cross, where St. Veronica wiped our Lord's face, "My most beloved Jesus, Thy face was beautiful before, but in this journey it as lost all its beauty, and wounds and blood have disfigured it. Alas! My soul also once was beautiful, when it received Thy grace in Baptism, but I have disfigured it since by my sins. Thou alone, my Redeemer, canst restore it to its former beauty. Do this by Thy Passion, O Jesus."
Indeed, our Lord's suffering on the cross made it possible for us to be redeemed from our sinfulness and so be able to behold His Glory for eternity.
We can be inspired by these words from our Lord to Sister Mary of St. Peter in support of this devotion to his Holy Face. He told her once that "Those who on earth venerate My wounded Countenance will once behold It in Heaven all resplendent in glory."
HELP SUPPORT OUR WEBSITE WITH PURCHASES
FROM OUR BOOK AND GIFT STORE
OR CAFE PRESS STORE!
CHECK OUT OUR PODCASTS HERE!

22

Return from Holy Face Devotion Main Page
to Home Page