A SCRIPTURAL ROSARY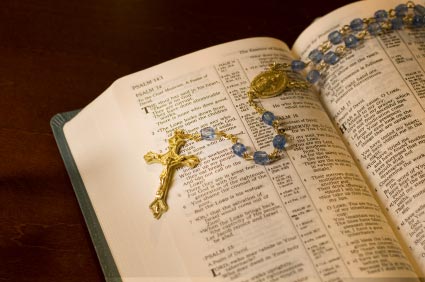 THE FIVE FIRST SATURDAYS IS A DEVOTION NEEDED NOW MORE THAN EVER! FIND OUT MORE HERE
THE SAINT MICHAEL PRAYER AND THE ROSARY
ARE ALSO POWERFUL PRAYERS TO HELP US THROUGH VERY TURBULENT TIMES!
JOIN IN THE 54-DAY ROSARY NOVENA
 FOR OUR NATION FROM AUGUST 15TH
TO OCTOBER 7TH, 2023 HERE!
The Blessed Virgin Mary has given us a formidable resource for comfort and strength to fight back for Her Son's church and for our salvation, especially in these turbulent times, the Rosary! 
This is a prayer very near and dear to our Blessed Mother! Our Lady stressed its importance for world peace, among other desired virtues, in her talks with the three shepherd children of Fatima in 1917.

The Rosary isn't just some dainty antiquated prayer with no relevance to our times by any means! Saint Padre Pio who was no stranger to spiritual combat, once referred to the rosary as his "his weapon", presumably against sin and Satan.
Indeed, it can be a formidable component of what St. Paul famously referred to in Chapter 6 of his letter to the Ephesians as the "Armor of God". Its fervent recitation by Pope Pius V and Christian troops played a key part in their winning the famous Battle of Lepanto in 1571 to keep the Ottoman Turkish forces at bay as they tried to conquer the Mediterannean.
Yet often we find our minds wandering off when praying this special prayer. (For those of you who are not familiar with the Rosary and would like to know how to pray it, details can be found here.)
Many people find themselves thinking about more mundane matters (like work, sports, relationships and such) rather than heavenly mysteries  when praying the Rosary. We have all been guilty of that from time to time!
Thus, we wish to provide for our readers a scriptural rosary, printed in the pages linked below to help you, bead by bead, in meditating on the wonderous events in the lives of our Lord and our Lady!
The idea is simple: when coming to each bead, read the short verse that accompanies it for inspiration. Many of these come from an old Vigil Prayer book we've used to great success.
Hopefully, they will help you not only to pray the Rosary more, but also to look in scripture for other such verses that may inspire your meditations and help you get through these trying times! So we hope. So may it be!
The scripture passages can be found on the following linked pages:
HELP SUPPORT OUR WEBSITE WITH PURCHASES
FROM OUR BOOK AND GIFT STORE
OR CAFE PRESS STORE!
CHECK OUT OUR PODCASTS HERE!

22