PRAYERS BEFORE COMMUNION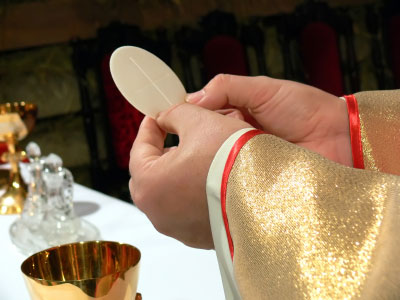 THE FIVE FIRST SATURDAYS IS A DEVOTION NEEDED NOW MORE THAN EVER! FIND OUT MORE HERE
THE SAINT MICHAEL PRAYER AND THE ROSARY
ARE ALSO POWERFUL PRAYERS TO HELP US THROUGH THESE VERY TURBULENT TIMES!
NOVEMBER IS AN ESPECIALLY IMPORTANT MONTH
TO PRAY FOR THE HOLY SOULS IN PURGATORY
WHO NEED AND ARE GRATEFUL FOR OUR PRAYERS!
Prayers before Communion provide a great way to prepare ourselves to receive our Lord Jesus Christ in the Eucharist at Mass. They can give us the proper frame of mind for our own special time with Him. It is a firm tenet of the Catholic faith that Christ is truly present in the consecrated wafer of bread we call a host, shown in this picture above. 
At Mass we receive Him in Body, Blood, Soul and Divinity, as discussed in part in this selection from our Catechism. When Christ instituted the Eucharist at the Last Supper, He uttered the words the priest says at the Consecration of bread and wine at Mass "This is My Body…This is My Blood," signifying that He would not abandon us after His Passion, not by any means!
As long as we approach Him free from mortal sin, an essential prerequisite for receiving Him in Communion, we can ask for His grace to help us meet the many challenges in our daily lives.
It is important to examine our consciences beforehand and go to Confession to receive absolution if we find we have committed any mortal sins (such as theft, perjury, adultery, or sex outside of marriage, for example).
(Remember also, as stated in Canon law, that "a person who is to receive the Most Holy Eucharist is to abstain for at least one hour before Holy Communion from any food and drink, except for only water and medicine.")
Note, however, that we need not fear partaking of this Sacrament with venial sins on our souls. In fact, it can be a great remedy for our spiritual failings!
As St. Cyril of Alexandria once wrote "The Eucharist heals the maladies of the soul. It strengthens it against temptation." And the more often you receive Communion lovingly and reverently, the more good Jesus can do in your soul!
To help you we have among our prayers before Communion Acts of Faith and Acts of Desire. These can help bolster our faith that Jesus is most certainly not a symbol in this sacrament, as discussed here. They can also convey to Him our desire for our salvation, much as in this prayer from St. Thomas Aquinas.

Prayers before Communion from St. Ambrose and to the Blessed Virgin Mary are also good for giving us a humble hunger for the Bread of Life, as our Lord referred to Himself famously in John's Gospel (in Chapter 6, verses 38 and 45).
We would also like to offer here this short prayer to inspire you.
Dear Lord, may I receive you in this Communion
With open arms,
And a loving, contrite heart,
So that I may be filled with Your grace,
For my good and Your glory! Amen.

While we, as sinners, don't receive our Lord in a state of perfection, we should be striving nonetheless to avoid sin and approach our Lord with humility and love. Think of the words we say at Mass as a guide, echoing those spoken by the Centurion in the Gospels (Matt 8:8): "Lord, I am not worthy to receive You, but only say the word and I shall be healed."
St. Alphonsus Liguori once wrote "Blessed that soul that approaches Holy Communion with a great desire to be united to Jesus Christ." He said that to get the most benefit out of this Sacrament we should prepare "by driving from our heart everything that is not of God and for God" and cultivate the desire to receive our Lord "with the view of loving him more." Put your worries and worldly cares aside before receiving our Lord in Communion. You can share them with Him afterwards in prayer!
Jesus very much wants to be with us in the Eucharist. Our Lord once told St. Faustina "when I come to a human heart in Holy Communion, My hands are full of all sorts of graces which I want to give to the soul."
He's ready to assist us in our needs as long as we receive Him with genuine love, or at least have the desire to do so! If you're feeling bored or distracted, make one of your prayers before communion a simple heartfelt request to be able to receive Him in a better frame of mind.
Father Michael Muller once wrote in his excellent book The Blessed Eucharist, the fruit Communion produces in our souls "depends on the disposition with which we receive it." God will come into your heart to the degree you let Him do so.
St. Margaret Mary Alacoque once had a touching vision in which she saw our Lord during Communion eager to unite Himself with outstretched arms to members of the congregation who approached Him with humility, obedience, and love. We hope these prayers before Communion can help you receive Him this way as well!
HELP SUPPORT OUR WEBSITE WITH PURCHASES
FROM OUR BOOK AND GIFT STORE
OR CAFE PRESS STORE!
CHECK OUT OUR PODCASTS HERE!

22

Return from Prayers Before Communion
to Communion Prayers