MORNING PRAYERS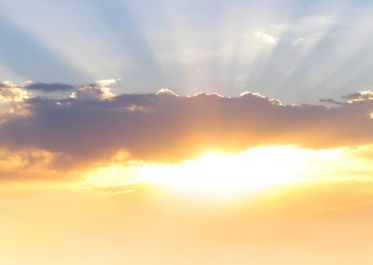 THE FIVE FIRST SATURDAYS IS A DEVOTION NEEDED NOW MORE THAN EVER! FIND OUT MORE HERE
THE SAINT MICHAEL PRAYER AND THE ROSARY
ARE ALSO POWERFUL PRAYERS TO HELP US THROUGH THESE VERY TURBULENT TIMES!
Morning prayers can refresh and recharge your soul as you get ready to take on the day with help from the best place possible: Our Creator!
Father F.X. Lasance wrote in the introduction to his work My Prayer Book that Morning Prayer "floods the heart with the breath of life and bathes it in the sunshine of God's smile." By giving God your day in prayer first thing in the morning, you get "the clear air of heaven," as he put it, flowing into your heart.
That's especially helpful on days that seem anything but heavenly. Also, on good days morning prayers can be "like honey descending into the soul," in the words of St. Jean-Marie Vianney, in making them all that much sweeter.
We should treat morning prayers, like prayer itself, as a time to get closer to God by expressing our love for Him, thanking Him for His blessings, and offering Him everything good and bad in our day in doing His will.
It's always good upon rising to make the Sign of the Cross ("In the Name of the Father, and of the Son and of the Holy Spirit. Amen.") followed by a Morning Offering, like this one below:
O Jesus, through the Immaculate Heart of Mary, I offer You my prayers, works, joys and sufferings of this day for all the intentions of Your Sacred Heart, in union with the Holy Sacrifice of the Mass throughout the world, in reparation for my sins, for the intentions of all my relatives and friends, and in particular for the intentions of the Holy Father. Amen.
Note that this offering includes prayers for others along with ourselves, an essential part of a good prayer life, with help from the Blessed Virgin Mary. In this prayer we unite all the day's activities and prayers with the sacrifice of our Lord Jesus Christ at Calvary and in the Mass.
There are many other good morning prayers including other Morning Offerings, an offering from St. Therese, prayers for God's blessing,
prayers for grace and guidance, a prayer of resolution, and a moving morning prayer to God. If all this seems a bit overwhelming, as our Lord said, "Let not your heart be troubled" (John 14:1)! You can always pray an Our Father, Hail Mary, and a Glory Be in morning prayers on hectic days, or perhaps say one of many great daily prayers (such as the acts of Faith, Hope, and Love) on your way to work or before doing chores. Many of these prayers are short and easy to memorize.
Remember also when you're hurried that quality trumps quantity in prayer! St. Edmund once said that "it is better to say one Pater Noster [Our Father] fervently and devoutly than a thousand with no devotion and full of distraction."
St. Bonaventure once remarked "when we pray, the voice of the heart must be heard more than that proceeding from the mouth." Also, it never hurts to offer God your own thoughts in spontaneous prayers, even if they're brief.
If you're feeling more adventurous, St. Patrick's Breastplate can act like a round of calisthenics in energizing your soul! The Rosary is excellent, particularly when you need some relief from your worries while stuck in traffic. (If you feel you don't have enough time or can't concentrate, try praying one decade at a time throughout the day, starting in the morning.) It also makes for good mediation.
Along that line, it's a good idea to look at the day's Gospel reading and meditate on it whenever possible, preferably in the morning, with your own thoughts and ideas or ones such as those given here, perhaps.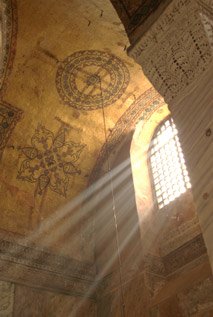 The important thing is to "check in" with our Lord as soon as you can in morning prayers for daily guidance and support. And, no matter how busy you might be, He's never too busy to hear for you.
In fact, He wants to hear from you, as much as possible! He's ready to help you through the rough spots in your day, as in your life, if you ask Him.
Christ told His apostles regarding prayer "Ask, and it shall be given you: seek, and you shall find: knock, and it shall be opened to you" (Matthew 7:7). But, as St. Louis de Montfort once said: "Only he will receive, will find, and will enter who persists in asking, seeking, and knocking."
So if it seems God isn't listening or answering your prayers as you desire, don't stop praying! Make morning prayers as much a part of your routine as getting dressed or eating breakfast. St. Augustine once said "as our body cannot be kept alive without nourishment, so our soul cannot be kept spiritually alive without prayer."

The important thing is to trust in God to answer your prayers as He sees fit to help you in doing His will. Give God everything in your day so that He can fill your heart and soul with His love and grace. Hopefully then you can help Him do the same for others!
HELP SUPPORT OUR WEBSITE WITH PURCHASES
FROM OUR BOOK AND GIFT STORE
OR CAFE PRESS STORE!
CHECK OUT OUR PODCASTS HERE!

22

Return from Morning Prayers
to Catholic Daily Prayers