SOME SPECIAL PRAYERS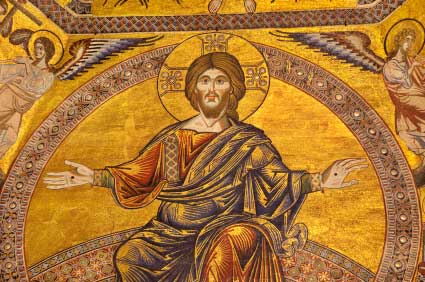 We'd like to share some special prayers with you. They're written by such towering figures in our faith as St. Teresa of Avila, St. Ignatius Loyola and St. Maximilian Kolbe. Some of them are short and fairly easy to memorize. You might even want to add one or more of them to your daily prayer life!
There are a couple of others, such as the Universal Prayer for All Things Necessary for Salvation and the Te Deum that, while longer, are more all-encompassing and quite moving representations of our faith.
Are you feeling anxious at times these days? (Who isn't, it seems!) Is the control freak in you making your life miserable? Try St. Teresa's Bookmark if you'd like to be better able to "Let Go and Let God", as the popular expression goes. Speaking of letting go and letting God, we're also offering the well-known Serenity Prayer in this section.
Although it is not specifically Catholic in origin, it has inspired so many people, particularly in programs designed to help those overcoming addictions, that we thought it would be worth including here.
We also have some Marriage Prayers in this section. We hope they can help couples united in the Holy Sacrament of Matrimony, or those seeking to find a lifelong mate.
Among our special prayers we also have a great prayer by St. Ignatius Loyola, "Suscipe". It might help you to be able to say with your whole heart, and not just with your lips, "Thy Will Be Done," as we recite in the Lord's Prayer.
And for those times you might feel more despair than contrition for sins, we recommend the Jesus Prayer. It can be especially helpful when you feel most in need of God's mercy. And it's only one sentence long, so you can learn it almost immediately! Speaking of Jesus, we've also included some prayers to the Infant Jesus of Prague in this section.
Last, but by no means least, we have a couple of Miraculous Medal Prayers. Part of one of these appears on the famous medal of the same name. They make a strong appeal for help from our Blessed Mother, along the lines of the Memorare and the Hail Mary. We hope these selections linked above can help you not only in your prayer life, but also in your journey with Our Lord and Our Lady towards Eternal Life!

HELP SUPPORT OUR WEBSITE WITH PURCHASES
FROM OUR BOOK AND GIFT STORE
OR CAFE PRESS STORE!
CHECK OUT OUR PODCASTS HERE!

22

Return from Special Prayers to Home Page