DAILY READINGS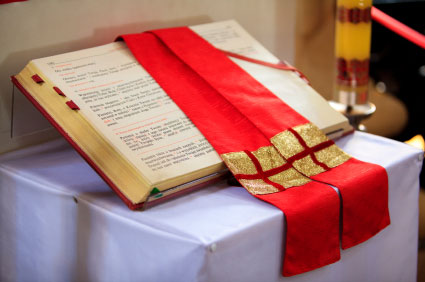 THE FIVE FIRST SATURDAYS IS A DEVOTION NEEDED NOW MORE THAN EVER! FIND OUT MORE HERE
THE SAINT MICHAEL PRAYER AND THE ROSARY
ARE ALSO POWERFUL PRAYERS TO HELP US THROUGH VERY TURBULENT TIMES!
JOIN IN THE 54-DAY ROSARY NOVENA
 FOR OUR NATION FROM AUGUST 15TH
TO OCTOBER 7TH, 2023 HERE!
As a service to our readers we've posted links here to daily Mass readings and readings from the Liturgy of the Hours. The Liturgy of the Hours is a special collection of scripture readings, psalms, and hymns that constitute what is known as the prayer of the Church. It is also called the Divine Office. (Priests and other religious are required to pray sections from the Liturgy of the Hours each day.)
Together, the Mass and the Liturgy of the Hours make up the official public prayer life of the Church.
You can access these readings by clicking on the text links above, or if you'd prefer, just cut and paste the links given below themselves into the address bar in your web browser (such as Internet Explorer, Firefox, or Safari). We've also included links below to several good sites for daily meditations on God's word as revealed to us each day at Mass.
Do you have a Bible at home that gathers dust sometimes? Do you feel too busy to bring God's word into your daily life? You can keep up with Scripture just by following the daily Mass readings, either while attending Mass or on your own!
There are also several good magazines that publish the daily readings in a handy portable format, such as Magnificat, Living With Christ, and The Word Among Us.

St. Jerome once said that ignorance of the Scriptures is ignorance of Christ. Daily readings offer a wonderful way to get to know our Lord better in His Word. We hope these links below can be of some help.
Here are links for daily Mass readings and the Liturgy of the Hours (also given in the text links above):

http://www.usccb.org/bible/readings/ 

http://divineoffice.org/ 

http://www.universalis.com/cgi-bin/display/index.htm 
Here are some good links for meditations on the Mass readings:

http://www.rc.net/wcc/readings/index.html

http://meditation.regnumchristi.org/

And, finally, we've included some links that provide some valuable information and guidance about the Liturgy of the Hours:

https://catholic-resources.org/LoH/
https://www.ewtn.com/catholicism/library/introduction-to-the-roman-breviary-11837

http://en.wikipedia.org/wiki/Liturgy_of_the_Hours


HELP SUPPORT OUR WEBSITE WITH PURCHASES
FROM OUR BOOK AND GIFT STORE
OR CAFE PRESS STORE!
CHECK OUT OUR PODCASTS HERE!

22

Return from Daily Mass Readings 
to Home Page