MARIAN PRAYERS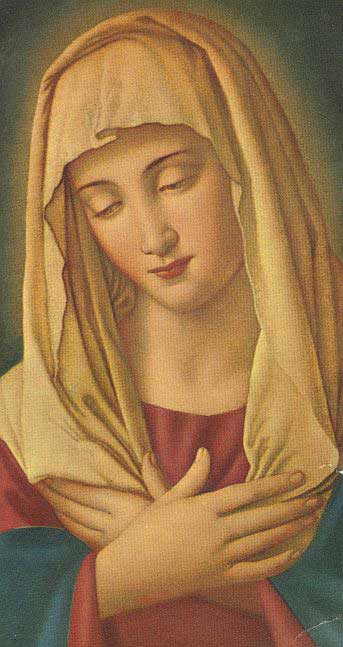 THE FIVE FIRST SATURDAYS IS A DEVOTION NEEDED NOW MORE THAN EVER! FIND OUT MORE HERE
THE SAINT MICHAEL PRAYER AND THE ROSARY
ARE ALSO POWERFUL PRAYERS TO HELP US THROUGH THESE VERY TURBULENT TIMES!
NOVEMBER IS AN ESPECIALLY IMPORTANT MONTH
TO PRAY FOR THE HOLY SOULS IN PURGATORY
WHO NEED AND ARE GRATEFUL FOR OUR PRAYERS!
Would you like to get closer to our Blessed Mother? There are some wonderful Marian Prayers that can help give us the graces we need for our salvation.
These include such essentials as the Rosary, the Hail Mary, the Hail Holy Queen the Memorare, the Angelus, the hymns Ave Maris Stella, Tota Pulchra Es and the Magnificat (Mary's canticle of praise for our Lord).
Other Marian prayers are based on names given to Our Lady from her apparitions, or other such supernatural phenomena, confirmed by the Church. She has often appeared to humble people in small towns requesting that we strive to live in holiness and obedience to her divine Son.
Thus, there are prayers to Our Lady of Good Counsel, Our Lady of Guadalupe, Our Lady of Lourdes, Our Lady of Knock, Our Lady of La Salette, Our Lady of Mount Carmel, Our Lady of Akita and to the Immaculate Heart of Mary among others! In addition, the events surrounding the appearances of Our Lady of Fatima have given us several good Fatima Prayers, including one that follows each decade of the Rosary. In addition, the Five First Saturdays is a great way to make Reparation to the Immaculate Heart of Mary!
We are not required as Catholics to believe in these appearances, but the Church recognizes that belief in them does not run contrary to our faith. In fact, in many ways it can strengthen it!
Keep in mind that we honor, not worship, Mary in these prayers. Our petitions to her are always meant to help us to do our Lord's will. As St. Bernard once said "the more she is honored, the greater is the glory of her Son." Bishop Fulton J. Sheen once called Mary "a window through which our humanity first catches a glimpse of Divinity on earth."
(Along these lines, we'd also like to recommend this site which can help you make a "Total Consecration to Jesus through Mary" through prayers and readings that take as little as 10 minutes per day.
This spiritual devotion was developed by the great Marian champion St. Louis de Montfort, as the site puts it, "under the inspiration of the Holy Spirit to bring souls to a perfect imitation of Christ by imitating His Mother.")
Theologians over the centuries have rightly observed that the Blessed Virgin Mary as Queen of Heaven has been given all of God's graces to dispense as she sees fit to assist us in our road to Eternal life.
In our prayers to Mary we appeal to her as the mediatrix par excellence in seeking her divine Son's mercy and forgiveness for our sins. She can also help us persevere in our journey towards Eternal Life as well, especially during those times we feel anything but holy!
(If you experience spiritual "dryness" at times don't despair! Many of our greatest saints went through what one of them, St. John of the Cross, called the "dark night of the Soul," times during which they felt abandoned by God and unable to get any consolation from prayers.)
St. Thomas Aquinas wrote that "as sailors are guided by a star to the port, so are Christians guided to Heaven by Mary." Bishop Sheen marveled at how she "makes our prayers more bright and burning!" Feel free to approach her anytime for divine assistance in a spirit of humility, contrition, and love!
HELP SUPPORT OUR WEBSITE WITH PURCHASES
FROM OUR BOOK AND GIFT STORE
OR CAFE PRESS STORE!
CHECK OUT OUR PODCASTS HERE!

22

Return from Marian Prayers to Home Page