PRAYERS AFTER CONFESSION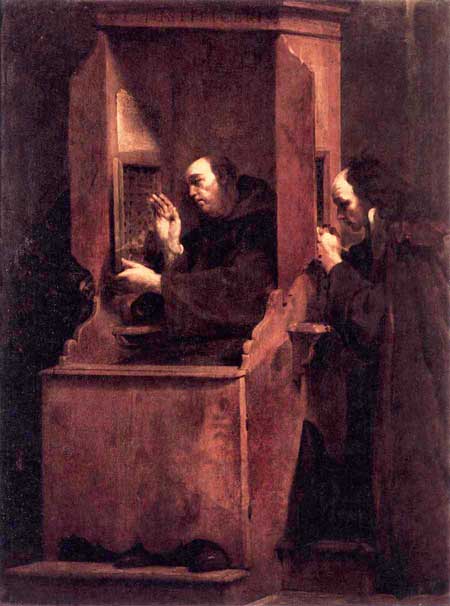 THE FIVE FIRST SATURDAYS IS A DEVOTION NEEDED NOW MORE THAN EVER! FIND OUT MORE HERE
THE SAINT MICHAEL PRAYER AND THE ROSARY
ARE ALSO POWERFUL PRAYERS TO HELP US THROUGH VERY TURBULENT TIMES!
JOIN IN THE 54-DAY ROSARY NOVENA
 FOR OUR NATION FROM AUGUST 15TH
TO OCTOBER 7TH, 2023 HERE!
Do your prayers after confession consist of the Act of Contrition you've recited for the priest, along with perhaps several Our Father's and Hail Mary's? As wonderful and essential as those prayers are, particularly the Act of Contrition, we have some other prayers you can say after confession that can deepen your relationship with God and fortify the graces you've received in this Sacrament to follow Him more closely in avoiding sin.
These include a prayer to strengthen resolutions, prayers of thanksgiving, (including a moving one written by St. Gertrude), a prayer by St. Francis Xavier Cabrini, and some short prayers from our Aspirations page.
We'd also like to offer this prayer here as well to help you with your good intentions after confession.
O Most merciful God ,who according to the multitude of Thy mercies dost so put away the sins of those who truly repent that Thou rememberest them no more: look graciously upon me, Thine unworthy servant, and accept my confession for Thy mercy's sake; receive my humble thanks, most loving Father, that of Thy great goodness Thou hast given me pardon for all my sins. O may Thy love and pity supply whatsoever has been wanting in the sufficiency of my contrition, and the fullness of my confession. And do Thou, O Lord, vouchsafe to grant me the help of Thy grace, that I may diligently amend my life and persevere in Thy service unto the end, through Jesus Christ our Lord. Amen.
Hopefully, you feel a great sense of relief after confessing your sins to a priest. You've gotten your mortal sins, and perhaps venial as well, off your chest. Your conscience is clear of the gloomy haze of guilt, regret, and shame over your transgressions. Now you feel restored from God's forgiveness and more fully able to share His Love.
And yet, given our fallen nature, we still entertain disobedient desires. "A just man falls seven times [a day]", as we read in the book of Proverbs (24:16). Our Lord advised Peter in Gethsemane "Watch and pray that you may not enter into temptation. The spirit indeed is willing but the flesh is weak" (Matt 26:41).
Even St. Paul once wrote of his own weakness in dealing with sin (Rom 7:14-23). Remember, however, that God knows our sins and frailties better than we do. As long as we can acknowledge them and deal with them with humility we are on the right path towards Heaven.
That is why asking our Lord for His assistance in prayers after confession is so important, so that with the graces He gives you in this Sacrament you can better fight against your sinful inclinations after you leave the confessional! After all, didn't Jesus tell us, in effect, to reach out to Him in prayer (Matt 7:7, Matt 21:22)?  
Let these prayers mentioned above help God help you to strengthen your resolve. And for those times afterwards when you fall back into sinful ways, get up again! Don't be ashamed to ask for our Lord's mercy in confession as many times as you need.
God is ready and willing to help you if you are sincere and humble in your desire to do better. As we read in Psalm 51:19 "A contrite and humbled heart, O God, you will not spurn." And speaking of strength, consider this inspiring quote from St. Paul: "I can do all things in him [Christ] who strengthens me" (Phil 4:13).  Don't try to go it alone. You weren't meant to!
In this regard, consider these salient words of advice from a 1916 Manual of Prayers for the Catholic Laity: "Consider how you can amend your life. This will be best done by fixing your attention on one of two of your most prominent defects of character and directing your chief efforts to overcome these. Conceive a strong desire to overcome these faults, frequently renew your resolution, and examine yourself particularly upon them. Endeavor always to have the thought of Christ present in your mind and direct short prayers to him. Be earnest and persevere with a good hope of victory, through the grace of Jesus Christ."
HELP SUPPORT OUR WEBSITE WITH PURCHASES
FROM OUR BOOK AND GIFT STORE
OR CAFE PRESS STORE!
CHECK OUT OUR PODCASTS HERE!

22

Return from Prayers After Confession to Home Page