THOUGHTS ON PRAYER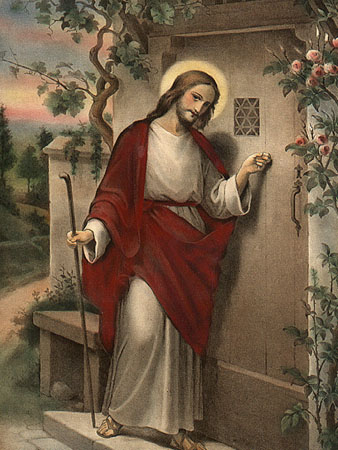 THE FIVE FIRST SATURDAYS IS A DEVOTION NEEDED NOW MORE THAN EVER! FIND OUT MORE HERE
THE SAINT MICHAEL PRAYER AND THE ROSARY
ARE ALSO POWERFUL PRAYERS TO HELP US THROUGH THESE VERY TURBULENT TIMES!
NOVEMBER IS AN ESPECIALLY IMPORTANT MONTH
TO PRAY FOR THE HOLY SOULS IN PURGATORY
WHO NEED AND ARE GRATEFUL FOR OUR PRAYERS!
We'd like to bring you in this section various thoughts on prayer from some great saints and theologians in the Catholic Church. Have you ever asked yourself these types of questions: "How do I pray? Why do I pray? Am I doing it right? Is God listening? If not, why not?" Don't feel embarrassed! And, as Our Lord said in the Gospels, on more than one occasion, "Do not be afraid"!
We've tried on this website to show our readers that there is no mysterious secret formula for prayer. You can start out with such basic prayers as the Lord's Prayer, the Hail Mary and the Glory Be. There are also various short prayers you can say at various times, even in the midst of a busy or particularly challenging day.
In its essence, prayer is essentially a heartfelt conversation with God, through both vocal prayers (such as the ones we just mentioned, as well as the various other prayers we've posted on this site) as well as mental prayer.
Mental prayer (defined in part here and discussed here as well), allows us to broaden this conversation and deepen our relationship with God through mediation on Divine truths so we can better discern His will for us and draw closer to Him. Your prayers to God can also consist of your own spontaneous thoughts addressed to Him.
Speak to our Lord as you would to a friend or loved one. Share with Him both your joys and sorrows as well. He wants that very much from each of us! After all, Our Lord is always knocking at the door of our hearts (Rev 3:20; pictured above), but He will not enter without our consent.
Each of the authors presented here approaches prayer as a means to deepen our relationship with God from a different perspective. The great Saint and "Angelic Doctor" of the Church, Thomas Aquinas, talks about how the Lord's Prayer has "five excellent qualities which are required in all prayer". (Interested as to what they are? Read more here!)
Another major Doctor of the Church, St. Augustine, also sheds some additional light on the Lord's Prayer, as well as on the nature of how we are to pray and what we should ask for in this selection from his "Letter to Proba".
He points out that prayer should assist us on a course towards "the one true and only happy life, in which, immortal and incorruptible in body and spirit, we may contemplate the joy of the Lord forever." He further calls this the "fountain of life, which we must now thirst for in prayer so long as we live in hope". (In effect, prayer should guide us towards being "citizens-in-training" for heaven!)
St. Thomas' famous teacher St. Albert the Great continues on this theme in this selection of how our goal in prayer should be, in approaching God in all sincerity and humility, to "be united with him in such a way the whatever we hope [for] and whatever we say or pray will be God."
He makes this important point, however, that others have noted as well over the centuries: God isn't Santa Claus! He wishes to gives us what we need, which is not always what we think we need or want.  
As St. Augustine puts it in his selection: "If anything is ordered in a way contrary to our prayer, we ought, patiently bearing the disappointment, and in everything giving thanks to God, to entertain no doubt whatever that it was right that the will of God and not our will should be done." 
Keep in mind in this regard that, as Dom Lorenzo Scupoli  wrote in his famous 16th century work The Spiritual Combat in his advice on prayer here that in what we ask for "you must have a lively faith and confidence that the Lord will give you all things needful for His service and your good." 
Speaking of our Creator, God the Father told St. Catherine of Siena, another celebrated mystic and 14th century Doctor of the Church in this excerpt from her book The Dialogue that "perfect prayer is not attained to through many words, but through affection of desire, the soul raising herself to Me, with knowledge of herself and of My mercy."
This resonates with what the French theologian Réginald Marie Garrigou-Lagrange says in this excerpt "when we pray, it may seem that the divine will submits to our own, whereas in reality it is our will that is uplifted and made to harmonize with the divine will. All prayer, so the Fathers say, is an uplifting of the soul to God, whether it; be prayer of petition, of adoration, of praise, or of thanksgiving, or the prayer of reparation which makes honorable amends."
Finally, last, but by no means least, we present these words from the Patron Saint of Priests, St. Jean-Marie Vianney, from one of his sermons to his parishioners in the small French town of Ars in the 19th Century: "If our Lord does not watch over our preservation, all of our efforts will come to nothing. No, my children, we shall not find any sinner who may be converted who has not recourse to prayer, not one who will persevere without having very great recourse to prayer, and we shall never find a Christian damned whose downfall did not commence with a lack of prayer." 
These selections we present here do not make for "easy reading"! But don't feel intimidated by that.  And don't worry if you can't follow everything in a selection right away or if you need to read over some of these passages a few times to understand them better. You'll find it well worth the effort. It might even help you in your meditations!  
In all things, remember to approach God in prayer with as much sincerity, humility, and perseverance as you can. Even when it seems like He isn't listening to you, or that your troubles seem to be never ending, hang in there! Trust that our Lord will see you through tough times, as described here, and that He always wishes to strengthen you spiritually, so that you may advance in Holiness. 
Persevere in seeking God's guidance in all things and allow his graces to help you get through those times when you are most troubled. And in those dark hours, offer up your sufferings to Christ on the Cross. They can do a world of good for yourself or others!
HELP SUPPORT OUR WEBSITE WITH PURCHASES
FROM OUR BOOK AND GIFT STORE
OR CAFE PRESS STORE!
CHECK OUT OUR PODCASTS HERE!

22

Return from Thoughts on Prayer
to Home Page