ST. AUGUSTINE'S PRAYER
TO OUR ALMIGHTY FATHER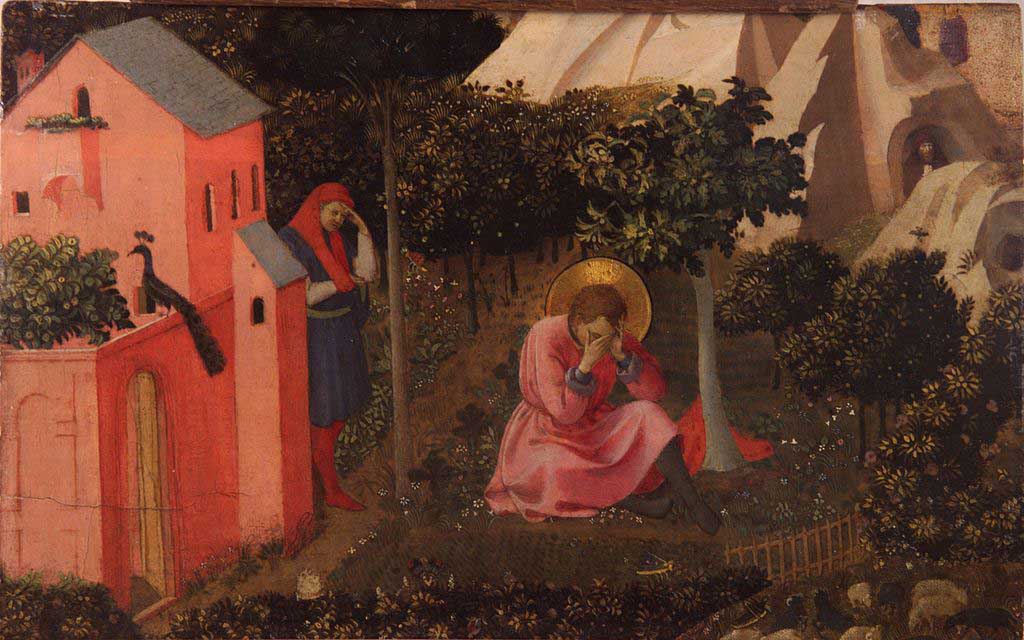 THE FIVE FIRST SATURDAYS IS A DEVOTION NEEDED NOW MORE THAN EVER! FIND OUT MORE HERE
THE SAINT MICHAEL PRAYER AND THE ROSARY
ARE ALSO POWERFUL PRAYERS TO HELP US THROUGH VERY TURBULENT TIMES!
GROW IN FAITH AND PRAYER WITH HALLOW!
Almighty Father, come into our hearts, and so fill us with Thy love that forsaking all evil desires, we may embrace Thee, our only good. Show us, O Lord our God, what Thou are to us. Say to our souls, I am your salvation, speak so that we may hear. Our hearts are before Thee; open our ears; let us hasten after Thy voice. Hide not Thy Face from us, we beseech Thee, O Lord. Open our hearts so that Thou may enter in. Repair the ruined mansions, that Thou may dwell therein. Hear us, O Heavenly Father, for the sake of Thy only Son, Our Lord Jesus Christ, who lives and reigns with Thee and the Holy Spirit, one God now and forever. Amen
This prayer above has been attributed to St. Augustine, one of our church's most beloved and important theologians. It is very much in line with the inspiring thoughts he's given us in his famous book Confessions, his autobiographical account of his upbringing and conversion to Catholicism. 
Born in Thagaste, in North Africa (near what is now Algeria) in 354 AD, St. Augustine became a skilled rhetorician (a teacher of effective and persuasive use of words), conducting schools of rhetoric in Carthage and Rome.
In keeping with his somewhat freewheeling youth, for nine years he followed Manichaeism, a dualistic religion that claimed there were two forces, one good (that encompassing the spirit)  and one evil (that encompassing matter) ruling our nature. Although he was attracted for a time to its allowance for his lustful impulses, he became disillusioned with its lack of any real substance on matters of faith and science, among other things.

One of the wonderful aspects of the Confessions is how easily we can all relate to this great Saint's recounting of his struggles with his fallen nature, considering each of us has our own battles with sin.
In this regard, think of the two quotations he's perhaps most famous for, both found in his Confessions! He wrote of God that "You have made us for yourself and our heart is restless until it rests in you." Also, during his youth before his conversion to Catholicism he asked God to "Give me chastity and continence, but not yet!"

St. Augustine came to realize in all humility, in the fateful Summer of 386, that his resistance to God and His church, based in part on his attachment to his carnal desires, was both pointless and futile. 
The crowning moment came one day when, while sadly reflecting on his own sinfulness, he heard a child from a neighboring house say repeatedly "take and read'. St. Augustine felt moved to pick up a book of scripture and his eyes fell on these words from St. Paul that moved him so thoroughly: "Not in rioting and drunkenness, not in chambering and wantonness, not in strife and envying; but put ye on the Lord Jesus Christ, and make not provision for the flesh, in concupiscence (Rom 13:13-14)."
He continued "No further would I read; nor needed I: for instantly at the end of this sentence, by a light as it were of serenity infused into my heart, all the darkness of doubt vanished away."
(We can see this movingly portrayed in the painting by Fra Angelico from the 15th century above. It is important to note that St. Ambrose was a great influence on Augustine for his conversion. His mother St. Monica's perseverance in prayers for her son helped quite a bit as well!)
St. Augustine went on after his baptism at Easter of 387 by St. Ambrose to become a priest in 391, and then Bishop of Hippo in North Africa in 395, a post he held until his death in 430. Fortunately many of his numerous writings and sermons have survived and, happily, are still in print!
Along with his Confessions these include the powerful City of God, a thorough theological study of Christianity and its importance in our journey towards God's city of heaven!
St. Augustine stressed the importance of God's grace for our salvation. He also able demystified God in the Trinity for many, explaining that that one God in three persons is a concept we can believe in faith, even if its details are beyond our comprehension!
He also effectively debunked Pelagianism, a heresy named after Pelagius, a contemporary theologian who denied the doctrine of original sin. He is otherwise known for his claim that we could achieve salvation and sanctity on our own without God's grace or assistance. 
Despite St. Augustine's repudiation of this specious notion, it keeps cropping up like a bad weed even to, perhaps especially to, this day! His Prayer to our Almighty Father reads in some ways like a moving refutation of the idea that we can "go it alone" without God in this life. We weren't meant to!
The line in this prayer "Hide not Thy face from us" is worth noting here. It brings to mind the line "Hide not your face from me" in Psalms 27 (v.9) and a similar line in Psalm 102 (v.3) where the Psalmist seeks help from God in distress.  For a while Augustine was hiding his face from our Lord, as we all do at times, some of us more than others. 
In this prayer above, however, in humility much in keeping with that in his Confessions, he acknowledges the need for God to "repair our ruined mansions", not just his own, but others as well, that have become dingy and falling apart through sin. 
Speaking of the mystery of the Trinity as mentioned earlier, Jesus said to His disciples at the Last Supper discourse that "In my Father's house there are many mansions. Were it not so, I should have told you, because I go there to prepare a place for you" (John 14:2).
Yet He also told them that "If any one love me, he will keep my word, and my Father will love him, and we will come to him, and will make our abode with him" (John 14:23). Clearly this is a moving testament, as are other parts of the Last Supper discourse to the unity of Father and Son. 
We see also a glimpse of the Triunity of God in the Father, Son, and Holy Spirit also in that chapter in Jesus' promise to send the Holy Spirit to the apostles as a comforter, advocate and teacher.
Allowing God into our souls means letting Him in His Triune Glory strengthen His sanctifying grace in us; and helping us to be more receptive to the graces He gives us each day to do better according to His will.
Clearly, the more we let the God into our hearts and souls in this life by acting on these graces and steering clear of mortal sin, the more He will be happy to fix up our ruined mansions so that someday, after passing from this life, we may dwell in His heavenly ones! 
HELP SUPPORT OUR WEBSITE WITH PURCHASES
FROM OUR BOOK AND GIFT STORE
OR CAFE PRESS STORE!
CHECK OUT OUR PODCASTS HERE!

22

Return from St. Augustine's Prayer to our Almighty Father to Saints Prayers

Return from St. Augustine's Prayer to our Almighty Father to Prayer Blog Page