JESUS AND JOSEFA: ON HIS SEVEN LAST WORDS FROM THE CROSS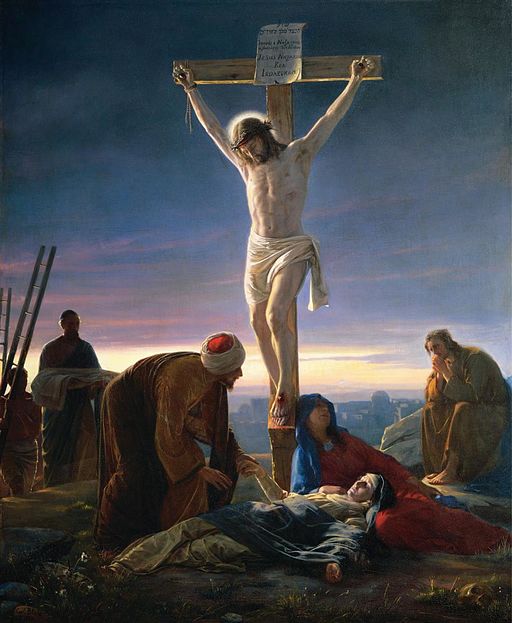 THE FIVE FIRST SATURDAYS IS A DEVOTION NEEDED NOW MORE THAN EVER! FIND OUT MORE HERE
THE SAINT MICHAEL PRAYER AND THE ROSARY
ARE ALSO POWERFUL PRAYERS TO HELP US THROUGH THESE VERY TURBULENT TIMES!
THIS WEB PAGE IS ALSO AVAILABLE AS A PODCAST HERE. 

Welcome to the sixth and final part of Jesus and Josefa, a series of blogs and podcasts in which we cover some very moving words from our Lord to Sister Josefa Menendez, a very courageous, yet unassuming Spanish nun who practiced her vocation in France in the early 1920's, until she passed away and joined our Lord in heaven at the age of 33 in December of 1923.
As is often the case, God reveals Himself or otherwise bestows special blessings on those we might not think of as being very significant. Sister Josefa was one such person. She was by all accounts humble and yet quite good natured in performing her tasks at the convent in which she resided. 

Our Lord singled out Sister Josefa for some very important work, to articulate His thoughts about His religious and about humanity as a whole, and to help Him save souls in reparation for their sins.

Jesus opened His heart to her on many occasions. Often, He would show up in her cell and ask her to start writing down His words. What He told her goes under the heading of a private revelation, which we are not required to believe as Catholics, but that nonetheless has a great deal of merit for meditations.

Jesus' words to Sister Josefa appear in two books: The Way of Divine Love (a detailed biographical account of her life) and Christ's Appeal for Love (a shorter version).

Both of these have the Church's Imprimatur that there is nothing in them that is contrary to faith and morals. (Indeed, the late Cardinal Eugenio Pacelli recommended her work the year before He became Pope Pius XII in 1939!). 

These excerpts I've selected from Christ's Appeal for Love are also available as Podcasts on the Our Catholic Prayers Podcast Page. The Way of Divine Love is available in print and as an e-book. Christ's Appeal for Love is available only in electronic form at this time.

In the first part of these "Blogcasts" we started with an introduction of some of our Lord's stirring thoughts about His love for fallen humanity and for His religious, along with His salient advice for all of us to draw closer to Him in how we treat each other, very much in line with His words in scripture where he says "If you love me, keep my commandments." (This is taken from John's Gospel Chapter 14, verse 15.)

In parts two through five, Jesus covers the events of His Passion from the Last Supper through his horrible crucifixion at Calvary. While these are private revelations and should not be taken as an additional Gospels, they nonetheless provide much food for thought and at times heart rending details! 
As a reminder this whole series is available in transcript form on the blog page of this website, and as individual podcasts on our Podcast page, as well as on a number of other podcasting platforms such as Youtube, Spotify, Soundcloud, Apple Podcasts, and iTunes,  
This sixth part is the shortest one, a coda as it were, to this poignant Passion Narrative. It covers our Lord's thoughts given to Sister Josefa on what are known as His Seven Last Words, phrases actually, that He uttered from the Cross as recorded in the Gospels. 
This series ends on a somewhat triumphant note, as Jesus acknowledges the great saving power of His sacrifice at Calvary for us sinners. The gates of heaven have been opened, but it is up to each of us to walk through them, with God's help, guidance, and grace.
While none of us should ever take our salvation for granted, Jesus' great love for us, manifested from His Crucifixion for us sinners, can help us to keep our eyes on the prize of heaven in serving him with loving obedience and being His presence in an often troubled and dangerous world. And He doesn't want His death to have been in vain for any of us! 
Note that I've included dates and topic headings given in Christ's Appeal for Love. These excerpts from the book were taken from our Lord's talks with Sister Josefa during Lent in 1923.
And now, drink in these words from Jesus slowly and thoughtfully at times. I hope they inspire you in meditative thoughts for your Rosary, devotions, and other prayerful moments.
Remember, Jesus Christ, the second person of the Trinity, isn't talking just to Sister Josefa Menendez here. He's speaking to us as well, me and you! He really and truly wants to be an important part, you might even say an essential part in each of our lives! God Bless.
March 30, 1923 Good Friday

JESUS ON THE CROSS
I have made my sufferings known to you… follow Me in them… accompany Me and share in My agony.

Now is the hour for the world's Redemption! They were about to lift Me up as a spectacle of derision to the crowd… but also of admiration to souls.
Peace has come to the world! The Cross, hitherto an instrument of torture on which criminals were made to die, is changed into the light and peace of the world and the object of the most profound veneration.
Sinners will draw pardon and life from My sacred wounds. My Blood will wash away and efface all their filth and foulness.
Pure souls will come to My wounds, there to slake their thirst and kindle flames of love in their hearts. There they will find a refuge, and forever make a home. The world has found a Redeemer, and chosen souls the Model they must copy.
And as for you, Josefa, these hands are yours to give you support, these feet to follow you and never leave you alone.
Write all that you see.
The Seven Last Words
FATHER, FORGIVE THEM FOR THEY KNOW NOT WHAT THEY DO
They have not known Him who is their life. On His shoulders they have heaped the fury of their iniquities. But I beseech Thee, Father, heap upon them the full measure of Thy mercy.
TODAY THOU SHALT BE WITH ME IN PARADISE…
… for thy faith in thy Savior's mercy has wiped out all thy offenses and it will lead thee to eternal blessedness.
WOMAN, BEHOLD THY SON!
O Mother Mine! These are My brethren…keep them…love them. You for whom I died are no longer alone; you have a Mother to whom you can have recourse in every necessity.
MY GOD, WHY HAST THOU FORSAKEN ME?
Yes, henceforth a soul has the right to say to its God: "Why hast Thou forsaken me?" After the mystery of the Redemption was consummated man became the son of God, Christ is his brother, eternal life his heritage.
I THIRST!

O My Father, I thirst indeed for Thy glory, and behold now is the hour at hand! Man shall henceforth know through the fulfillment of My wounds that Thou indeed hast sent Me, and Thou shalt be glorified. I thirst for souls, and to appease this thirst I have given the last drop of My Blood…and so I can say:
ALL IS CONSUMMATED!
Now at length is accomplished that great mystery of love in which a God delivers up His own Son to death. I came into this world to do Thy will; O My Father, it is accomplished.
INTO THY HANDS I COMMEND MY SPIRIT!
To Thee I give back My soul. Thus shall souls that do My will have the right to say in all truth: All is consummated….My Lord and My God, receive My soul which I commit into Thy hands.
Josefa, write down what you have heard. I want souls to hear and to read what is written…So that they who thirst may drink and the hungry may be filled.
And with that special acknowledgement of Sister Josefa's important role in transcribing Jesus' thoughts, which comes at the very end of the book Christ's Appeal for Love, we conclude this series Jesus and Josefa. I hope it has been helpful in deepening your relationship with our Lord!
God Bless,

Christopher Castagnoli
for ourcatholicprayers.com. 
HELP SUPPORT OUR WEBSITE WITH PURCHASES
FROM OUR BOOK AND GIFT STORE
OR CAFE PRESS STORE!
CHECK OUT OUR PODCASTS HERE!

22

Return from the Seven Last Words
to Catholic Prayers Blog Page Llist