ST. ALBERT THE GREAT ON CLINGING TO GOD IN PRAYER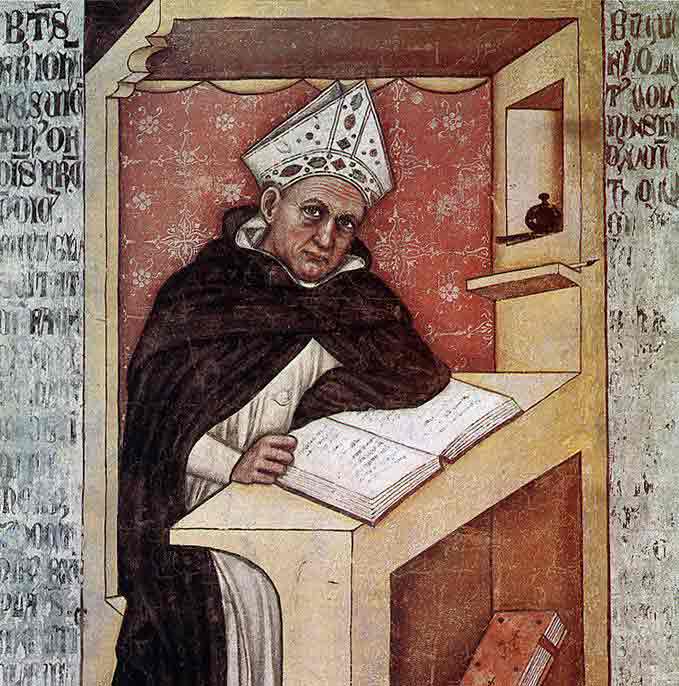 THE FIVE FIRST SATURDAYS IS A DEVOTION NEEDED NOW MORE THAN EVER! FIND OUT MORE HERE
THE SAINT MICHAEL PRAYER AND THE ROSARY
ARE ALSO POWERFUL PRAYERS TO HELP US THROUGH THESE VERY TURBULENT TIMES!
This selection on prayer is attributed to the great Saint and Doctor of the Church Albert the Great (pictured above) from a treatise entitled "Liber de Adhaerendo Deo" ("On Cleaving to God").  (A Doctor of the Church is someone recognized by the Church whose writings and/or preaching have made a significant contribution to our faith). 
Born around 1206 in Launingen, Germany, Albert was educated as a young man at the University of Padua, and joined the Dominican Order in 1223. He spent the following years engaged in various studies and teaching assignments in several German cities, most prominently Cologne. He left Cologne for the University of Paris in 1245.
It was there that one of his students, a brilliant if quiet and heavy-set young man was so impressed by him that he later accompanied him back to Cologne and later became his most famous pupil! Albert said of his student, St. Thomas Aquinas, after St. Thomas' remarkable explanation of a difficult treatise, "We call this young man a dumb ox, but one day his bellowing in his teaching will be heard throughout the world."
Not that St. Albert wasn't an intellectual heavyweight in his own right. He was known as Albertus Magnus (Albert the Great). St. Albert can truly be called a Renaissance man, a century before the Renaissance actually began! This Dominican friar and bishop was also known for his scholarly contributions to the sciences and philosophy as well as theology.
The publication of his complete writings in Paris in 1899 came to 38 volumes and covered his extensive knowledge of such diverse subjects as theology, botany, astronomy, mineralogy, alchemy (the forerunner of chemistry), justice and law among others! 
Pope Pius XI, when he canonized him in 1931, said he had "that rare and divine gift, scientific instinct, in the highest degree." Like St. Thomas, he was very much influenced by Aristotle in seeing the compatibility of natural sciences and philosophy with theology. Also like his star pupil, he rightly saw God's hand behind all creation! He passed away in 1280.
In this selection, St. Albert reflects on how the nature and value of prayer should draw us closer and closer to God, until, with all humility and sincerity, all our thoughts and desires become "one unbroken prayer".
(Note: The italics are added. An internet copy of St. Albert's treatise can be found here.)
Since we can of ourselves offer nothing to the Lord God (from whom all good things come) which is not his already, with this one exception, as he has deigned to show us both by his own blessed mouth as well as by his example, that we should turn to him in all circumstances and occasions as guilty, wretched, poor, beggarly, weak, helpless, subject servants and sons.
And that we should beseech him and lay before him with complete confidence the dangers that are besetting us on all sides, completely grief-stricken in ourselves, in humble prostration of mind, in fear and love, and with recollected, composed, mature, true and naked, shamefaced affection, with great yearning and determination, and in groaning of heart and sincerity of mind.
Thus we commit and offer ourselves up to him freely, securely and nakedly, fully and in everything that is ours, holding nothing back to ourselves, in such a complete and final way, that the same is fulfilled in us as in our blessed father Isaac, who speaks of this very type of prayer, saying, "Then we shall be one in God, and the Lord God will be all in all and alone in us when his own perfect love, with which he first loved us, will have become the disposition of our own hearts too."
This will come about when all our love, all our desire, all our concern, all our efforts, in fact everything we think, everything we see, speak and even hope will be God, and that unity which now is of the Father with the Son, and of the Son with the Father, will be poured into our own heart and mind as well, in such a way that just as he loves us with sincere and indissoluble love we too will be joined to him with eternal and inseparable affection.
In other words, we shall be united with him in such a way that whatever we hope, and whatever we say or pray will be God. This therefore should be the aim, this the concern and goal of a spiritual man, to be worthy to possess the image of future bliss in this corruptible body, and in a certain measure experience in advance how the foretaste of that heavenly bliss, eternal life and glory begins in this world.
This, as I say, is the goal of all perfection that his purified mind should be daily raised up from all bodily objects to spiritual things until all his mental activity and all his heart's desire become one unbroken prayer.
So the mind must abandon the dregs of earth and press on towards to God, on whom alone should be fixed the desire of a spiritual man, for whom the least separation from that "summum bonum" [highest good] is to be considered a living death and dreadful loss.
Then, when the requisite peace has been established in his mind, when it is free from attachment to any carnal passion, and clings firmly in intention to that one supreme good, the Apostle's sayings are fulfilled, "Pray without ceasing" (1 Thessalonians 5:17) , and, "Pray in every place lifting up pure hands without anger or dispute" (1 Timothy 2:8).
For when the power of the mind is absorbed in this purity, so to speak, and is transformed from an earthly nature into the spiritual or angelic likeness, whatever it receives into itself, whatever it is occupied with, whatever it is doing, it will be pure and sincere prayer.
In this way, if you continue all the time in the way we have described from the beginning, it will become as easy and clear for you to remain in contemplation in your inward and recollected state, as to live in the natural state.
HELP SUPPORT OUR WEBSITE WITH PURCHASES
FROM OUR BOOK AND GIFT STORE
OR CAFE PRESS STORE!
CHECK OUT OUR PODCASTS HERE!

22

Return from St. Albert the Great
on Prayer to Thoughts on Prayer