ADVENT PRAYERS
THE FIVE FIRST SATURDAYS IS A DEVOTION NEEDED NOW MORE THAN EVER! FIND OUT MORE HERE
THE SAINT MICHAEL PRAYER AND THE ROSARY
ARE ALSO POWERFUL PRAYERS TO HELP US THROUGH THESE VERY TURBULENT TIMES!
NOVEMBER IS AN ESPECIALLY IMPORTANT MONTH
TO PRAY FOR THE HOLY SOULS IN PURGATORY
WHO NEED AND ARE GRATEFUL FOR OUR PRAYERS!
Do you need a break from the hectic pace of the holidays? Advent prayers remind us to stop and take time to focus on what really counts this time of year, to prepare for the arrival of our Lord Jesus Christ, both in the Nativity and in His Second Coming as well! During Advent, we await the celebration of Jesus's birth at Christmas while taking stock of our readiness for His return.
The season of Advent (from the Latin "adventus" meaning "coming") precedes Christmas. Starting with the first Sunday closest to November 30th, it marks the first season of the church's Liturgical year.
Pope John Paul II once remarked that he hoped that Advent would be a time for us to strengthen our committment to our Christian faith. Focusing on the Nativity as well as on the Second Coming reminds us of the timelessness of God's love, and of the importance of showing others His love in our thoughts, words, and actions.
Advent reminds us to give of ourselves and to be open to reflecting Christ's presence in our lives, as we think about His being born in a manger in Bethlehem to redeem us from our sins so that we may share Eternal Life with Him in Heaven!
Advent prayers like those below and these others as well reflect this spirit:
O God, Who gladdens us by the annual expectation of our Redemption, grant that we, who now receive with joy Your only-begotten Son as our Redeemer, may behold him without fear when He comes as our judge, even the same Lord Jesus Christ, Your Son, who lives and reigns forever and ever. Amen.
Stir up our hearts, O Lord, to prepare the ways of Your Only begotten-Son, that we may attain to serve You with purified minds, through His advent. Who with You lives and reigns in the unity of the Holy Spirit, God, world without end. Amen.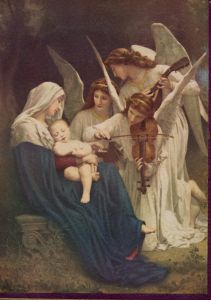 Regarding our Lord's birth, shown in this wonderfully idyllic setting at left, St. Alphonsus Liquori once wrote that God gave His Son "entirely to each of us, as if he had given Him to each one alone."
Similarly, John Cardinal O'Connor once marveled that Jesus would have been born to save even one of us. (Think of that. Christ was born, in effect, just for you!) Advent prayers remind us that this is a joyful and a penitential time.
As we happily wait for Christmas, we each need to take our own Spiritual inventory, through prayer, studying scripture, and confession, to be better prepared when Christ comes again. 

The spirit of penitence and joy is reflected in the Advent wreath as well. It is a wonderful tradition to recite Advent prayers such as those listed here while lighting a candle on a wreath on each of the four Sundays of Advent.

(Please note that you will need Adobe's Acrobat Reader to open the particular file above. You can download the Reader to your computer here if you don't already have it.)
All the candles are purple (a penitential color also used during Lent) except for a rose colored candle which is lit on the third Sunday, known as "Gaudete Sunday" (Gaudete is Latin for "rejoice"), where the opening verse at mass calls on us to "rejoice in the Lord always" (Phil 4:4).
Remember, in the midst of this season that we need to include Jesus in our holiday preparations. Although Christmas comes "but once a year," Christ's love is with us always and He's counting on us to share it with others!
HELP SUPPORT OUR WEBSITE WITH PURCHASES
FROM OUR BOOK AND GIFT STORE
OR CAFE PRESS STORE!
CHECK OUT OUR PODCASTS HERE!

22