A PRAYER OF ST. THOMAS AQUINAS 
AFTER COMMUNION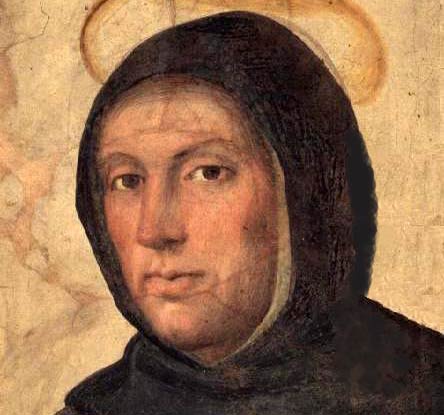 In this prayer below of St. Thomas Aquinas after Communion, we feel his ardent desire for the soul-cleansing power of the Eucharist. He once said that "in this Sacrament sins are purged away, strength renewed, and the mind fortified with generous spiritual gifts."
This great 13th Century "Angelic Doctor" also expresses here his deep desire that Holy Communion may aid him on his journey towards Eternal Life and help him to experience joy that "no one shall take from you" (John 16:22), as our Lord called it when speaking to His disciples at the Last Supper.
I thank You, Lord, Almighty Father, Everlasting God, for having been pleased, through no merit of mine, but of Your great mercy alone, to feed me, a sinner, and Your unworthy servant, with the precious Body and Blood of Your Son, our Lord Jesus Christ. I pray that this Holy Communion may not be for my judgment and condemnation, but for my pardon and salvation. Let this Holy Communion be to me an armor of faith and a shield of good will, a cleansing of all vices, and a rooting out of all evil desires. May it increase love and patience, humility and obedience, and all virtues. May it be a firm defense against the evil designs of all my visible and invisible enemies, a perfect quieting of all the desires of soul and body. May this Holy Communion bring about a perfect union with You, the one true God, and at last enable me to reach eternal bliss when You will call me. I pray that You bring me, a sinner, to the indescribable Feast where You, with Your Son and the Holy Spirit, are to Your saints true light, full blessedness, everlasting joy, and perfect happiness. Through the same Christ our Lord. Amen.
St. Thomas Aquinas is truly one of the greatest minds in Catholicism. He was a tireless teacher and a prolific writer whose Summa Theologica is one of the best books written about our faith! Educated in Paris and later Cologne, under the guidance of St. Albert the Great, his sharp intellect was coupled with a quiet humility that made his fellow students refer to him at first, quite mistakenly, as the "Dumb Ox."
St. Albert was so impressed however with the masterful answers St. Thomas gave him one day about some obscure points that he exclaimed "We call him the dumb ox, but he will give such a bellow that his voice shall fill the whole world!"
St. Thomas, strongly influenced by the Greek philosopher Aristotle's ideas concerning the connections between body and soul, showed how faith and reason, like the physical and spiritual realms of our existence, could go hand in hand in bringing us closer to God.
During his lifetime he wrote over 50 works, including treatises and commentaries along with the Summa, and taught theology for years at the University of Paris and other institutions of higher learning in Europe. In addition he was a theological adviser to the papal court. Considering that St. Thomas died in 1274 in his late forties, he kept quite busy indeed!
His great love for our Lord in the Blessed Sacrament also be seen in the famous hymn Pange Lingua that He composed for the Feast of Corpus Christi when it was first instituted by the Church in 1264. (It's still sung today throughout the world, especially during processions of the Blessed Sacrament.)
One day towards the end of his life, our Lord paid a touching complement to this great Saint. As witnessed by one of his companions, a voice from the crucifix said to him "Thomas, you have written well of Me. What recompense do you desire?" (Talk about an endorsement!) To which the saint replied "None other than Thyself, O Lord!" (Talk about a love of God!)
HELP SUPPORT OUR WEBSITE WITH PURCHASES
FROM OUR BOOK AND GIFT STORE
OR CAFE PRESS STORE!
CHECK OUT OUR PODCASTS HERE!

22

Return from this page to
Prayers After Communion 


THE FIVE FIRST SATURDAYS IS A DEVOTION NEEDED NOW MORE THAN EVER! FIND OUT MORE HERE

THE SAINT MICHAEL PRAYER AND THE ROSARY
ARE ALSO POWERFUL PRAYERS TO HELP US THROUGH VERY TURBULENT TIMES!

GROW IN FAITH AND PRAYER WITH HALLOW!