A PRAYER OF
ST. THOMAS AQUINAS 
BEFORE COMMUNION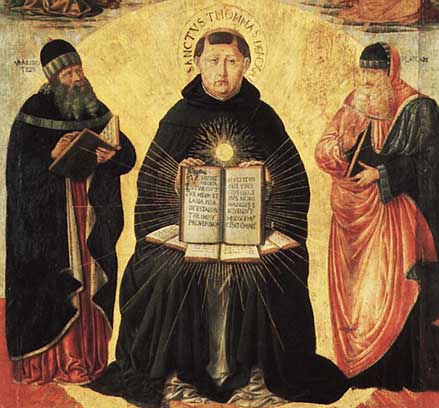 THE FIVE FIRST SATURDAYS IS A DEVOTION NEEDED NOW MORE THAN EVER! FIND OUT MORE HERE
THE SAINT MICHAEL PRAYER AND THE ROSARY
ARE ALSO POWERFUL PRAYERS TO HELP US THROUGH VERY TURBULENT TIMES!
JOIN IN THE 54-DAY ROSARY NOVENA
 FOR OUR NATION FROM AUGUST 15TH
TO OCTOBER 7TH, 2023 HERE!
This prayer below by St. Thomas Aquinas before Communion gives us a moving example of love and humility in the presence of our Savior. St. Thomas, pictured above, the celebrated 13th century "Angelic Doctor" of the Church, is considered to be one of the greatest theologians and intellects in our faith.
Almighty and Eternal God, behold I come to the sacrament of Your only-begotten Son, our Lord Jesus Christ. As one sick I come to the Physician of life; unclean, to the Fountain of mercy; blind, to the Light of eternal splendor; poor and needy to the Lord of heaven and earth. Therefore, I beg of You, through Your infinite mercy and generosity, heal my weakness, wash my uncleanness, give light to my blindness, enrich my poverty, and clothe my nakedness. May I thus receive the Bread of Angels, the King of Kings, the Lord of Lords, with such reverence and humility, contrition and devotion, purity and faith, purpose and intention, as shall aid my soul's salvation.
Grant, I beg of You, that I may receive not only the Sacrament of the Body and Blood of our Lord, but also its full grace and power. Give me the grace, most merciful God, to receive the Body of your only Son, our Lord Jesus Christ, born of the Virgin Mary, in such a manner that I may deserve to be intimately united with His mystical Body and to be numbered among His members. Most loving Father, grant that I may behold for all eternity face to face Your beloved Son, whom now, on my pilgrimage, I am about to receive under the sacramental veil, who lives and reigns with You, in the unity of the Holy Spirit, God, world without end. Amen.
St. Thomas studied under another famous saint, Albert the Great, as a young man in Paris and Cologne. His fellow students at first nicknamed him "the Dumb Ox" because he was a heavy-set man with a quiet manner.
However, his brilliant grasp of philosophy and theology soon shone forth in his teaching and writings at the University of Paris and later on in other European cities as well. He became an acclaimed scholar and theological adviser to the papal court.
St. Thomas showed how faith and reason complemented each other in our relationship with God, as they both came from our Creator! As he put it in his masterpiece on our faith, the Summa Theologica, a rational soul is something "God alone can create."
(There are several good editions of this massive work available both online and in print. There are also some fine shorter summaries of theSumma in print as well.)
It is indeed telling that that such a towering figure as St. Thomas could nonetheless be so filled with the Spirit of Christ as to approach Him, as he says in this prayer, as one sick, unclean, blind, poor, and needy asking for our Lord's graces for holiness in His presence.
For all his fame and knowledge, he had an admirable humility of heart. He said he learned more from prayer, devotion to the Holy Eucharist, and to contemplation of our Lord on his crucifix, than from all his studies.
This great teacher and Doctor of the Church once wrote that in the Sacrament of the Eucharist Christ "preaches an unrivalled humility, which disdains no dwelling, but consents to come like a guest to any heart, even one that is defiled."
In keeping with his own admirable reverence for our Lord, he also said that no one should approach Him in Communion "without reverent devotion and fervent love, without true repentance, or without recalling the mystery of his redemption." We should all be as dumb as this "Dumb Ox!"
HELP SUPPORT OUR WEBSITE WITH PURCHASES
FROM OUR BOOK AND GIFT STORE
OR CAFE PRESS STORE!
CHECK OUT OUR PODCASTS HERE!

22

Return from This Page to
Prayers Before Communion