ASPIRATIONS FOR THE DYING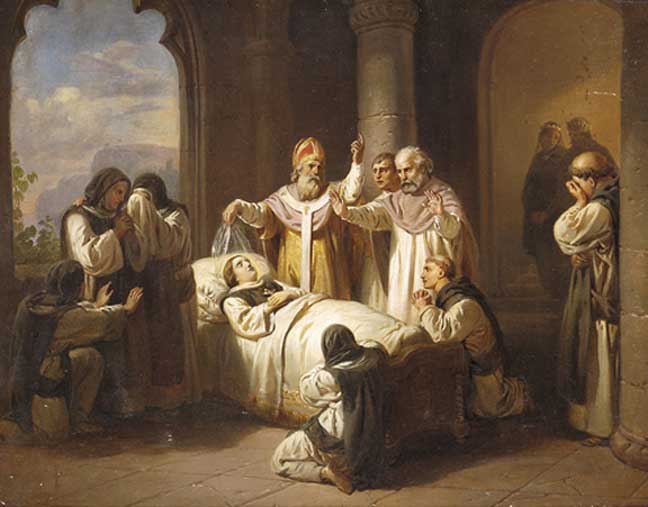 THE FIVE FIRST SATURDAYS IS A DEVOTION NEEDED NOW MORE THAN EVER! FIND OUT MORE HERE
THE SAINT MICHAEL PRAYER AND THE ROSARY
ARE ALSO POWERFUL PRAYERS TO HELP US THROUGH VERY TURBULENT TIMES!
JOIN IN THE 54-DAY ROSARY NOVENA
 FOR OUR NATION FROM AUGUST 15TH
TO OCTOBER 7TH, 2023 HERE!
These short prayers, also known as aspirations, can be particularly helpful when death is fast approaching, for you or a loved one, as they are short and easy to memorize. When one is facing life's end, it is easy to forget a long prayer or series of prayers.
Still, in these last moments, you want to express your love and desire to be with God and all the angels, saints, and dearly departed. Or perhaps you wish to convey these prayers to our Lord on someone else's behalf. When it comes to matters concerning Eternity, little things like reciting these prayers can make all the difference!
Good Jesus, give me a deep love for You, that nothing may be too hard for me to bear from You.
You know Lord, that I am all weakness; teach me to bear my cross. Bear it for me, bear it in me.
O Good Jesus, my God and my All, keep me ever near You, let nothing for a moment separate me from You
Good Jesus, to You I flee; hide me in Your sacred side.
O Good Jesus, shelter me from the evil one, shed Your dew upon me to calm my soul, and dwell in me fully, that I may wholly love You.
Good Jesus, Who has borne so patiently with me; make me wholly patient for love of You.
Good Jesus, lead me that I may follow You; hold me that I may cling fast to You; teach me, that I may choose you alone; keep me that I may be Yours for ever.
These aspirations for the dying below are especially important for those undergoing what has been called their Last Agony before death. The dying person can recite them, but they can also be recited close to him or her, or even whispered in their ears, if they are too weak to speak.
(We also would like to recommend a prayer on our page of prayers for the dying known as a "Prayer for Those in Their Last Agony" at this crucial time!) The Holy Name of Jesus should constantly be invoked in this situation as well.
Jesus, Mary, and Joseph, I give you my heart and my soul.
Jesus, Mary, and Joseph, assist me in my last agony.
Jesus, Mary, and Joseph, may I breathe forth my soul in peace with you.
Into Thy hands, O Lord, I commend my spirit.
O Lord Jesus Christ, receive my spirit.
Holy Mary, pray for me
O Mary, mother of grace, mother of mercy, do thou protect me from the enemy, and receive me at the hour of death.
St. Joseph, pray for me.
St. Joseph, with the Blessed Virgin, thy Spouse, open to me the bosom of divine mercy.
The main thing is to pray these aspirations with as much love and sincerity as possible. And if the situation of death approaching leaves you confused or scared, offer these emotions up to Our Lord as well. He knows exactly what you're going through, having experienced death Himself in all its bitter agony in His Passion.
Just remember that in Jesus' case, death didn't have the last word, and He desires that it not have the last word for you either, but rather that you and your loved ones may one day share Eternal Life with Him!
HELP SUPPORT OUR WEBSITE WITH PURCHASES
FROM OUR BOOK AND GIFT STORE
OR CAFE PRESS STORE!
CHECK OUT OUR PODCASTS HERE!

22

Return from Aspirations for the Dying
to Prayers About Death