THE ASSUMPTION OF MARY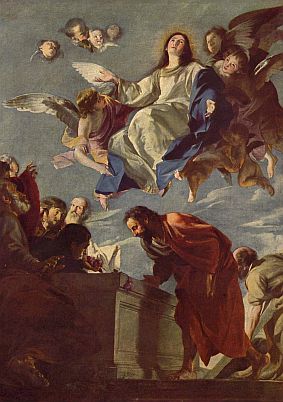 THE FIVE FIRST SATURDAYS IS A DEVOTION NEEDED NOW MORE THAN EVER! FIND OUT MORE HERE
THE SAINT MICHAEL PRAYER AND THE ROSARY
ARE ALSO POWERFUL PRAYERS TO HELP US THROUGH THESE VERY TURBULENT TIMES!
NOVEMBER IS AN ESPECIALLY IMPORTANT MONTH
TO PRAY FOR THE HOLY SOULS IN PURGATORY
WHO NEED AND ARE GRATEFUL FOR OUR PRAYERS!
THIS PAGE IS AVAILABLE
AS A PODCAST HERE

Although it is not mentioned in scripture, the Assumption of Mary has been a solidly held belief of our faith since apostolic times. It has been celebrated liturgically since the 6th century AD.

The Assumption of Mary was declared a dogma (a divinely revealed truth) of the Catholic Church by Pope Pius XII in 1950 when he proclaimed, in a document entitled Munificentissimus Deus, "The Immaculate Mother of God, the ever-virgin Mary, having completed the course of her earthly life, was assumed body and soul into heaven."
Catholics worldwide meditate on the Assumption of Mary when praying the glorious mysteries of the Rosary, and on its feast day, August 15th. This prayer below can help put you in a fitting frame of mind when reflecting on this wondrous event:
Almighty and eternal God, who hast taken up into the glory of Heaven, with body and soul, the immaculate Virgin Mary, Mother of thy son: grant us, we pray, that we may always strive after heavenly things and thus merit to share in her glory. Amen.
This excerpt from a longer prayer for the Assumption, given in St. Alphonsus Liguori's classic work The Glories of Mary, is also quite moving:
O most sweet Lady and our Mother, by the merits of thy happy death obtain for us holy perseverance in the divine friendship, that we may finally quit this life in God's grace; and unite with the blessed spirits in praising thee and singing thy glories as thou deservest. Amen.
And last, (but by no means least!) we offer this powerful novena prayer for the Feast of the Assumption: 
Mary, Queen Assumed into Heaven, I rejoice that after years of heroic martyrdom on earth, you have at last been taken to the throne prepared for you in heaven by the Holy Trinity.
Lift my heart with you in the glory of your Assumption above the dreadful touch of sin and impurity. Teach me how small earth becomes when viewed from heaven. Make me realize that death is the triumphant gate through which I shall pass to your Son, and that someday my body shall rejoin my soul in the unending bliss of heaven.

From this earth, over which I tread as a pilgrim, I look to you for help. I ask for this favor: (Mention your request).

When my hour of death has come, lead me safely to the presence of Jesus to enjoy the vision of my God for all eternity together with you. Amen.

Belief in the Assumption of Mary rests on tradition and on solid theological grounds, although nothing is written in scripture, or otherwise known historically for certain, about it. Theologians over the centuries have all agreed that it was only fitting that the Blessed Virgin Mary joined her divine Son in both body and soul in her Assumption into Heaven!

After all, she was born uniquely without Original Sin and lived "full of grace" (Luke 1:28), sharing in Christ's victory over Satan, sin and death as His Blessed Mother. Thus Our Lord would not subject her body to the corruption and decay that would occur in a tomb over time!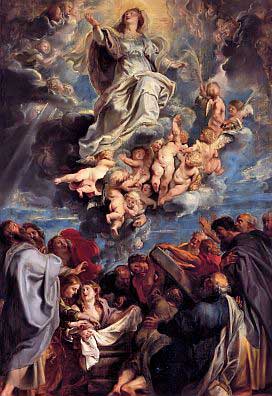 As St. John Damascene put it referring to Mary in the 8th century, "Thy pure and spotless body was not left in the earth, but the abode of the Queen, of God's true Mother, was fixed in the heavenly kingdom alone."
John Henry Cardinal Newman expressed similar thoughts on the Assumption of Mary in the 19th century when he said "It was becoming, that she [Mary] should be taken up into heaven and not lie in the grave till Christ's second coming, who had passed a life of sanctity and of miracle such as hers."
He added, "If her body was not taken into heaven, where is it? Why are not pilgrimages made to it? Why are not relics producible of her, as of the saints in general? Plainly because that sacred body is in heaven, not on earth."
St. Anthony of Padua, St. Thomas Aquinas, and St. Alphonsus Liguori, all Doctors of the Church, are most prominent among those who have quoted Psalm 132:8 (131:8 in some older Bibles) over the centuries in support of the Assumption. It states "Arise, O Lord, into thy resting place: thou and the ark, which thou hast sanctified."
While the Psalmist referred originally to the Ark of the Covenant, theologians and preachers, as Pope Pius XII noted in his proclamation on the Assumption of Mary, "have looked upon the Ark of the Covenant, built of incorruptible wood and placed in the Lord's temple, as a type of the most pure body of the Virgin Mary, preserved and exempt from all the corruption of the tomb and raised up to such glory in heaven."
It is important to note also that the Pope in the official church document did not say specifically whether or not Mary actually died before being taken up to heaven, although most theologians hold that to be the case, only that she "completed the course of her earthly life." The important thing is that she did not experience the corruption of her body from death that we do as a result of our being born with Original Sin.
So what does the dogma of the Assumption of Mary into Heaven mean for us on a more down-to-earth level? It gives us great hope that, as we strive to live in our Lord's grace and to do His will, with Mary's assistance, we might share in His resurrection someday!
The Catechism of the Catholic Church mentions how Mary anticipates the resurrection of all members of Christ's body (CCC974). She intercedes continually with her son on our behalf for our salvation. (That's why it never hurts to call on her, and thank her, for her help and her graces in prayers such as the Rosary!)
Jesus redeemed His mother first through her Immaculate Conception (when she was uniquely conceived without Original Sin). Thus it was natural that she was assumed into heaven. Yet our Lord died for ourredemption as well, despite our sinfulness!
After we pass away, at the Last Judgment, may Christ find us worthy to share Eternal Life with Him like Mary, in both body (glorified like His!)and soul, so that, as he told His apostles once, "my joy might be in you and your joy might be complete" (John 15:11).
HELP SUPPORT OUR WEBSITE WITH PURCHASES
FROM OUR BOOK AND GIFT STORE
OR CAFE PRESS STORE!
CHECK OUT OUR PODCASTS HERE!

22

Return from the Assumption of Mary
to the Catholic Liturgical Calendar