AVE MARIS STELLA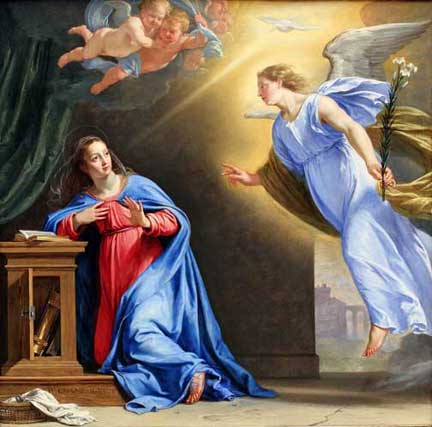 The hymn Ave Maris Stella (Hail Star of the Sea) printed below in English is a wonderful tribute, both in prayer and song, to the Blessed Virgin Mary. The original Latin text dates back to around the 8th-9th centuries although it has been attributed to St. Bernard of Clairvaux (1090-1153). It was a particular favorite of those chanting it as part of the Divine Office (the Liturgy of the Hours) in the Middle Ages.
(The Divine Office is a special collection of scripture readings, psalms, and hymns that constitute what is known as the Prayer of the Church. It is also called the Liturgy of the Hours. Priests and other religious are required to pray sections from the Liturgy of the Hours each day.)
Ave Maris Stella has been set to music over the centuries by such famous composers as Palestrina, Dufay, Monteverdi, Dvorak, and Grieg. It is still used today in the Divine Office and what is known as the Little Office of the Blessed Virgin Mary. (The original Latin text can be found here.) 

Hail, bright star of ocean, 
God's own Mother blest,
Ever sinless Virgin,
Gate of heavenly rest.

Taking that sweet Ave 
Which from Gabriel came,
Peace confirm within us,
Changing Eva's name.

Break the captives' fetters,
Light on blindness pour,
All our ills expelling,
Every bliss implore.

Show thyself a Mother;
May the Word Divine,
Born for us thy Infant,
Hear our prayers through thine.

Virgin all excelling,
Mildest of the mild,
Freed from guilt, preserve us,
Pure and undefiled.

Keep our life all spotless,
Make our way secure,
Till we find in Jesus,
Joy forevermore.

Through the highest heaven
To the Almighty Three,
Father, Son and Spirit,
One same glory be. Amen.

It is important to remember that in our prayers to Mary we honor, not worship her. As we read above "May the Word Divine/Born for us thy Infant/Hear our prayers through thine." She is more than happy to help us intercede to her Divine Son for the graces and mercy we need from Him.
Note also in this reference in the Ave Maris Stella to Jesus as the "Word Divine". Perhaps the original author was thinking of that wonderful reference to our Lord in St. John's Gospel, which is also echoed in the Angelus, in which the Evangelist states that "the Word was made flesh, and dwelt among us" (John 1:14).
There is a nice play on the words Ave and Eva in the second paragraph ("Ave" meaning "Hail", and "Eva", meaning "Eve", in Latin). Eva refers to our first mother Eve, who tragically helped bring about humanity's fall from Grace in Original Sin.
The angel Gabriel first uttered that "Sweet Ave" (as in "Ave Maria", the first words of the Hail Mary in Latin) in Luke's Gospel, when he informed Mary that she was to be Jesus' mother, as depicted in the painting above. As Fathers Rumble and Carty once put it, "As our first Mother Eve brought us forth to misery and suffering, so our second Mother Mary, in bringing forth our Savior, brought us forth to happiness and salvation."
The Ave Maris Stella can help those of you wishing to get closer to our Lord with the aid of Our Blessed Mother. After all, the great Saint Louis de Montfort, a renowned champion of Mary, made use of this hymn in his famous method of prayers and readings which we now know as "Total Consecration to Jesus through Mary", described here. We definitely recommend Montfort's approach as a great way to increase in holiness!
HELP SUPPORT OUR WEBSITE WITH PURCHASES
FROM OUR BOOK AND GIFT STORE
OR CAFE PRESS STORE!
CHECK OUT OUR PODCASTS HERE!

22

Return from Ave Maris Stella
to Marian Prayers 

THE FIVE FIRST SATURDAYS IS A DEVOTION NEEDED NOW MORE THAN EVER! FIND OUT MORE HERE

THE SAINT MICHAEL PRAYER AND THE ROSARY
ARE ALSO POWERFUL PRAYERS TO HELP US THROUGH VERY TURBULENT TIMES!

JOIN IN THE 54-DAY ROSARY NOVENA
 FOR OUR NATION FROM AUGUST 15TH
TO OCTOBER 7TH, 2023 HERE!