A PRAYER TO THE BLESSED VIRGIN AFTER COMMUNION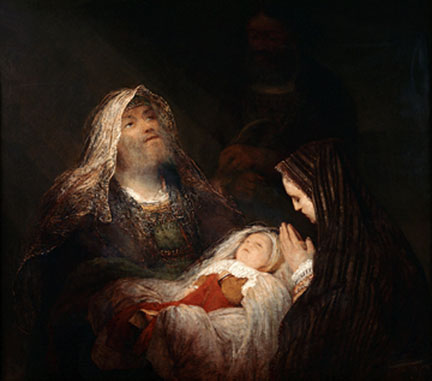 This Prayer to the Blessed Virgin after Communion, taken from an old prayer book, brings to mind the great help Mary can give us with Jesus as we strive for Eternal Life. It also touches on as the immense sorrow as well that she experienced at Calvary on our behalf.
O Mary, you desire so much to see Jesus loved; if you love me, this is the favor which I ask of you, to obtain for me a great personal love of Jesus Christ. You obtain from your Son whatever you please; pray then for me that I may never lose the grace of God and that I may increase in holiness and perfection from day to day. By that grief which you suffered on Calvary, when you beheld Jesus expire on the cross, obtain for me a happy death, that by loving Jesus, and you, my Mother, on earth I may receive the reward of loving and blessing you eternally in heaven.
Theologians and Saints alike have affirmed the power of Mary's intercession for us with her Divine Son. We see, for example, at the wedding feast at Cana, in which our Lord turns water into wine following her wishes (John 2:3-10), that Mary's requests to Jesus for us are quite important to Him. Such is the immense love between the two of them!
Keep in mind that in our prayers to Mary we honor, rather than worshipher. And that's fine with her! As we read in scripture, Mary tells the angel Gabriel, upon hearing the news that she has been chosen to be the mother of our Savior, "Behold the handmaid of the Lord; be it done to me according to thy word" (Luke 1:38).
As she says further, in the prayer we call the Magnificat, "My soul magnifies the Lord and my spirit rejoices in God my Savior" (Luke 1:46-47). Her joy comes from loving and serving her Son. And, as such she is happy to intercede with Him on our behalf and to give us graces we need to do His will.
Don't think you are somehow "sneaking past Jesus" in praying to Mary or putting her ahead of Him when asking for her assistance on your journey to heaven. The graces Mary gives us come from God, a fact gladly acknowledged by numerous saints. St. Alphonsus Liguori referred to our Blessed Mother in his classic work The Glories of Mary as "the universal dispenser of all divine graces."
St. Bernard referred to her as the "ladder of sinners, by which they ascend anew to the height of divine grace." He said as well that, although Jesus is called in one of St. Paul's letters the "one mediator between God and men" (1 Tim 2:5), "if you ever wish for another advocate with this mediator, invoke Mary, for she will intercede for you with the Son, who will surely graciously listen to her, and the Son will intercede with the Father, who can refuse nothing to this Son."
Regarding the grief mentioned in this prayer, the Blessed Mother was forewarned years earlier of the immense emotional suffering she would experience seeing her Son dying in His Crucifixion.
Simeon told her during Jesus' Presentation at the Temple in Jerusalem as a baby (depicted in this picture above) that "Thy own soul a sword shall pierce" (Luke 2:35). As Archbishop Fulton Sheen once put it "from that moment on, every time she would lift infant hands she would see fall across them the shadow of nails."
Mary herself revealed to St. Bridget that no one could possibly imagine the pain she suffered when she saw our Lord die on the cross. And yet, her suffering, like His need, not have been in vain for any of us. The more we cultivate a relationship with Jesus and Mary, with prayers like this one to her after Communion, the more we can assure our eternal place with them in Heaven!
HELP SUPPORT OUR WEBSITE WITH PURCHASES
FROM OUR BOOK AND GIFT STORE
OR CAFE PRESS STORE!
CHECK OUT OUR PODCASTS HERE!

22

Return from this page to
Prayers After Communion 

THE FIVE FIRST SATURDAYS IS A DEVOTION NEEDED NOW MORE THAN EVER! FIND OUT MORE HERE

THE SAINT MICHAEL PRAYER AND THE ROSARY
ARE ALSO POWERFUL PRAYERS TO HELP US THROUGH THESE VERY TURBULENT TIMES!

NOVEMBER IS AN ESPECIALLY IMPORTANT MONTH
TO PRAY FOR THE HOLY SOULS IN PURGATORY
WHO NEED AND ARE GRATEFUL FOR OUR PRAYERS!