COME HOLY SPIRIT!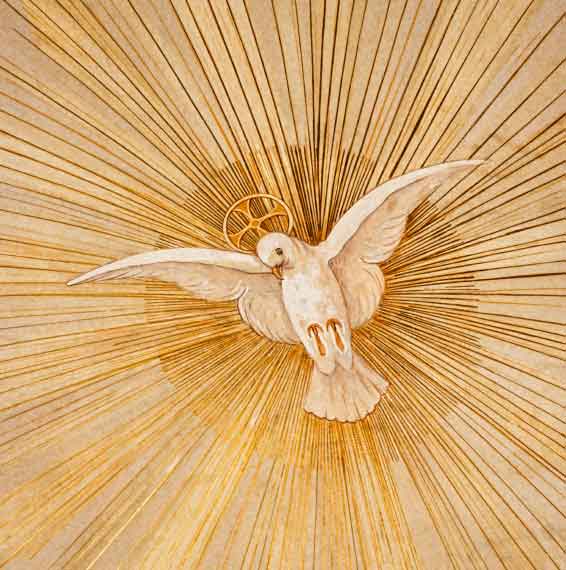 THE FIVE FIRST SATURDAYS IS A DEVOTION NEEDED NOW MORE THAN EVER! FIND OUT MORE HERE
THE SAINT MICHAEL PRAYER AND THE ROSARY
ARE ALSO POWERFUL PRAYERS TO HELP US THROUGH VERY TURBULENT TIMES!
JOIN IN THE 54-DAY ROSARY NOVENA
 FOR OUR NATION FROM AUGUST 15TH
TO OCTOBER 7TH, 2023 HERE!
Come Holy Spirit! While Pentecost has come and gone we certainly should not lose the point of this feast day: reflecting on the importance of the third person of the Holy Trinity in our lives. As the Holy Spirit, often symbolized as a dove, proceeds in love from the Father and the Son, He seeks to share that love with us so that we may share it with others and glorify God, who is Love, as St. John the Evangelist tells us (1 John 4:8).
I would like here to refer you to our pages of prayers to the Holy Spirit for some wonderful time-honored prayers as well as some background information.
When our Lord gave his farewell remarks to his apostles at the Last Supper soon before His Passion, he impressed upon them that he would not leave them as orphans (John 14:15-18). He would send the Holy Spirit to be a Paraclete, an advocate for them.
But equally, if not more importantly, the Spirit would remind them of all he had taught them (John 14:26). Indeed, Our Lord told the Apostles and Disciples right before His Ascension that the Holy Spirit would baptize them (Acts 1:5)!

Ten days later the Holy Spirit, in the form of wind and tongues of fire, descended upon the Apostles and disciples at Pentecost (Acts 2:2-3) and enabled them to proclaim the Gospel with a new sense of vigor and purpose. But He didn't stop there, as we read in the Book of Acts! He was quite active in the early days of the church. 

For some examples we see the Holy Spirit advising St. Peter (Acts 10:19 and 11:12), St. Philip (Acts 8:29) and of course St. Paul, in his role as Apostle to the Gentiles (Acts 20:22-23).  

In our own lives, the Holy Spirit seeks to give us comfort in our struggles, strength in our weakness, and wisdom as to how best to serve God and others, among other things! 

Indeed, Pope Leo XIII in his Encyclical Divinum illud munus ("On the Holy Spirit") wrote, in 1897: "We ought to pray to and invoke the Holy Spirit, for each one of us greatly needs His protection and His help. The more a man is deficient in wisdom, weak in strength, borne down with trouble, prone to sin, so ought he the more to fly to Him who is the never-ceasing fount of light, strength, consolation, and holiness."
Along these lines we also have these salient words from St. John Vianney, the Curé of Ars, in the 19th Century: "When we are led by the Holy Spirit, we cannot go astray. He is our strength and our light. He teaches us to distinguish between truth and falsehood, between good and evil." 
And yet….how do we discern what is of the Spirit? How do we know what He is really saying to us. Are we listening to what he's telling us, or rather, what we'd like to think He's telling us?
In the scriptural examples mentioned above, the Spirit might well have spoken to the apostles through visions or what we call locutions, (this is my guess here, admittedly).  According to Catholic Answers, as defined here,"A locution is a form of private revelation, similar to an apparition, but rather than being seen a locution is heard or received internally." 

Obviously there were strongly supernatural occurrences going on here! But how are we to discern Holy Spirit's promptings for us? For a very quick starting point let's look at this passage from St. Paul's letter to the Galatians: 
"Walk in the Spirit, and you will not fulfill the lusts of the flesh. For the flesh lusts against the spirit and the spirit against the flesh; …Now the works of the flesh are manifest, which are immorality, uncleanness, licentiousness, idolatry, witchcrafts, enmities, contentions, jealousies, anger, quarrels, factions, parties, envies, murders, drunkenness, carousings and suchlike. And concerning these I warn you, as I have warned you, that they who do such things will not attain the kingdom of God. But the fruit of the Spirit is: charity, joy, patience, kindness, goodness, faith, modesty, continency….If we live by the Spirit, by the Spirit let us also walk." (Gal 5:16-25)

I must point out here that St. Paul by no means wishes us to despise our bodies, our "flesh". Indeed as we read in another noteworthy passage, part of the reason for clean living is  that, as the great Apostle put it in one of his letters to the Corinthians  "Do you not know your body is the temple of the Holy Spirit, whom you have from God, and that you are not your own? For you have been bought at a great price. Therefore, Glorify God in your body."
As long as our earthly bodies house our souls we are to keep them as fit dwelling places for the Triune God, Father, Son and Holy Spirit. As our Lord said  "If any one love me, he will keep my word, and my Father will love him, and we will come to him, and will make our abode with him. (John 14:23)". (The Holy Spirit is naturally included in this declaration.)  
This is precisely why going to confession when we've committed mortal sins is so important. There's no room for God in a soul in a state of mortal sin! 

Thus the Holy Spirit will never suggest that it's OK to cheat on your spouse or your taxes; or engage in bribery or slander; or bear a grudge because after all everybody's doing it so it must be OK. He will never suggest you are what you own, that "he [or she] who dies with the most toys wins"!
He will always point you in a more loving, thoughtful, holy direction. After all, we are all meant to be God's adopted sons and daughters (Rom 8:15) as citizens in training for Eternal Life! 

How else are we to know when it's the Spirit is speaking to us? Through an informed conscience! I'd like to suggest some books below that can help. Reading Scripture on a regular basis is important, for sure.  
The Catechism of the Catholic Church is also indispensable in learning about our Magisterium, the Teaching Authority for our faith handed down to us through the Holy Spirit inspiring numerous theologians and clergy over the centuries. (Think of it as our "instruction manual.")
You don't need to memorize it all, of course, but the more you know the better you can discern what comes from the Spirit and what comes from some more erroneous notions or desires.
While we may not have the benefit of supernatural communication that the apostles and disciples had that first Pentecost, we nonetheless do indeed have the gift of supernatural faith from God. May the Spirit move you to "go forth, glorifying the Lord by your life"!
Christopher Castagnoli
for www.ourcatholicprayers.com
HELP SUPPORT OUR WEBSITE WITH PURCHASES
FROM OUR BOOK AND GIFT STORE
OR CAFE PRESS STORE!
CHECK OUT OUR PODCASTS HERE!

22

Return from Come Holy Spirit
to Prayers to the Holy Spirit