ACTS OF DESIRE 
BEFORE COMMUNION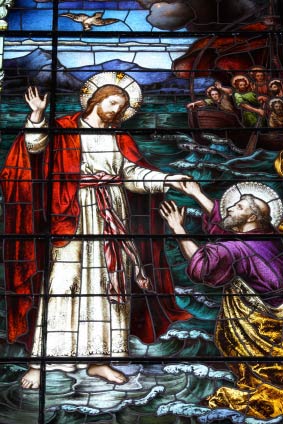 These prayers below, known as Acts of Desire before Communion, each approach the theme of longing for divine intimacy with our Lord from a slightly different angle.
All of them, however, stress the need for Christ to give us graces to be so close to him as to never be separated from Him by sin, especially Mortal Sin! As the Catechism of the Catholic Church puts it "Sin sets itself against God's love for us and turns our hearts away from it." (CCC1850)
The first of these prayers is probably the most accessible:
Jesus, my God and my All, my soul longs for You. My heart yearns to receive You in Holy Communion. Come, Bread of heaven and Food of angels, to nourish my soul and to rejoice my heart. Come, most lovable Friend of my soul, to inflame me with such love that I may never again be separated from You.
This second of these Acts of Desire before Communion, reminds us, with its reference to heaven, that our obedience to our Lord's laws of love in His commandments can bring us our inheritance, Eternal Life in His kingdom!
Jesus, my God, thou art infinitely good and perfect. I love Thee above all things and with my whole heart. I desire to receive Thee in Holy Communion that I may love Thee more and serve Thee better. Come to me and strengthen me, so that I may never be separated from Thee on earth and that I may live with Thee eternally in heaven.
As Jesus answered the rich young man in the Gospels who asked Him what he needed to do to gain Eternal Life, "keep the commandments" (Matt 19:17). (He enumerates several of the Ten Commandments in his response; Matt 19:18-19).
We are also reminded in this prayer that Mass and Communion aren't just empty rituals. When we receive Jesus with a fervent desire for his help and graces He will give us the strength to cope with life's challenges better.
And, finally, this third prayer, with its reference to St. Mary Magdalene, the repentant sinner who became one of Christ's most fervent disciples, reminds us that God's love and healing forgiveness is meant for all of us who ask for his assistance. After all, as we read in the Gospels (Mark 16:9 and Luke 8:2), didn't our Lord drive out seven demons from her?
O Lord Jesus Christ, King of everlasting glory, behold I desire to come to Thee this day, and to receive Thy Body and Blood in this heavenly Sacrament for Thy honor and glory, and the good of my soul. I desire to receive Thee, because it is Thy desire, and Thou hast so ordained: blessed be Thy Name for ever. I desire to come to Thee like Magdalen, that I may be delivered from all my evils, and embrace Thee, my only good. I desire to come to Thee, that I may be happily united to Thee, that I may henceforth abide in Thee, and Thou in me; and that nothing in my life or death may ever separate me from Thee.
Communion is a powerful way to stay close to Jesus. As a reminder, he is indeed present in the Eucharist in body, blood soul and divinity. Christ Himself said "he who eats my flesh and brinks my blood, abides in Me and I in him" (John 6:57), as is mentioned in this prayer above.
Keep in mind, however, regarding our reference to sin earlier, that while we can receive our Lord having committed venial sins, we should never receive Him in Communion having committed a mortal sin.
Fortunately, Jesus is ready to forgive us these sins in the sacrament of Penance (also known as Confession.) It is important to go to Confession for absolution of any mortal sins we may have committed (such as theft, perjury, adultery, or sex outside of marriage, for example.) Mortal sins drive out sanctifying grace in our souls. Some of the distinctions between venial and mortal sins can be found here. 

For those times of dryness, boredom, or great anxiety over daily problems, remember that just having the desire to be with Jesus in Communion is a grace in itself!
You can ask Him to increase that desire with one of these prayers or with your own sincere spontaneous thoughts. Our Lord Himself said in the Sermon on the Mount "Ask, and it shall be given you: seek, and you shall find" (Matt 7:7).
In the midst of all the daily clutter and chatter, remember, as Jesus also once said, "Heaven and earth shall pass away, but my words shall not pass away" (Luke 21:33).
He and His Love for us are eternal. And as St. Paul once assured us, we need never be separated from Him, touching on the desire mentioned at the end of each of these prayers.
As he put it so movingly in his letter to the Romans, "Who shall separate us from the love of Christ?…..neither death, nor life, nor angels, nor principalities, nor powers, nor things present, nor things to come, nor might, nor height, nor depth, nor any other creature, shall be able to separate us from the love of God, which is in Christ Jesus our Lord" (Rom 8:35, 38-39).
HELP SUPPORT OUR WEBSITE WITH PURCHASES
FROM OUR BOOK AND GIFT STORE
OR CAFE PRESS STORE!
CHECK OUT OUR PODCASTS HERE!

22

Return from This Page to
Prayers Before Communion 

THE FIVE FIRST SATURDAYS IS A DEVOTION NEEDED NOW MORE THAN EVER! FIND OUT MORE HERE

THE SAINT MICHAEL PRAYER AND THE ROSARY
ARE ALSO POWERFUL PRAYERS TO HELP US THROUGH VERY TURBULENT TIMES!

JOIN IN THE 54-DAY ROSARY NOVENA
 FOR OUR NATION FROM AUGUST 15TH
TO OCTOBER 7TH, 2023 HERE!