THE DIVINE PRAISES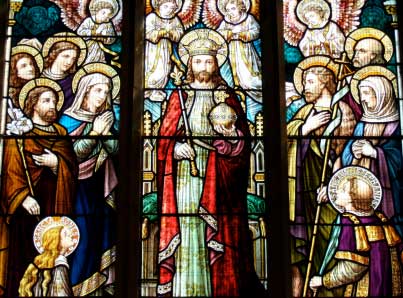 THE FIVE FIRST SATURDAYS IS A DEVOTION NEEDED NOW MORE THAN EVER! FIND OUT MORE HERE
THE SAINT MICHAEL PRAYER AND THE ROSARY
ARE ALSO POWERFUL PRAYERS TO HELP US THROUGH VERY TURBULENT TIMES!
GROW IN FAITH AND PRAYER WITH HALLOW!
The Divine Praises traditionally follows the Benediction of the Blessed Sacrament at Church when it is prayed by the priest and the worshippers before our Lord (in the Host) is returned to the tabernacle following adoration.
It was composed in a slightly shorter form by Luigi Felici, a Jesuit priest, in 1797, as a prayer to make reparation for blasphemy and profane language. You can recite it privately (or in group settings other than during the Benediction) for this purpose as a great way to show God, the Holy Family, and the Angels and Saints thanksgiving and praise.
Blessed be God. 
Blessed be His Holy Name. 
Blessed be Jesus Christ, true God and true Man. 
Blessed be the Name of Jesus.
Blessed be His Most Sacred Heart.
Blessed be His Most Precious Blood.
Blessed be Jesus in the Most Holy Sacrament of the Altar.
Blessed be the Holy Spirit, the Paraclete.
Blessed be the great Mother of God, Mary most Holy.
Blessed be her Holy and Immaculate Conception.
Blessed be her Glorious Assumption.
Blessed be the name of Mary, Virgin and Mother.
Blessed be St. Joseph, her most chaste spouse.
Blessed be God in His Angels and in His Saints. Amen.
May the heart of Jesus, in the Most Blessed Sacrament, be praised, adored, and loved with grateful affection, at every moment, in all the tabernacles of the world, even to the end of time. Amen.

In an era when many people only refer to our Lord in an exclamatory fashion after some sort of accident, it is good for us to sing His Divine Praises here. As we say in the introduction to the Eucharistic prayer at Mass "it is right to give Him thanks and praise!"
Saint Thomas Aquinas once noted that this can increase the fervor of our devotion to Him, and that thus "we praise God not for His benefit but for ours." This prayer reminds us of the glories of the Trinity, and of the key role our Blessed Mother, St. Joseph, and the Angels and saints have played in our salvation as well.
HELP SUPPORT OUR WEBSITE WITH PURCHASES
FROM OUR BOOK AND GIFT STORE
OR CAFE PRESS STORE!
CHECK OUT OUR PODCASTS HERE!

22

Return from the Divine Praises
to Blessed Sacrament Prayers