PROMISES TO THOSE WHO HONOR
THE HOLY FACE OF JESUS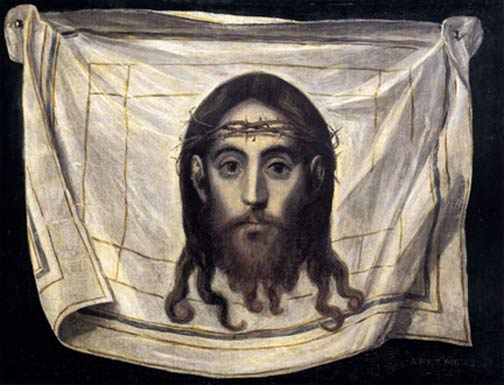 THE FIVE FIRST SATURDAYS IS A DEVOTION NEEDED NOW MORE THAN EVER! FIND OUT MORE HERE
THE SAINT MICHAEL PRAYER AND THE ROSARY
ARE ALSO POWERFUL PRAYERS TO HELP US THROUGH THESE VERY TURBULENT TIMES!
NOVEMBER IS AN ESPECIALLY IMPORTANT MONTH
TO PRAY FOR THE HOLY SOULS IN PURGATORY
WHO NEED AND ARE GRATEFUL FOR OUR PRAYERS!
While religious have shown devotion to Our Lord Jesus Christ in His Holy Face for centuries, the actual Holy Face Devotion was established in the 19th century. In a series of revelations, Our Lord told Sister Mary of Saint Peter, a French Carmelite nun in the 1840's of His wish for this Devotion in reparation for blasphemy and the profanation of Sundays.
(By this we mean people using Sundays for weekday activities such as shopping and chores rather than spending time in rest and reflection on God.)
Devotion to the Holy Face of Jesus includes some special prayers, such as the Golden Arrow, which Jesus taught Sister Mary. He prized this devotion so much he made these promises for those who would honor His Holy Face.
These were recorded in an autobiography of Sister Mary, entitled, appropriately enough, the Golden Arrow which is still in print and available here. Our Lord's promises are as follows:
1. All those who honor My Face in a spirit of reparation will by so doing perform the office of the pious Veronica. According to the care they take in making reparation to My Face, disfigured by blasphemers, so will I take care of their souls which have been disfigured by sin. My Face is the seal of the Divinity, which has the virtue of reproducing in souls the image of God.
2. Those who by words, prayers or writing defend My cause in this Work of Reparation I will defend before My Father, and will give them My Kingdom.
3. By offering My Face to My Eternal Father, nothing will be refused, and the conversion of many sinners will be obtained.
4. By My Holy Face, they will work wonders, appease the anger of God, and draw down mercy on sinners.
5. As in a kingdom they can procure all that is desired with a coin stamped with the King's effigy, so in the Kingdom of Heaven they will obtain all they desire with the precious coin of My Holy Face.
6.Those who on earth contemplate the wounds of My Face shall in Heaven behold it radiant with glory.
7.They will receive in their souls a bright and constant irradiation of My Divinity, that by their likeness to My Face they shall shine with particular splendor in Heaven.
8. I will defend them, I will preserve them and I assure them of Final Perseverance.
HELP SUPPORT OUR WEBSITE WITH PURCHASES
FROM OUR BOOK AND GIFT STORE
OR CAFE PRESS STORE!
CHECK OUT OUR PODCASTS HERE!

22

Return from Holy Face Promises
to Holy Face Devotion Main Page