GOD'S LIVING TABERNACLE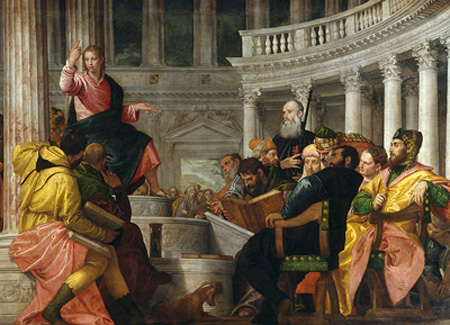 THE FIVE FIRST SATURDAYS IS A DEVOTION NEEDED NOW MORE THAN EVER! FIND OUT MORE HERE
THE SAINT MICHAEL PRAYER AND THE ROSARY
ARE ALSO POWERFUL PRAYERS TO HELP US THROUGH VERY TURBULENT TIMES!
JOIN IN THE 54-DAY ROSARY NOVENA
 FOR OUR NATION FROM AUGUST 15TH
TO OCTOBER 7TH, 2023 HERE!
THIS WEBPAGE IS ALSO AVAILABLE
AS A PODCAST HERE
While meditating on the fifth joyful mystery of the Rosary recently, the Finding of Jesus in the Temple, I thought about how Jesus told our Blessed Mother and St. Joseph that he had to be about His Father's business after his amazing conversation with the teachers and doctors in the Great Temple in Jerusalem, as pictured above (Luke 2:46-47).
I remembered how the phrase "My Father's business" has also been translated as "My Father's house" in later editions of the Bible than the traditional authoritative Douay-Rheims version from the 16th century. 
The Jerusalem Temple was the cornerstone, both literally and figuratively, of Jewish worship when Jesus was there. Thus it is not hard to see God the Father's business as taking place in His house. It is worth noting that in traditional Judaism God was most revered in the Holy of Holies there.
One can almost imagine God the Father beaming with pride and joy from that sacred spot as Jesus was wowing the teachers "with his understanding and his answers" (Luke 2:47), thinking perhaps, as at other times, "This is my beloved son, with whom I am well pleased" (Matt 3:17; 2 Pet 1:17).
Jesus would go on to astonish far more people than he did that day through the miracles of His earthly ministry and His resurrection on the first Easter Sunday! His message of salvation and redemption, as God incarnate, was meant for everyone, for the gentiles as well as the Jews

And as such, after Christ's Passion, death and resurrection, God would make His presence felt far beyond the recesses of the Holy of Holies in the Great Temple (which would itself be destroyed by the Romans in 70 AD, about four decades after the time of our Lord's earthly ministry). 

In what we call the Real Presence, the hosts consecrated by a priest at Mass are transformed from bread and wine to our Lord Himself in Body, Blood, Soul and Divinity! He is indeed present in tabernacles in Catholic churches all over the world, longing for us to be with Him there in Eucharistic Adoration, and to receive Him at Holy Communion at Mass. 

Many people these days feel a similar intense desire to be with Him in church. However, in this time of Coronaviral chastisement and confusion Masses have been suspended until further notice all over this country. This has caused much sorrow and even anger amongst the faithful! 

But consider this for a moment: Granted, one shouldn't fall into some pantheistic trap of thinking of God being everything and everyone. This creates the all too real danger of our worshiping the created rather than the creator. But God is indeed everywhere.
The psalmist in Psalm 139 noted that wherever he would go God would be there! Keep in mind thus that our Lord longs to be with you at home as much as you want to be with Him in church! So why not make your soul a living tabernacle for Him?

While we may indeed need to practice social distancing in these troubling times (I'm surprised it's not called physical distancing, actually) don't think that you have to keep our Lord six feet away from you since you can't attend Mass. 

Now more than ever we must keep in mind our Lord's promise that He would not leave us orphans after His death at Calvary (John 14:18). Indeed, thanks to Jesus' sacrifice we are adopted children of God (Rom 8:15-17).
Didn't Christ give us these stirring comforting words in St. John's Gospel: "If any one love me, he will keep my word, and my Father will love him, and we will come to him, and will make our abode with him" (John 14:23)?

And didn't St. Paul reinforce this idea when he urged us to think of our earthly bodies, although subject to sin through our fallen nature, as temples of the Holy Spirit, thus reminding us of the need to keep them holy (1 Cor 6:19)?
Think also in this regard of this great short prayer to the Holy Spirit:

Holy Spirit, sweet guest of my soul, abide in me and grant that I may ever abide in Thee.

Thus, during this trying time, be "about the Father's business'": and let the Triune God work through you in the "dwelling" of your soul possessing Sanctifying Grace! Make acts of Spiritual Communion as often as you'd like, not just while watching various televised or video streamed Masses. 
As Saint Jean Marie Vianney, the Patron Saint of Parish Priests, once said of this practice "A Spiritual Communion acts on the soul as blowing on a cinder-covered fire which was about to go out. Whenever you feel your love of God growing cold, quickly make a Spiritual Communion."
For a quick refresher, here's a well-known Spiritual Communion prayer: 
My Jesus, I believe that you are present in the most Blessed Sacrament. I love You above all things and I desire to receive You into my soul. Since I cannot now receive You sacramentally, come at least spiritually into my heart. I embrace You as if You were already there, and unite myself wholly to You. Never permit me to be separated from You. Amen.
This is also a good time to read books by and about the great saints, for example. Or to grow in knowledge of our faith from spending time on good instructive sites such as Catholic Answers and Spiritual Direction.com for examples.

When it comes to Confession, the other vital sacrament in short supply these days from church closings, we should never think that confessing your sins to God directly at home in non-pandemic times is just as effective in expunging sins and receiving grace as a regular sacramental confession.  

Yet, for both mortal and venial sins these days, you can make a Perfect Act of Contrition, with the sincere intention of making a good sacramental confession at the earliest opportunity. With a spirit of true repentance, ask God for His grace not to commit those sins again in the meantime! 
The well known Act of Contrition can help. It's good to pray anytime, especially at night before retiring. 
O my God, I am heartily sorry for having offended Thee, and I detest all my sins, because I dread the loss of Heaven and the pains of Hell, but most of all because they offend Thee, my God, Who art all-good and deserving of all my love. I firmly resolve, with the help of Thy grace to confess my sins, to do penance and to amend my life. Amen.
Keep in mind as well that now is especially not a good time to go wandering into mortal sin territory by abusing drugs or alcohol, or by looking at soft or not so soft porn on Cable TV, Netflix, and various websites.

Keep the Triune God as close to your heart and soul through good spiritual reading and prayers such as the Spiritual Communion, various others found in books and online, and, of course the Rosary, a most powerful, indeed a vital prayer.
Ask God constantly to give you His grace to get you through these difficult times, especially when you feel most prone to overwhelming worries and despair about things beyond your control! And try your best to show God's grace and kindness to others. The advice in Psalm 95 verse 8 is as meaningful now as ever "Today if you shall hear His [God's] voice, harden not your hearts".
Hopefully soon, God willing, when you can once again receive our Lord in Communion at Mass and ask for His forgiveness and grace in Confession, those moments with Him will be all the sweeter and more meaningful for you!
God Bless,
Christopher Castagnoli
for www.ourcatholicprayers.com
HELP SUPPORT OUR WEBSITE WITH PURCHASES
FROM OUR BOOK AND GIFT STORE
OR CAFE PRESS STORE!
CHECK OUT OUR PODCASTS HERE!

22

Return from God's Living Tabernacle 
to Prayer Blog Page