A NOVENA 
TO ST. ANTHONY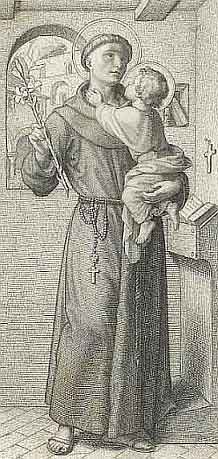 THE FIVE FIRST SATURDAYS IS A DEVOTION NEEDED NOW MORE THAN EVER! FIND OUT MORE HERE
THE SAINT MICHAEL PRAYER AND THE ROSARY
ARE ALSO POWERFUL PRAYERS TO HELP US THROUGH VERY TURBULENT TIMES!
JOIN IN THE 54-DAY ROSARY NOVENA
 FOR OUR NATION FROM AUGUST 15TH
TO OCTOBER 7TH, 2023 HERE!
This novena to St. Anthony of Padua (1195-1231) is one of many prayers to this great Franciscan preacher, instructor, and Doctor of the Church that touches on his aid being sought frequently to find lost items. It also mentions a great miracle attributed to him, one of many, when he was seen one night bathed in light in a room with the Child Jesus in his arms, as pictured above.
I greet you, Saint Anthony, lily of purity, ornament and glory of Christianity. I greet you, great saint, filled with divine love. I rejoice at the favors our Lord has so generously bestowed on you. I humbly and confidently entreat you to help me, for I know that God has given you charity and pity, as well as power.
Good Saint Anthony, meek and humble in spite of your great gifts, and whom we invoke so confidently to help us find that which is lost, pray, I beg of you, that I may never lose my faith, the gift that I cherish most.
Behold my needs: (mention your request). I beg of you, by the love you felt toward the little Jesus when He embraced you so lovingly, to tell Him now of my wants. Remember how complete your happiness was when you held Him in your arms.
I venerate you, glorious favorite of God, and bow my guilty head before you in humble reverence, while I raise my sad heart full of hope toward the throne of divine mercy, and to you, my intercessor. He who placed Himself in your arms will now fill your hands with all I ask of you.
Obtain for me what I desire, if it be God's holy Will, and I will make known the wondrous power of your intercession for the greater glory of God. Amen.
St. Anthony was known in his short but quite memorable life as an eloquent speaker whose sermons defending the truths of the Catholic Church strengthened countless people in their faith. He became celebrated throughout France and Italy and was known as the "hammer of heretics."
St. Anthony's impact was such that he was canonized as a saint only a year after his death by Pope Gregory IX in 1232! He is revered today as a patron saint of, among others, the poor, travelers, and, most famously, those looking for missing items. His feast day is June 13th.
This novena to St. Anthony reminds us of the most important thing we should never lose: our faith! May he inspire you never to lose heart as well in the saving power of God's love and grace, especially in difficult times!
HELP SUPPORT OUR WEBSITE WITH PURCHASES
FROM OUR BOOK AND GIFT STORE
OR CAFE PRESS STORE!
CHECK OUT OUR PODCASTS HERE!

22

Return from A Novena
to St. Anthony to Novenas 

Go from A Novena to St. Anthony
to Prayers to St. Anthony