A NOVENA TO ST. JOSEPH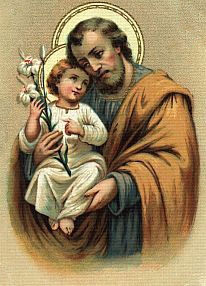 This novena to St. Joseph requests divine assistance from someone close to our Lord, quite close indeed: His foster-father! Although he was from royal ancestry, a descendant of King David, St. Joseph has inspired the faithful for generations as a model of humility and service as a carpenter caring for his Holy Family. St. Bernard called him "the faithful and prudent servant whom the Lord appointed master over His household—His foster-father [and] the comfort and support of His Mother."
Glorious St. Joseph, foster-father and protector of Jesus Christ! To you do I raise my heart and hands to implore your powerful intercession. Please obtain for me from the kind Heart of Jesus the help and graces necessary for my spiritual and temporal welfare. I ask particularly for the grace of a happy death, and the special favor I now implore (name it).
Guardian of the Word Incarnate, I feel animated with confidence that your prayers in my behalf will be graciously heard before the throne of God.
V. O glorious St. Joseph, through the love you bear to Jesus Christ, and for the glory of His name,
R. Hear my prayers and obtain my petitions.
St. Thomas Aquinas, the preeminent 13th century theologian, and St. Teresa of Avila, the celebrated 16th century Carmelite nun, both praised St. Joseph's ability to assist us in all our needs before God. Is it any wonder then that he is a patron saint of the Church, workers, families, home buyers and sellers, and, as we read in this novena, the grace of a happy death? Don't be afraid to ask for his aid!
HELP SUPPORT OUR WEBSITE WITH PURCHASES
FROM OUR BOOK AND GIFT STORE
OR CAFE PRESS STORE!
CHECK OUT OUR PODCASTS HERE!

22

Return from A Novena to St. Joseph
to Novenas