A NOVENA TO ST. JUDE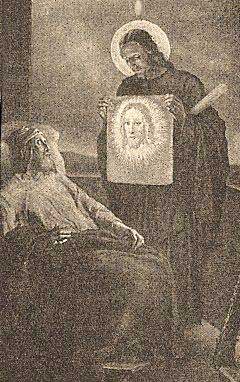 A VARIATION OF THIS WEBPAGE
IS ALSO AVAILABLE AS A PODCAST HERE
This Novena to St. Jude, the famous patron saint of desperate cases and lost causes, helps us to remember that, as our Lord Himself put it, "all things are possible with God" (Mark 10:27).
St. Jude, an apostle also called "Thaddeus," is known as the brother of another apostle, St. James the Less. Tradition credits him with having written one of the letters of the New Testament, although this is not certain. Countless people have long sought St. Jude's help from novenas such as this one:
Glorious Apostle, St. Jude Thaddeus, I salute you through the Sacred Heart of Jesus. Through His Heart I praise and thank God for all the graces he has bestowed on you. I implore you, through His love to look upon me with compassion. Do not despise my poor prayer. Do not let my trust be confounded! God has granted to you the privilege of aiding mankind in the most desperate cases. Oh come to my aid that I may praise the mercies of God! All my life I will be your grateful client until I can thank you in heaven. Amen.
St. Jude, pray for us,
And for all who invoke your aid.
St. Jude is said to have helped spread the gospel not just in Judea and Samaria, but as far away as Mesopotamia and Persia, where he was apparently martyred, as well.
Tradition has it that, among the many he converted to Christianity was the King of Edessa, a city in Mesopotamia, after curing him of leprosy with an image of Jesus that our Lord had pressed on a cloth, as depicted above.
He is often shown, as in this drawing, holding an image of Jesus in one hand and a club (a symbol of his martyrdom) in the other, with the Holy Spirit over his head as a tongue of fire (in remembrance of His appearance to the apostles at Pentecost).
Many prayers such as the one given here can be also used for a novena to St. Jude. He continues to help those most in need among the faithful, to good effect, judging from his continued popularity as an intercessor. Don't be afraid to seek his assistance. As we read in the prayer above his ability to help us comes, as do all good things, from our Creator!

HELP SUPPORT OUR WEBSITE WITH PURCHASES
FROM OUR BOOK AND GIFT STORE
OR CAFE PRESS STORE!
CHECK OUT OUR PODCASTS HERE!

22

Return from A Novena to St. Jude to Novenas



THE FIVE FIRST SATURDAYS IS A DEVOTION NEEDED NOW MORE THAN EVER! FIND OUT MORE HERE

THE SAINT MICHAEL PRAYER AND THE ROSARY
ARE ALSO POWERFUL PRAYERS TO HELP US THROUGH THESE VERY TURBULENT TIMES!

NOVEMBER IS AN ESPECIALLY IMPORTANT MONTH
TO PRAY FOR THE HOLY SOULS IN PURGATORY
WHO NEED AND ARE GRATEFUL FOR OUR PRAYERS!