A NOVENA TO ST. THERESE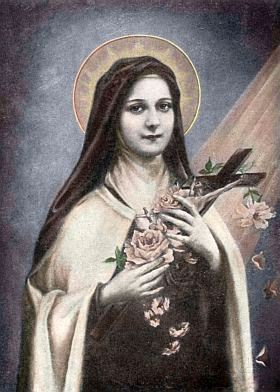 THE FIVE FIRST SATURDAYS IS A DEVOTION NEEDED NOW MORE THAN EVER! FIND OUT MORE HERE
THE SAINT MICHAEL PRAYER AND THE ROSARY
ARE ALSO POWERFUL PRAYERS TO HELP US THROUGH VERY TURBULENT TIMES!
JOIN IN THE 54-DAY ROSARY NOVENA
 FOR OUR NATION FROM AUGUST 15TH
TO OCTOBER 7TH, 2023 HERE!
Would you like roses from "the Little Flower"? This novena to St. Therese sums up her celebrated promises very nicely in its first sentence.
Most gracious Little Rose Queen, remember your promises of never letting any request made to you go unanswered, of sending down a shower of roses, and of coming down to earth to do good. Full of confidence in your power with the Sacred Heart, I implore your intercession in my behalf and beg of you to obtain the request I so ardently desire: (mention it).
Holy "Little Therese," remember your promise "to do good upon earth" and shower down your "roses" on those who invoke you. Obtain for us from God the graces we hope for from His infinite goodness. Amen.
There have been many miracles attributed to St. Therese since her death. Some of these have indeed included showers of roses!
St. Therese, born Therese Martin in 1873, served our Lord with great humility during her 9 years as a Carmelite nun. Her autobiography Story of a Soul, published shortly after her death from tuberculosis in 1897, made her famous around the world!
While she had thought of herself as just a "little white flower" in our Lord's "living garden" of souls, Pope Pius X referred to her as "this lily of delicious perfume." In her famous memoir, she invites us to follow her "Little Way" to please God by doing our daily chores and activities as best we can out of love for Him.
May this novena to St. Therese, as well as this one here, help you to follow in her footsteps as she followed in His! You don't need to be a hero to serve our Lord well. You just have to approach Him with a loving, humble and trusting heart. As Jesus said once in Luke's Gospel (16:10) "He who is faithful in a very little thing is faithful also in much."
HELP SUPPORT OUR WEBSITE WITH PURCHASES
FROM OUR BOOK AND GIFT STORE
OR CAFE PRESS STORE!
CHECK OUT OUR PODCASTS HERE!

22

Return from Novena to St. Therese
to Novenas