A NOVENA TO 
THE HOLY SPIRIT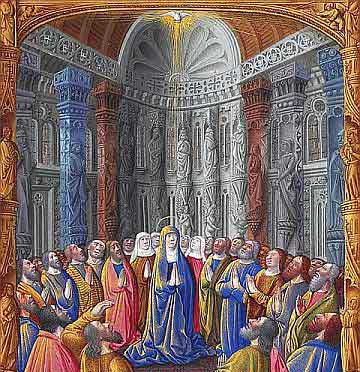 THE FIVE FIRST SATURDAYS IS A DEVOTION NEEDED NOW MORE THAN EVER! FIND OUT MORE HERE
THE SAINT MICHAEL PRAYER AND THE ROSARY
ARE ALSO POWERFUL PRAYERS TO HELP US THROUGH THESE VERY TURBULENT TIMES!
NOVEMBER IS AN ESPECIALLY IMPORTANT MONTH
TO PRAY FOR THE HOLY SOULS IN PURGATORY
WHO NEED AND ARE GRATEFUL FOR OUR PRAYERS!
This novena to the Holy Spirit covers many important aspects of our relationship to the "third Person of the Blessed Trinity" as He is called below.
Holy Spirit, third Person of the Blessed Trinity, Spirit of truth, love and holiness, proceeding from the Father and the Son, and equal to Them in all things, I adore You and love You with all my heart.
Dearest Holy Spirit, confiding in your deep, personal love for me, I am making this novena for the following request, if it should be Your holy Will to grant it: (mention your request).
Teach me, Divine Spirit, to know and seek my last end; grant me the holy fear of God; grant me true contrition and patience. Do not let me fall into sin. Give me an increase of faith, hope, and charity, and bring forth in my soul all the virtues proper to my state of life.
Make me a faithful disciple of Jesus and an obedient child of the Church. Give me efficacious grace sufficient to keep the commandments and to receive the sacraments worthily. Give me the four Cardinal Virtues, Your Seven Gifts, Your Twelve Fruits. Raise me to perfection in the state of life to which You have called me and lead me through a happy death to everlasting life. Through Christ our Lord. Amen.
Praying a novena to the Holy Spirit is also an important devotion in preparation for Pentecost. Indeed, Mary, the apostles, and the disciples spent nine days between our Lord's Ascension into heaven and the descent of the Holy Spirit at Pentecost (pictured above) in "constant prayer" (Acts 1:12-14). Some see this as the model not only for the novena to the Holy Spirit but for all other novenas as well.
In addition to the novena above however, other prayers to the Holy Spirit such as this one also make good novenas. This prayer for the seven gifts of the Holy Spirit mentioned above spells them out and helps define them nicely.
The graces, gifts, and virtues mentioned in the novena to the Holy Spirit above are meant to instill in us the wonderful heavenly attributes necessary for our salvation as we seek to imitate Christ and show others His love in our daily lives.
The seven gifts are wisdom, understanding, knowledge, counsel, fortitude, piety and fear of the Lord. These tie in well with the twelve fruits of the Holy Spirit mentioned above, many of which were well articulated by St. Paul in one of his letters (Gal 5:22-23): charity, joy, peace, patience, kindness, goodness, generosity, gentleness, faithfulness, modesty, self-control, and chastity.
This long list of seemingly overlapping yet quite distinct merits can strengthen in us the four cardinal virtues so necessary for us to grow in holiness on the path to our salvation as we follow Christ: prudence, justice, fortitude, and temperance. Note that all of these qualities are meant to bring us closer to God as we reflect His peace and goodness.
Jesus told His disciples before His Passion that He would send the Holy Spirit to "remind you of all that I taught you" as He put it in John's gospel (John 14:26). It is important that we listen to and act on our Lord's inclinations for us through His Spirit as we seek His sanctifying Grace in our lives.
Christ once said that unless we become like little children we cannot enter the kingdom of Heaven (Matt 18:3). When we adopt that spirit of childlike faith and trust in Him we are better able to listen to His Spirit.
Keep in mind that God has given us not only His Spirit and His gifts of sanctifying Grace but also the free will to choose to accept them. Each of us must play an active part in our own salvation by listening to and acting on His divine inspirations for us. Our relationship with our Creator in His three Persons is indeed a partnership!
We must listen to His voice through prayer, the sacraments, and seeking His word in Scripture and spiritual reading. As St. Augustine once said "He who created us without our help will not save us without our consent." This novena to the Holy Spirit can help us not only with our requests, if they are in line with God's will for us, but also in uniting our will with His!
HELP SUPPORT OUR WEBSITE WITH PURCHASES
FROM OUR BOOK AND GIFT STORE
OR CAFE PRESS STORE!
CHECK OUT OUR PODCASTS HERE!

22

Return from a Novena
to the Holy Spirit to Novenas