O SALUTARIS HOSTIA

THE FIVE FIRST SATURDAYS IS A DEVOTION NEEDED NOW MORE THAN EVER! FIND OUT MORE HERE
THE SAINT MICHAEL PRAYER AND THE ROSARY
ARE ALSO POWERFUL PRAYERS TO HELP US THROUGH THESE VERY TURBULENT TIMES!
O Salutaris Hostia is a moving tribute to our Lord, a wonderful hymn written by Saint Thomas Aquinas (pictured below), the preeminent theologian and Doctor of the Church, in the 13th century. Saint Thomas composed its text for the feast of Corpus Christi, which was established by the Church in 1264 to honor our Lord in the Eucharist (in His Body and Blood).
It actually comprises the last two stanzas of a larger hymn that Saint Thomas wrote about our Lord's institution of the Eucharist at the Last Supper and His Passion. It is often sung during adoration of the Blessed Sacrament as part of what is known as a liturgical service of Eucharistic Exposition and Benediction. The text is given in Latin with an English translation below: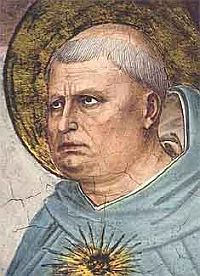 O salutaris Hostia,
Quae caeli pandis ostium: 
Bella premunt hostilia,
Da robur, fer auxilium.
Uni trinoque Domino 
Sit sempiterna gloria,
Qui vitam sine termino 
Nobis donet in patria.
Amen.

O saving Victim, opening wide,
The gate of heaven to man below!
Our foes press on from every side;
Thine aid supply, thy strength bestow.

To Thy great name by endless praise,
Immortal Godhead, one in Three;
Oh, grant us endless length of days,
In our true native land with Thee. Amen

This hymn has had many musical settings over the centuries by such composers as Palestrina, Beethoven, Gounod, and Liszt. The music in this video is often used in services. 

Note the text's inspiring references to our Lord's saving mission in reconciling us to His Father, and thus opening for us the gates of heaven, through his Passion. We are invited here to ask for His help in persevering in our often difficult spiritual journey towards Eternal Life with Him in our "true native land," heaven!
St. Thomas himself once quoted St. Augustine as saying that in heaven "we will see, we will love, and we will praise." This hymn reminds us to keep our eyes on the prize!
HELP SUPPORT OUR WEBSITE WITH PURCHASES
FROM OUR BOOK AND GIFT STORE
OR CAFE PRESS STORE!
CHECK OUT OUR PODCASTS HERE!

22

Return from O Salutaris Hostia
to Blessed Sacrament Prayers