A PRAYER TO OUR LADY 
OF GUADALUPE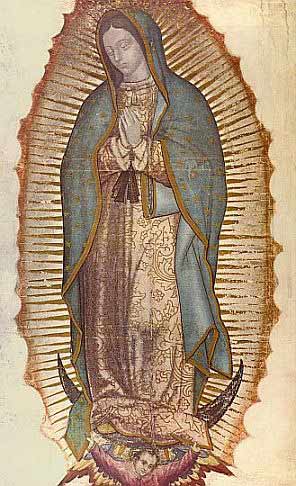 THE FIVE FIRST SATURDAYS IS A DEVOTION NEEDED NOW MORE THAN EVER! FIND OUT MORE HERE
THE SAINT MICHAEL PRAYER AND THE ROSARY
ARE ALSO POWERFUL PRAYERS TO HELP US THROUGH THESE VERY TURBULENT TIMES!
NOVEMBER IS AN ESPECIALLY IMPORTANT MONTH
TO PRAY FOR THE HOLY SOULS IN PURGATORY
WHO NEED AND ARE GRATEFUL FOR OUR PRAYERS!
Our Lady of Guadalupe, mystical rose, make intercession for the Holy Church, protect the Sovereign Pontiff, help all those who invoke thee in their necessities, and since thou art the ever Virgin Mary and Mother of God, obtain for us from thy most holy Son the grace of keeping our faith, sweet hope in the midst of the bitterness of life, burning charity and the precious gift of final perseverance. Amen.
The prayer to our Lady of Guadalupe, printed above, in referring to her as the "mystical rose" touches on an extraordinary event. The Blessed Virgin Mary appeared to an Aztec Indian convert to Catholicism named Juan Diego on Tepayac Hill, near Mexico City on December 9, 1531.
She asked him to tell the local bishop that she would like a church to be built there in her honor. When the bishop, Juan de Zummaraga, a devout Franciscan, asked Juan Diego for a sign proving the authenticity of her request, Mary helped out in two very special ways!
First, she instructed Juan Diego to gather fresh Castilian roses not normally found in the rocky barren landscape of Tepayac Hill (and certainly not in the beginning of winter!) Then she had him carry them to the bishop in his tilma, (his cloak), instructing him not to open his cloak until he saw Zumarraga.
The bishop was so moved when he saw Juan Diego this time, on December 12th, that he fell to his knees and granted our Lady's request!
Not only was he amazed at the roses falling out of Juan Diego's tilma. Even more incredible was the image he saw of Mary as our Lady of Guadalupe, imprinted on his cloak as shown above, with the appearance of a Mestiza woman (of both European and Native American descent), just as Juan Diego had described her!
Mary also miraculously cured Juan Diego's uncle, Juan Bernardino from a serious illness that same day, telling him that the image on his nephew's tilma pictured above should be known as "The Ever Virgin, Holy Mary of Guadalupe."
(Some analysts believe that by using the word "Guadalupe" Mary was actually referring to herself as the "one who crushes the serpent", Satan, using a descriptive term in the Aztec Nahuatl language that sounds like "Guadalupe" in Spanish.) 

The bishop put Juan Diego's tilma with the image of Our Lady of Guadalupe in his chapel until it was transferred to the shrine when it was built soon afterwards. The picture became the focus of much veneration and was responsible for the conversion of literally millions of Aztec Indians, among others, to Catholicism.
Our Blessed Mother helped turn them away from worshiping false Gods and making countless human sacrifices. In so doing she united numerous diverse Native American cultures in worship of the one true God who sacrificed Himself for all of us at Calvary!
As one 19th century Mexican preacher noted, thanks to Our Lady of Guadalupe "the Catholic Faith spread with the rapidity of light from the rising sun" throughout Mexico.
Our Lady, in appearing as a Mestiza to Juan Diego, endeared herself to millions of Native Americans and others throughout Mexico as La Morenita ("The Little Brown One") and was key in spreading our faith.
The picture above from the tilma is still displayed in countless churches, and other shrines, but also in taxicabs, murals and in people's homes as well!
It is another tribute to the power of Our Lady of Guadalupe that the Basilica dedicated to her is today one of the most visited Roman Catholic shrines in the world!
The Church recognized the authenticity of this apparition, and Pope Benedict XIV declared Our Lady of Guadalupe to be patron of what was then called New Spain, corresponding to Spanish Central and Northern America, in 1754. Pope St. Pius X made her patroness of Latin America in 1910, while Pope Pius XII extended her patronage to all of the Americas in 1946.
In 1988 Pope John Paul II made December 12th a feast day for all dioceses in the United States and in 1999 made it a Liturgical Holy day throughout the Americas. He later canonized Juan Diego (in 2002), making him the first Native American saint.
Interestingly enough, the tilma has turned out to be as strong as the faith our Lady has inspired! Normally such a cloak, made of coarse cactus fibers, would deteriorate within about 20 years, but this tilma, now preserved and displayed at the Basilica of Our Lady of Guadalupe in Mexico City, is still in remarkably good condition almost five centuries later!
Not only that, after much examination, it has been determined that the image was not painted, sewn, printed or transmitted onto the cloth in any other man-made manner. And what's more, specialists at the Kodak Corporation have compared the smoothness of the image to that of a color photograph.
(This becomes even more remarkable when we take into account this image was produced more than 300 years before photography was even invented!)
Let us keep in mind what Our Lady told Juan Diego to calm his anxiety over his uncle's illness, mentioned earlier: "Do not fear this nor any other sickness or anguish. Am I, your Mother, not here? Are you not under my protection?"
In a similar manner, Pope Pius XII once said of her "we are certain that as long as you are recognized as Queen and Mother, Mexico and America will be safe." Indeed, let us venerate Our Lady of Guadalupe in this prayer, along with others found in this excellent website and approach her with that kind of love and faith!
HELP SUPPORT OUR WEBSITE WITH PURCHASES
FROM OUR BOOK AND GIFT STORE
OR CAFE PRESS STORE!
CHECK OUT OUR PODCASTS HERE!

22

Return from A Prayer
to Our Lady of Guadalupe to Marian Prayers