A PRAYER TO 
OUR LADY OF KNOCK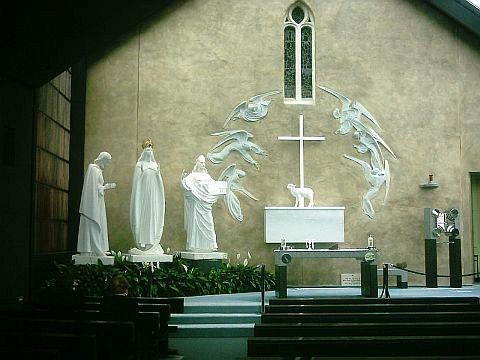 THE FIVE FIRST SATURDAYS IS A DEVOTION NEEDED NOW MORE THAN EVER! FIND OUT MORE HERE
THE SAINT MICHAEL PRAYER AND THE ROSARY
ARE ALSO POWERFUL PRAYERS TO HELP US THROUGH THESE VERY TURBULENT TIMES!
NOVEMBER IS AN ESPECIALLY IMPORTANT MONTH
TO PRAY FOR THE HOLY SOULS IN PURGATORY
WHO NEED AND ARE GRATEFUL FOR OUR PRAYERS!
Have you ever seen any statue of the Blessed Virgin Mary quite like this one? Our Lady of Knock, as she is known from this unusual apparition depicted above, was seen by residents of Knock, a small town beset by poverty in County Mayo, Ireland on August 21, 1879, outside of the Church of St. John the Baptist.
(This photograph was taken in the chapel built later on that site. The wall you see there is the actual gable wall where the vision appeared!)
This prayer to Our Lady of Knock (also known as Queen of Ireland) below celebrates this extraordinary event. It also touches on the hope and faith that she has inspired in the 1.5 million visitors to the shrine at Knock each year! (Note also the echo of the Hail Mary in the last line.)
Our Lady of Knock, Queen of Ireland, you gave hope to our people in a time of distress and comforted them in sorrow. You have inspired countless pilgrims to pray with confidence to your divine Son, remembering His promise: "Ask and you shall receive, Seek and you shall find". Help me to remember that we are all pilgrims on the road to heaven. Fill me with love and concern for my brothers and sisters in Christ, especially those who live with me. Comfort me when I am sick or lonely or depressed. Teach me how to take part ever more reverently in the holy Mass. Pray for me now, and at the hour of my death. Amen.
Monsignor James Horan of Knock once noted that Our Lady's appearance there was a "symbol of hope, consolation and strength" in this distressed region of Ireland, "where unemployment, evictions and emigration were the order of the day."
This region had suffered heavily during the great potato famine in the 1840's and was experiencing another bad crop in 1879. Yet in spite of these hardships, the faith and devotion of these people to our Lady and our Lord Jesus Christ was firm.
Indeed, as an example, Archdeacon Cavanagh, the parish priest at Knock, had just celebrated his one hundredth mass for the poor souls in Purgatory that very day!
Our Lady of Knock was seen on that historic August night dressed in white, as were her other heavenly companions, St. Joseph, (seen at left above), and St. John the Evangelist (on the right, wearing a bishop's miter with a book in his hand gesturing as if he were preaching). She appeared to be praying, with her eyes raised to heaven.
This unusual vision, looking almost like a sacred sculpture bathed in brilliant light, hovered about two feet off the ground. Significantly, it also included the Lamb of God (a most moving symbol of our Lord Jesus Christ) on an altar next to St. John in front of a cross flanked by angels!
Some fifteen people, ranging from 5 to 75 years of age, witnessed this extraordinary sight in the midst of a pouring rain for about two hours! Although neither Our Lady nor her heavenly companions said anything, their presence was palpable enough that these villagers were inspired to pray the rosary in front of them during this time.
One witness, Patrick Hill, said later that "the figures were full and round as if they had body and life." Although the entire area was soaked from the rain, the ground around the vision was dry.
Regarding the silence of our Lady of Knock and the two saints, some priests have pointed out that God can speak to us very powerfully through visions, without words. Indeed, the Rev. T.P.F. Gallagher wrote in the Knock Shrine Annual in 1938 that "the apparition itself explains its own significance, declares its own meaning."
One example of this might be found in the reference to the Mass in this prayer to our Lady of Knock above. This is especially striking, considering the rich symbolism of the Lamb, the altar, and the cross in this vision, all so suggestive of the Holy Sacrifice of the Mass!
As a Benedictine monk from Buckfast Abbey, Dom Ernest Graf, wrote after visiting the Knock Shrine, "It would seem that Knock is meant to be not only a Shrine of Our Lady, but also that its mission is to increase still further the wonderful love for the Mass which has been so marked a feature of Irish piety throughout the centuries."
Countless numbers of people have been miraculously cured of various ailments after visiting the Knock shrine, including three archbishops. Archdeacon Cavanagh kept a diary that included several hundred verifiable cures, some 300 of which took place within the first three years after our Lady of Knock's appearance!
It is also important to point out along this line that an ecclesiastical commission set up in October 1879 to examine the circumstances surrounding the apparition pronounced the testimony of the 15 witnesses supporting its authenticity to be "trustworthy and satisfactory."
A second commission, after compiling reports of hundreds of cures and taking further testimony from two of the surviving witnesses, reaffirmed this conclusion in 1936, finding in it nothing contrary to our faith.
Since then four popes have honored the Knock Shrine which, thanks in large part to the efforts of Monsignor Horan, now includes the Church of our Lady Queen of Ireland on the site to accommodate all the visitors! Pope John Paul II designated this wonderful house of worship as a basilica during his visit to Knock in 1979.
As at the shrine devoted to another more famous apparition at Lourdes, miraculous cures continue to take place at Knock. Pilgrims have left Knock renewed spiritually as well as physically over the years. Their faith has been strengthened in prayer there.
Interestingly enough, the line in scripture quoted in this prayer above inviting us to "ask" and "seek" leaves out the third part of our Lord's famous promise to us, perhaps for fears of word plays like this one: "Knock, and the door shall be opened to you" (Mt 7:7 and Lk 11:9).
HELP SUPPORT OUR WEBSITE WITH PURCHASES
FROM OUR BOOK AND GIFT STORE
OR CAFE PRESS STORE!
CHECK OUT OUR PODCASTS HERE!

22

Return from A Prayer to
Our Lady of Knock to Marian Prayers