A PRAYER TO 
OUR LADY OF LA SALETTE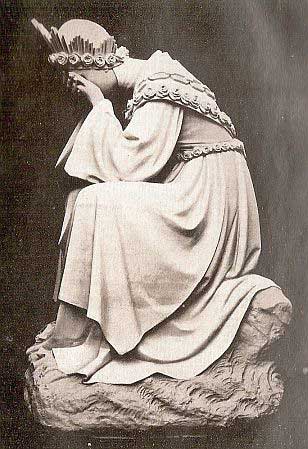 THE FIVE FIRST SATURDAYS IS A DEVOTION NEEDED NOW MORE THAN EVER! FIND OUT MORE HERE
THE SAINT MICHAEL PRAYER AND THE ROSARY
ARE ALSO POWERFUL PRAYERS TO HELP US THROUGH VERY TURBULENT TIMES!
JOIN IN THE 54-DAY ROSARY NOVENA
 FOR OUR NATION FROM AUGUST 15TH
TO OCTOBER 7TH, 2023 HERE!
THIS WEBPAGE IS ALSO AVAILABLE
AS A PODCAST HERE
Has our Blessed Mother often wept for humanity? We see her in this picture of Our Lady of La Salette in tears, as she was during her divine Son's passion, mentioned below. With this prayer we can console her by seeking her help to live lives of holiness.

Remember, dear Lady of La Salette, true Mother of Sorrows, the tears which thou didst shed for me on Calvary; be mindful also of the unceasing care which thou dost exercise to shield me from the justice of God; and consider whether thou canst now abandon thy child, for whom thou hast done so much. Inspired by this consoling thought, I come to cast myself at thy feet, in spite of my infidelity and ingratitude. Reject not my prayer, O Virgin of reconciliation, convert me, obtain for me the grace to love Jesus Christ above all things and to console thee too by living a holy life, in order that one day I may be able to see thee in Heaven. Amen.
The picture above represents a most unusual apparition in which Our Lady of La Salette was seen by two children Melanie Mathieu and Maxim Giraud, in the small French village of La Sallette, located near Grenoble, on September 19, 1846. She first appeared emerging from a globe of light, weeping over our sins.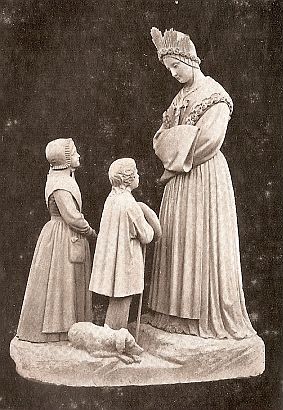 Mary then stood before the children, as in the picture at right, and gave them a message to share with the world. She said "For how long a time do I suffer for you! If I would not have my Son abandon you, I am compelled to pray to him without ceasing; and as to you, you take not heed of it!"
She continued that far too many people were offending our Lord with their impieties (such as working on Sundays instead of attending Mass) and general disrespect or indifference towards Him.
(She bemoaned at one point those who swore while taking "the name of my Son in vain." Isn't it true nowadays as well that some people only say Christ's name in anger when experiencing some misfortune?)
Our Lady of La Salette warned of chastisements that would fall upon humanity if people didn't change their ways. And indeed, Europe experienced a terrible harvest in 1847 that led to widespread famine there. Before ascending into heaven she urged the children to pray more and gave each of them a secret that was revealed to Pope Pius IX in 1851 concerning threats to the church and to the world.
In spite of her sober message, Our Blessed Mother meant for us to have hope in her Son's Divine mercy, saying "if they are converted, the stones and rocks will change into mounds of wheat, and the potatoes will be self-sown in the land", and many people soon made amends.
Miracles stated taking place at the site, as people were cured over various ailments from water from the spring there within weeks of Our Lady's appearance. The Church officially approved of this apparition (deeming it worthy of belief) after much investigation and debate in 1851. Construction of a church at La Salette began in 1852 and was completed in 1865. (It was designated as the Basilica of Our Lady of La Salette in 1879.)
In the messages given Melaine and Maxim separately, our Lady of La Salette warned of great upheavals to come in the church and the world if people did not repent of their sins. Her words moved Pope Pius IX enough to say of them that "You wish to know the secrets of La Salette? Well, it is this: 'If you do not do penance, you will all perish!'"
It is important to remember, however, that Mary sought at La Salette not just to chide us but to bring us closer to God. Our Blessed Mother has often been called our "mediatrix" with her Son our Lord Jesus Christ. By virtue of her essential role as the Mother of God in our Salvation, Mary is uniquely qualified to assist us on our journey towards Eternal life.
St. Alphonsus Liguori spoke for many other theologians (and popes alike!) when he referred to Our Blessed Mother as "the universal dispenser of all divine graces." Given our fallen nature, God saw fit to give us His mother, the one human being born without the stain of Original Sin to be our "most gracious advocate" (as she is called in the Hail Holy Queen). 

As long as we are genuinely penitent, we can always ask her to intercede with her divine Son on our behalf. And as St. Germanus once noted, Our Lord cannot refuse to grant his Blessed Mother's requests!
In these turbulent times, as back in the 19th century, it is easy for us to get distracted and discouraged by our transgressions in this sinful world! Yet, as St. Pius X wrote a century ago "in the midst of this tide of evil, the Virgin Most Merciful rises before our eyes like a rainbow, as the arbiter of peace between God and man."
Let us take to heart the essential message of this prayer to our Lady of La Salette to keep her close in our hearts as we seek to do Her Son's will so that we may see her in heaven, as we read above, as we share Eternal Life with Him!
HELP SUPPORT OUR WEBSITE WITH PURCHASES
FROM OUR BOOK AND GIFT STORE
OR CAFE PRESS STORE!
CHECK OUT OUR PODCASTS HERE!

22

Return from a Prayer to
Our Lady of La Salette to Marian Prayers