A PRAYER TO OUR LADY 
OF MOUNT CARMEL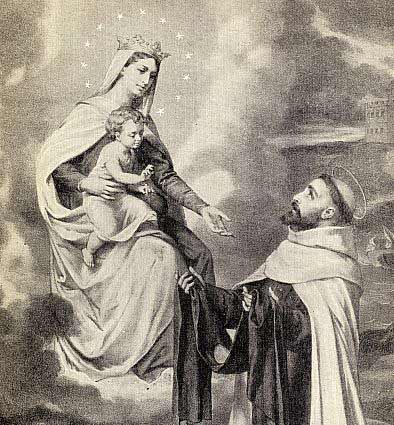 THE FIVE FIRST SATURDAYS IS A DEVOTION NEEDED NOW MORE THAN EVER! FIND OUT MORE HERE
THE SAINT MICHAEL PRAYER AND THE ROSARY
ARE ALSO POWERFUL PRAYERS TO HELP US THROUGH THESE VERY TURBULENT TIMES!
NOVEMBER IS AN ESPECIALLY IMPORTANT MONTH
TO PRAY FOR THE HOLY SOULS IN PURGATORY
WHO NEED AND ARE GRATEFUL FOR OUR PRAYERS!
THIS WEBPAGE IS AVAILABLE
AS A PODCAST HERE
This picture of Our Lady of Mount Carmel above commemorates a famous event in Church history. She is shown here as she appeared in a vision to St. Simon Stock, General of the Carmelite Order (at right) on July 16, 1251 at Aylesford, England.
After giving St. Simon a scapular, she promised him and all the Carmelites that whoever died wearing that religious garment would be saved and would not suffer eternal fire. The prayer to our Lady of Mount Carmel below calls the scapular "thy venerable livery."
O all-blessed, immaculate Virgin, ornament and glory of Mount Carmel, thou who dost look with most gracious countenance on those who have been clothed with thy venerable livery, look kindly also on me and take me under the mantle of thy maternal protection. Strengthen my weakness with thy might; enlighten the darkness of my heart with thy wisdom; increase in me faith, hope and charity. So adorn my soul with graces and virtues that it may always be dear to thy divine Son and thee. Assist me during life, comfort me in death with thy most sweet presence, and present me as thy child and faithful servant to the most Holy Trinity, that I may be enabled to praise and extol thee in heaven forever. Amen.
(This prayer is followed by the Hail Mary (3 times) and the Glory Be.)
The Carmelite order began in Mount Carmel in Palestine in the 12th century. They moved to Europe in response to persecution from Muslims in that region. Although the Carmelites soon flourished in England and Europe, in part under St. Simon's leadership, the order still faced internal dissension as well as opposition from the secular clergy.
St. Simon prayerfully appealed to our Lady of Mount Carmel for help. In response she gave him the scapular promise mentioned above and instructed him to seek papal assistance for the order. Pope Innocent IV issued a letter of protection for the Carmelites from the Holy See in January 1252.
The Carmelites continued to spread their good work throughout such cities as Paris, Bologna, Cambridge and Oxford, building monasteries and teaching in universities. The order has continued to thrive in devotion to our Lady and our Lord up to this present day, as discussed in their website. Famous Carmelites include St. Theresa of Avila, St. Therese of Lisieux, and Saint John of the Cross.
In 1322, Pope John XXII issued a document known as a Papal bull in which he included a promise from Our Lady of Mount Carmel he received in an apparition to release worthy souls from purgatory on the Saturday after their death.
The church has since summed up what we now call the Sabbatine Privilege, based on this revelation. Those who follow these three conditions will be released from Purgatory by Our Lady's intercession soon after their death, especially on a Saturday. You need to:
1) Wear the brown scapular devoutly, once you've been enrolled in the Scapular Confraternity of the Blessed Virgin of Mount Carmel. 
2) Observe chastity according to your state in life.
3) Recite daily the Little Office of the Blessed Virgin Mary. As this is a very long although quite beautiful prayer, with permission of a priest you can substitute either a) five decades of the rosary, b) abstinence from meat on Wednesdays and Saturdays or c) some other good work.

This all is not as formidable as it sounds! You're enrolled or "invested" as they say once your scapular has been blessed and certain prayers have been said by a priest. (All priests have the authority to do this.) You do not need to have any further scapulars you may later wear blessed.
It is also important to note here that once enrolled, you share in the daily prayers and other spiritual benefits of the Carmelite Order. Our Lady of Mount Carmel's scapular promise of salvation to St. Simon and the Carmelites can now apply to you as well!
Scapulars have been traditionally worn, as in St. Simon's time, as a sleeveless outer garment covering the shoulders and one's front and back as well. The scapular we use for this devotion, however, is much smaller, as in the example shown below.
It consists of two small pieces of cloth, traditionally wool, a couple of inches in length and width. These are connected by two strings so that the scapular can be worn over your head and under your clothes, with one square hanging on your chest and the other on your back.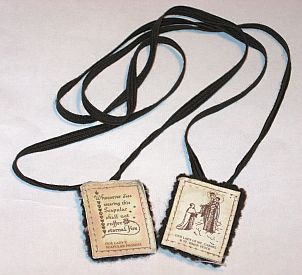 We call the scapular a sacramental, that is to say a sacred sign (such as a blessing) or object (like the rosary or holy water) given us by the Church. Sacramentals "prepare us to receive grace and dispose us to cooperate with it," according to the Catechism of the Catholic Church (CCC 1670). It is important to note, however, that we play an important part in their effectiveness in our lives.
Many popes and other religious figures over the centuries have extolled the virtues of the brown scapular devotion. Still, they caution that, although our Lady of Mount Carmel promised that the scapular would protect us from eternal fire, wearing it in itself doesn't guarantee our salvation.
The Most Rev. Kilian Lynch, a former prior general of the Carmelite Order, warned that the scapular was not "endowed with some kind of supernatural power which will save us no matter what we do or how much we sin." As he put it, "Fidelity to the commandments is required by those seeking 'the special love and protection of Our Lady'".
The scapular is not to be worn as a substitute for leading a devout life of love and obedience to our Lord. This piece of cloth is not to be used as a kind of divine rabbit's foot that will guarantee you Eternal Life no matter what you've done. If we abuse Our Lady of Mount Carmel's scapular promise, we can't count on her protection.
The good news, however, is that she, like her Son will help us with the graces we need for our salvation if we ask for her assistance with a sincere and contrite heart.
In 1917 during the apparitions at Fatima, Our Lady of Mount Carmel appeared to Sister Lucia holding the brown scapular. According to the famous visionary, who herself became a Carmelite nun, Our Lady wished everyone to wear it "because it is our sign of consecration to her Immaculate Heart."
Along these lines, Pope Pius XII wrote in 1950 that the scapular should be "your sign of consecration to the Immaculate Heart of Mary, which we are particularly urging in these perilous times."
Thus, in wearing the brown scapular devoutly, in living in love and obedience to God, we join our hearts to Mary's Immaculate Heart and thus, to her divine Son's Sacred Heart as well!
HELP SUPPORT OUR WEBSITE WITH PURCHASES
FROM OUR BOOK AND GIFT STORE
OR CAFE PRESS STORE!
CHECK OUT OUR PODCASTS HERE!

22

Return from Our Lady of Mount Carmel
to Marian Prayers