A PRAYER FOR 
DAILY NEGLECTS
THE FIVE FIRST SATURDAYS IS A DEVOTION NEEDED NOW MORE THAN EVER! FIND OUT MORE HERE
THE SAINT MICHAEL PRAYER AND THE ROSARY
ARE ALSO POWERFUL PRAYERS TO HELP US THROUGH THESE VERY TURBULENT TIMES!
NOVEMBER IS AN ESPECIALLY IMPORTANT MONTH
TO PRAY FOR THE HOLY SOULS IN PURGATORY
WHO NEED AND ARE GRATEFUL FOR OUR PRAYERS!
THIS WEB PAGE IS ALSO AVAILABLE AS A PODCAST HERE
This Prayer for Daily Neglects, as it is best known, invites us to offer God the Father the Sacred Heart of his Divine Son, as we read below, in reparation for our sins. The third petition brings to mind the Penitential Rite at Mass.
Eternal Father, I offer Thee the Sacred Heart of Jesus, with all its love, all its sufferings and all its merits.
First --- To expiate all the sins I have committed this day and during all my life. Glory be to the Father, and to the Son, and to the Holy Spirit. As it was in the beginning, is now, and ever shall be, world without end. Amen.
Second --- To purify the good I have done poorly this day and during all my life. Glory Be, etc.
Third --- To supply for the good I ought to have done, and that I have neglected this day and all my life. Glory Be, etc.
Some books note concerning this Prayer for Daily Neglects that a Poor Clare nun claimed to have gone directly to Heaven upon her death, skipping purgatory completely through this prayer! (Editors hasten to add that this prayer is not meant to replace confession, however!)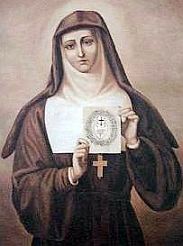 Saint Margaret Mary Alacoque, pictured at right, championed devotion to the Sacred Heart of Jesus in the 17th century after our Lord showed her His Sacred Heart burning with tremendous love for us.
Faithful Catholics around the world practice this devotion acknowledging His great love through acts of adoration (such as in visiting Him in a Holy Hour before the Blessed Sacrament and in frequent Communion, especially on the First Friday of each month) and in prayers and reparation for offenses against His Sacred Heart.
While the Prayer for Daily Neglects is not specifically part of a devotion, it movingly refers to our Lord's Sacred Heart as an offering of love we can make for our sins, suggestive of His offering of Himself at Calvary in His Passion!

Clearly this prayer gives us a proper spirit of penitence and humility before God the Father, which can also draw us closer to His Son. As St. Margaret Mary once wrote "consider often that it is only the humble of heart that can enter into the Sacred Heart of Jesus Christ, converse with Him, love Him and be loved by Him."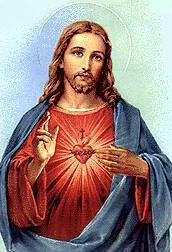 HELP SUPPORT OUR WEBSITE WITH PURCHASES
FROM OUR BOOK AND GIFT STORE
OR CAFE PRESS STORE!
CHECK OUT OUR PODCASTS HERE!

22

Return From Daily Neglects To
Evening Prayers