A PRAYER OF ST. AMBROSE 
BEFORE COMMUNION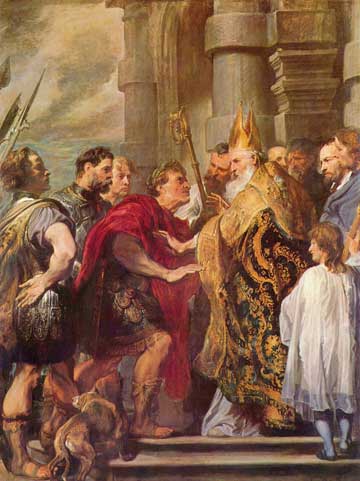 THE FIVE FIRST SATURDAYS IS A DEVOTION NEEDED NOW MORE THAN EVER! FIND OUT MORE HERE
THE SAINT MICHAEL PRAYER AND THE ROSARY
ARE ALSO POWERFUL PRAYERS TO HELP US THROUGH THESE VERY TURBULENT TIMES!
NOVEMBER IS AN ESPECIALLY IMPORTANT MONTH
TO PRAY FOR THE HOLY SOULS IN PURGATORY
WHO NEED AND ARE GRATEFUL FOR OUR PRAYERS!
We see in this prayer of St. Ambrose before Communion, printed below, the deep love of Christ in the Eucharist that helped make this fourth century Bishop of Milan one of the great Fathers and Doctors of the Roman Catholic Church. He once said with characteristic humility about Communion that "I who sin often, should receive it often. I need a frequent remedy."
I beg of you, O Lord, by this most holy mystery of Your Body and Blood, with which You daily nourish us in Your Church, that we may be cleansed and sanctified and made sharers in Your divinity. Grant to me Your holy virtues, which will enable me to approach Your altar with a clean conscience, so that this heavenly Sacrament may be a means of salvation and life to me, for You Yourself have said: "I am the living bread that has come down from heaven. If anyone eat of this bread, he shall live forever; and the bread that I will give is my flesh for the life of the world."
Most Sweet Bread, heal my heart, that I may taste the sweetness of Your love. Heal it from all weakness, that I may enjoy no sweetness but You. Most pure Bread, containing every delight which ever refreshes us, may my heart consume You and may my soul be filled with Your sweetness. Holy Bread, living Bread, perfect Bread, that has come down from heaven to give life to the world, come into my heart and cleanse me from every stain of body and soul. Enter into my soul; heal and cleanse me completely. Be the constant safeguard and salvation of my soul and body. Guard me from the enemies who lie in wait. May they flee from the protecting presence of Your power, so that, armed in soul and body by You, I may safely reach Your Kingdom.
There we shall see You, not as now as in mysteries, but face to face, when You will deliver the Kingdom to God the Father, and will reign as God over all. Then You, who with the same God the Father and the Holy Spirit, live and reign forever, will satisfy the hunger of my soul perfectly with Yourself, so that I shall neither hunger nor thirst again. Amen.
St. Ambrose started his priestly vocation "at the top," as it were, with great reluctance at first. He was a wealthy, popular governor of the Italian province of Amelia-Liguria in Northern Italy when, in 374, upon the death of the bishop of Milan, the assembly chosen to pick a successor literally cried out "Ambrose for bishop!" (He was receiving instruction but had not been yet baptized as a Catholic at the time.)
Ambrose was seen as the best choice in a time of deep division between supporters of Arianism, a movement that challenged the divinity of Christ, and other Catholics. (And to think he had just wanted to attend the election of the new bishop to help prevent trouble between Catholics and Arians!)
Once baptized, as bishop, he led his flock with kindness, humility, but also, with great courage when needed. He divested himself of all his wealth, giving it over to the Church and the poor. But he also defended the rights of the Church when they were under attack by both the Arians, whom he resisted fiercely, and by secular authorities as well.
In one famous example, as shown in the illustration above, Ambrose rebuked the Roman Emperor Theodosius I after the ruler's brutal suppression of a rebellion in Thessalonika in which 7000 people were massacred.
Fortunately, Theodosius had the humility to engage in public penance for his actions. St. Ambrose also played an important role in the conversion of one of the most towering and influential figures in our faith: St. Augustine, whom he baptized in 386!
This prayer of St. Ambrose also shows us the strength and fortification our Lord must have given this great saint in the Eucharist. Ambrose even quotes from our Lord's famous reference to Himself as the "living bread" (John 6:51).
He clearly believed Catholicism's firm doctrine that we receive our Lord's body, blood, soul and divinity in Communion, not a symbol. And as such, the Eucharist is "the bread of everlasting life, which supports the substance of the soul", as he once called it. Let Jesus help you on your journey towards heaven as he helped Ambrose as well
HELP SUPPORT OUR WEBSITE WITH PURCHASES
FROM OUR BOOK AND GIFT STORE
OR CAFE PRESS STORE!
CHECK OUT OUR PODCASTS HERE!

22

Return from This Page to
Prayers Before Communion