A PRAYER OF ST. BASIL THE GREAT 
AFTER COMMUNION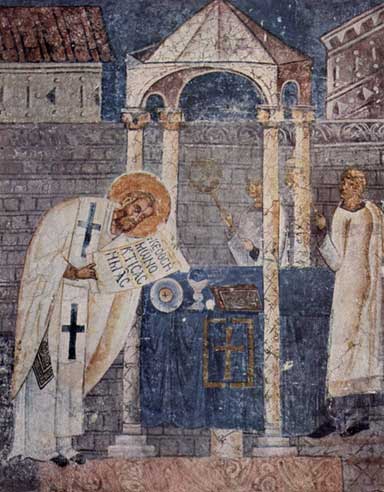 THE FIVE FIRST SATURDAYS IS A DEVOTION NEEDED NOW MORE THAN EVER! FIND OUT MORE HERE
THE SAINT MICHAEL PRAYER AND THE ROSARY
ARE ALSO POWERFUL PRAYERS TO HELP US THROUGH THESE VERY TURBULENT TIMES!
NOVEMBER IS AN ESPECIALLY IMPORTANT MONTH
TO PRAY FOR THE HOLY SOULS IN PURGATORY
WHO NEED AND ARE GRATEFUL FOR OUR PRAYERS!
In this prayer of St. Basil the Great after Communion, this 4th century Bishop, theologian, and a father of Eastern Monasticism, pictured above, asks God for "unashamed faith" after receiving the Eucharist.
We give Thee thanks, O Lord our God, for the Communion of Thy holy, pure, deathless and heavenly Mysteries, which thou hast given for the good, the hallowing, and the healing of our souls and bodies. Do Thou, O Sovereign of the world, cause this Communion in the Holy Body and blood of Thy Christ to nourish us in unashamed faith, sincere charity, ripe wisdom, health of soul and body, separation from all ills, observance of Thy Law, and justification before His awful Judgment Seat. O Christ our God, the Mystery of Thy Providence has been accomplished according to our ability. We have been reminded of Thy Death and we have seen a figure of Thy Resurrection; we have been filled with Thine Infinite Life, and we have tasted Thine inexhaustible joy; and we pray Thee to make us worthy of these things in the life to come, through the grace of Thine Eternal Father and of Thy holy, good, and life-giving Spirit, now and forever, eternally: amen.
Clearly, our Lord granted his request. St. Basil, a strong champion of Catholicism, once defended our faith against the Arian heresy (which denied the divinity of Christ) with such fervor in response to a haughty administrator for an Arian Emperor that the man chided him. Saying he had never been spoken to that way before, Basil replied "perhaps you have never before had to deal with a proper bishop."
St. Basil was born around 330 into a religious family that included two brothers and one sister who would later become saints themselves. He developed a strong friendship early on with Saint Gregory of Nazianzus, who, like Basil, became a Doctor of the Church.
Basil gave up a successful teaching career, following a deep spiritual transformation, to become a monk after visiting the monastic centers in Egypt, Palestine, and Mesopotamia in 357.
In the years that followed, he founded a monastic community and wrote a valuable set of guidelines about monastic life which became known as the Rule of St. Basil, which is still followed by monks in the Eastern Orthodox Churches.
St. Basil later left the monastic life and became Bishop of Caesarea in 370, a post he held until his death nine years later. As mentioned earlier, he was a passionate supporter of our faith against Arianism and other heresies. His efforts contributed to the defeat of Arianism at the Council of Constantinople in 381, which affirmed the Nicene Creed we say at Mass today.
Thus the doctrine of the Trinity -- that is to say one God existing in three Persons, the Father, Son and Holy Spirit -- prevailed over the denial of Christ's divinity.
St. Basil was also known for his tireless efforts on behalf of the poor, including founding a hospital and residences for the underprivileged at Caesarea. He also wrote extensively, and many of his letters, sermons, and other works are extant today.
It is worth pointing out that God's "awful" Judgment Seat mentioned in this prayer of St. Basil need not refer to something terrible. "Awful" can also imply something inspiring awe and wonder.
Hopefully, if we're encouraged to live in holiness by prayers like this one, we may be able to stand before God one day with joy rather than dread when we approach eternity!
HELP SUPPORT OUR WEBSITE WITH PURCHASES
FROM OUR BOOK AND GIFT STORE
OR CAFE PRESS STORE!
CHECK OUT OUR PODCASTS HERE!

22

Return from this page to
Prayers After Communion