PRAYERS FOR A HAPPY DEATH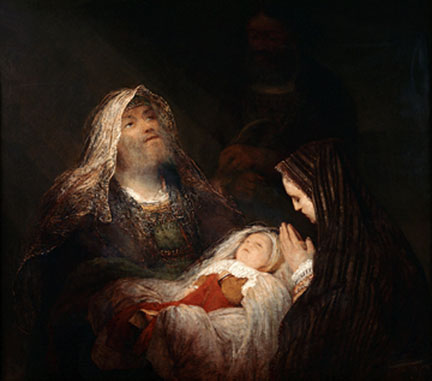 THE FIVE FIRST SATURDAYS IS A DEVOTION NEEDED NOW MORE THAN EVER! FIND OUT MORE HERE
THE SAINT MICHAEL PRAYER AND THE ROSARY
ARE ALSO POWERFUL PRAYERS TO HELP US THROUGH THESE VERY TURBULENT TIMES!
NOVEMBER IS AN ESPECIALLY IMPORTANT MONTH
TO PRAY FOR THE HOLY SOULS IN PURGATORY
WHO NEED AND ARE GRATEFUL FOR OUR PRAYERS!
You might look doubtfully at this page's title and think "Prayers for a happy death? What's happy about death?" What we're referring to here is being able to die peacefully in a state of grace so as to be able to meet our Lord with great joy upon passing away.
The goal is to be among those mentioned in this scripture verse, which is read often at funerals as and on All Soul's Day as well: "The souls of the just are in the hands of God, and the torment of death shall not touch them…they are in peace" (Wisdom 3:1, 3).
We can think of Simeon, pictured above, for some inspiring words in this regard. We read in Luke's Gospel that he, like so many other devout Jews, was eagerly awaiting the Messiah and the consolation of Israel, that is to say the restoration of God's rule there.
The Holy Spirit had revealed to him that should not see death until He had seen the Christ of the Lord. When he saw the baby Jesus being presented in the Temple for the first time he knew this was the promised Messiah and said "Now you can dismiss your servant, O Lord, according to your word in peace [Italics added]" (Lk 2:29). He truly experienced what we would all like in our final days on this earth: the peace of Christ!
The first of our prayers for a happy death was written by Blessed John Cardinal Henry Newman, the famous Catholic priest, theologian, and Anglican convert to our faith who was beatified by our Holy Father Benedict XVI in September, 2010. Note how he stresses the importance of receiving the Sacrament of Extreme Unction (what we now call the Anointing of the Sick):
O my Lord and Savior, support me in my last hour by the strong arms of Thy sacraments and the fragrance of thy consolations. Let Thy absolving words be said over me, and the holy oil sign and seal me; and let Thine own body be my food and Thy blood my sprinkling; and let Thy Mother Mary come to me, and my angel whisper peace to me, and Thy glorious saints and my own dear patrons smile on me, that in and through them all I may die as I desire to live, in Thy Church, in Thy faith, and in Thy love. Amen.
This next prayer is moving in its request for our Blessed Mother's assistance for a peaceful transition to an Eternity of Happiness. (She's shown with Simeon in the picture above, at right.)
The author is clearly aware of his need for Mary's intercession for his "poor soul", conscious of the fact that he is a sinner who has been redeemed by Christ's Passion (hence the reference to the "precious blood") but who nonetheless should never take his salvation for granted!
O Dearest Lady, sweet Mother mine, watch the hour when my departing soul shall lose its hold on all earthly things, and stand unveiled in the presence of its Creator. Show thyself my tender Mother then, and offer to the Eternal Father the precious blood of thy Son Jesus for my poor soul, that it may, thus purified, by pleasing in His sight. Plead for thy poor child at the moment of his (or her) departure from this world, and say to the heavenly Father: Receive him (her) this day into Thy kingdom! Amen.
Incidentally, along these lines, St. Alphonsus Liguori composed this moving prayer to Our Lady, a portion of which we excerpt below. This great saint once wrote about Mary "Oh, how great is her fidelity in consoling her faithful servants at the hour of death!" Such is the glorious efficacy of our Blessed Mother's help in our attaining Eternal Life with her Divine Son! Note the plea for her assistance in dying a "happy death".
Through your help I hope to die a happy death. O my Mother I beg you, by the love you bear my God, to help me at all times, but especially at the last moment of my life. Do not leave me, I beseech you, until you see me safe in Heaven, blessing you and singing your mercies for all eternity. Amen, so I hope, so may it be.
Finally, we have these three shorter prayers for a happy death. The first of these also touches on assistance from the Holy Family (including Mary's "most chaste spouse" St. Joseph, who is the patron of a happy death, among other things)!
Grant unto us, Lord Jesus, ever to follow the example of Thy holy Family, that in the hour of our death Thy glorious Virgin Mother together with blessed Joseph may come to meet us and we may be worthily received by Thee into everlasting dwellings: Who livest and reignest world without end. Amen.
Lord Jesus, pour into us the spirit of Thy love, that in the hour of our death we may be worthy to vanquish the enemy and attain unto the heavenly crown: Who livest and reignest, world without end. Amen.
Grant, we beseech Thee, O Lord, that in the hour of our death we may be refreshed by Thy holy Sacraments and delivered from all guilt, and so deserve to be received with joy into the arms of Thy mercy. Through Christ our Lord.
The last of these prayers brings up the Sacraments, as in Cardinal Newman's prayer, this time as a source of "refreshment". The dying person, if conscious, often makes a confession before receiving the Anointing of the Sick (mentioned above) which is administered with oil by a priest.
This is followed by one's last communion, also called viaticum, which means "food for the journey", God willing, to Heaven! God, in His mercy, allows us to partake of three sacraments as a "send off" into the next life. These will hopefully provide the serenity in our last moments here on earth we think of as being part of a "happy death"!
HELP SUPPORT OUR WEBSITE WITH PURCHASES
FROM OUR BOOK AND GIFT STORE
OR CAFE PRESS STORE!
CHECK OUT OUR PODCASTS HERE!

22

Return from Prayers for a Happy Death
to Prayers About Death