EVENING PRAYERS FOR BLESSINGS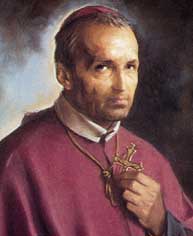 THE FIVE FIRST SATURDAYS IS A DEVOTION NEEDED NOW MORE THAN EVER! FIND OUT MORE HERE
THE SAINT MICHAEL PRAYER AND THE ROSARY
ARE ALSO POWERFUL PRAYERS TO HELP US THROUGH THESE VERY TURBULENT TIMES!
In these two evening prayers for blessings below we ask God to sanctify and to protect us during the night with help from His Blessed Mother, the angels, and, in the second prayer, His saints as well! The first of these prayers was written by St. Alphonsus Liguori, the eminent 18th century theologian, pictured at right.
Note how he mentions Mary, not just as "Our lady," as she is also known, but as "my Mother" as well. This brings to mind our Lord's words on the cross "Behold thy mother" (John 19:27), which He addressed not just to St. John but ultimately to all of us.
Jesus Christ, my God, I adore You and thank you for all the graces You have given me this day. I offer You my sleep and all the moments of this night, and I beg of you to keep me without sin. Therefore, I put myself within Your sacred Side and under the mantle of Our lady, my Mother. Let Your holy angels stand about me and keep me in peace; and let your blessing be upon me.
The reference to our Lord's "sacred Side" in this first prayer brings to mind the blood and water flowing from His side at Calvary and the lines in the famous prayer Anima Christi "water from the side of Christ, wash me" and "Within thy wounds, hide me."
These images help us appreciate the truly saving graces for atonement and for the forgiveness of sins that our Lord gave us in His Passion. St. Alphonsus's offering God his night also makes a nice parallel to morning offering prayers in which we offer Him our day.
The second of these prayers for blessings continues the intercessory theme of asking for heavenly aid from the angels and saints as well as from Mary. Note also how the line about "the hour of our death" poignantly echoes the last line of the Hail Mary.
Bless, O Lord, our rest this night, that we may renew our bodily strength, and awake refreshed, able to serve Thee better. O all you angels and saints, and thou especially, O Mother of God, intercede for us, not only during this night, but for the rest of our life, and particularly at the hour of our death. Amen.
Keep in mind that the Blessed Mother, the angels and the saints neverreplace our Lord as the focus of our worship. Nor would they ever want to! God in His goodness has given them to us as wonderful and powerful intercessors to pray for us, as we pray for each other, on the road to Eternal Life with Him. These two prayers underscore their valuable assistance in our salvation.
HELP SUPPORT OUR WEBSITE WITH PURCHASES
FROM OUR BOOK AND GIFT STORE
OR CAFE PRESS STORE!
CHECK OUT OUR PODCASTS HERE!

22

Return From Evening Prayers
For Blessings To Evening Prayers