PRAYERS OF ST. THERESE
THE FIVE FIRST SATURDAYS IS A DEVOTION NEEDED NOW MORE THAN EVER! FIND OUT MORE HERE
THE SAINT MICHAEL PRAYER AND THE ROSARY
ARE ALSO POWERFUL PRAYERS TO HELP US THROUGH VERY TURBULENT TIMES!
GROW IN FAITH AND PRAYER WITH HALLOW!
Would you like to meet one of our most beloved saints? The prayers of St. Therese of Lisieux below can help you to get better acquainted with this wonderful Carmelite Nun! Her autobiography Story of a Soul, published posthumously after her untimely death from tuberculosis at age 24 in 1897, reflected both her humility and her profound love of God. This book so touched hearts everywhere that she was canonized as a saint in 1925 and made a Doctor of the Church in 1997!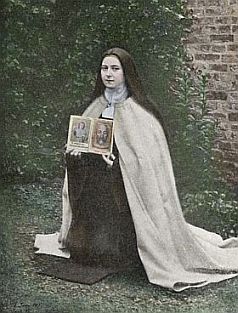 The prayers of St. Therese (who is also known affectionately as the "Little Flower") have helped inspire the faithful everywhere to follow her "little way" of spirituality.
St. Therese noted that it wasn't necessary to do great or heroic deeds to attain holiness, admirable though these might be, but rather to do the little things in life with love for God and others.
It isn't necessary to be a "big shot" to follow her "little way." Doing household chores can be just as pleasing to God as winning a Nobel Prize (perhaps even more so!) if you do them as best you can for Him and His glory!
St. Therese took as her religious name "St. Therese of the Child Jesus and the Holy Face." This reflected her devotion to approaching Jesus with the simple trust of a child, as well as her inspiration by the image of His Holy Face to do His work "hidden" and "forgotten," as she put it. She wished to emulate our Lord in His profound humility and love for us in His passion!
The first of these prayers of St. Therese concerns the Child Jesus:
O Jesus, dear Holy Child, my only treasure, I abandon myself to Thy every whim. I seek no other joy than that of calling forth Thy sweet Smile. Vouchsafe to me the graces and the virtues of Thy Holy Childhood, so that on the day of my birth into Heaven the Angels and Saints may recognize in Thy Spouse: Teresa of the Child Jesus.
(On a side note, don't be confused by her name for herself at the end of this last prayer. She is called "St. Therese of the Child Jesus," "St. Therese of the Child Jesus and of the Holy Face," or even "St. Therese the Little Flower of Jesus" in different prayer books and websites. Sometimes her name is spelled "Teresa," as above, but usually with one of these descriptions added to distinguish her from St. Teresa of Avila.)
The second is an eloquent Morning offering.
O my God ! I offer Thee all my actions of this day for the intentions and for the glory of the Sacred Heart of Jesus. I desire to sanctify every beat of my heart, my every thought, my simplest works, by uniting them to Its infinite merits ; and I wish to make reparation for my sins by casting them into the furnace of Its Merciful Love.
O my God! I ask thee for myself and for those whom I hold dear, the grace to fulfill perfectly Thy Holy Will, to accept for love of Thee the joys and sorrows of this passing life, so that we may one day be united together in Heaven for all Eternity. Amen.
And, last, but not least, of our prayers here is this beautiful tribute to our Lord's Holy Face in His Passion!
O Jesus, who in Thy bitter Passion didst become "the most abject of men, a man of sorrows," I venerate Thy Sacred Face whereon there once did shine the beauty and sweetness of the Godhead; but now it has become for me as if it were the face of a leper! Nevertheless, under those disfigured features, I recognize Thy infinite Love and I am consumed with the desire to love Thee and make Thee loved by all men.
The tears which well up abundantly in Thy sacred eyes appear to me as so many precious pearls that I love to gather up, in order to purchase the souls of poor sinners by means of their infinite value. O Jesus, whose adorable face ravishes my heart, I implore Thee to fix deep within me Thy divine image and to set me on fire with Thy Love, that I may be found worthy to come to the contemplation of Thy glorious Face in Heaven. Amen.
We can see in these prayers of St. Therese her wonderfully all encompassing love for God. She wanted our Lord to be able to show others His love and mercy as much as possible through her! Her prayer for humility reflects her deep desire to be our Lord's "Little Flower" in the face of her imperfections. 
To St. Therese being "little" in humility meant that, as John the Baptist once said about Jesus, "He must increase, but I must decrease" (John 3:30). May we be similarly inspired by her prayers and her example to be able to say, like the Blessed Mother, that "My soul magnifies the Lord" (Luke 1:46).
HELP SUPPORT OUR WEBSITE WITH PURCHASES
FROM OUR BOOK AND GIFT STORE
OR CAFE PRESS STORE!
CHECK OUT OUR PODCASTS HERE!

22

Return from Prayers of St. Therese
to Prayers to Saints 

Go From Prayers of St. Therese
to Prayers to St. Therese

Go From Prayers of St. Therese
to St. Therese's Prayer for Humility